Terence Anthony and his team sat nervously amongst the finalists of the Malaysian Public Policy Competition. His team spent a sleepless night working on a public policy pitch to help East Malaysian communities.
Unlike the rest of the participants, Anthony and his friends had not stopped to mingle after the first day of the competition. Instead, they had headed back to their dorms right after the event to discuss their pitch.
For Anthony, it was clear that the stakes were high. This pitch was for the people of his home – Sarawak.
Being a native Sarawakian, Anthony grew up observing how unequal opportunities affected the livelihoods of the people around him.
"I was fortunate to have moved out from the outskirts of Sarawak and into the city of Kuching at a young age. For that, I was blessed with more opportunities compared to my friends who remained in the longhouses. Living in the city allowed me to do so many things but I can't say the same for all of the friends I grew up with."
"One of my friends from the village didn't have the money to further his studies. The difference in our lives is very striking. Here I am, blessed to be studying in a public university while he ended up working in construction where he earns little and doesn't have a regular income. How did this happen?" Anthony said.
This stark comparison compelled Anthony to start thinking of ways to change the lives of those living in rural communities in East Malaysia.
"I knew that introducing new public policy would be the key to helping me affect the lives of East Malaysian communities. I needed this platform to help me test the waters for my idea. I want to know if this can help bridge the divide between the rural and urban communities of my home in reality," he said.
The team's public policy pitch focused on an unemployment insurance scheme for contractual workers in East Malaysia that will provide a safety net for those working in sunset industries, or industries that are in decline.
Anthony's teammate, Caitlyn Ong, a native Sarawakian also finds her personal experience driving her efforts to champion the idea.
"From the outset, we knew we wanted to pursue something that could help workers in East Malaysia. This pitch is personal to me because my family members work in construction and sometimes, they don't get paid on time. When you're struggling to feed a family, this is crucial," she said.
A nation's drive towards inclusive growth
This year, Malaysia celebrates its 54th Malaysia Day to commemorate the entry of Sabah and Sarawak into the formation of the country. Within the past few decades, Malaysia's economy has grown leaps and bounds, most evident in how the country has successfully reduced poverty and income inequality. Today, less than 1% of Malaysian households live in extreme poverty.
"Many things have changed for the better in Sabah and Sarawak since the first Malaysia Day. But there is still a lot of catch-up work that Sabah and Sarawak must do to be on the same level as Peninsular Malaysia," said Dato' Seri Idris Jala, Chief Executive Officer of the Performance Management and Delivery Unit (PEMANDU) and a native Sarawakian himself.
Malaysia has room to grow in its aspirations towards inclusive growth. It will involve expanding access to income-earning opportunities, improving human capital to take advantage of such opportunities and enhancing social protection mechanisms.
"Bridging the gap between East Malaysia and Peninsular Malaysia will depend on reducing reliance on primary sector commodities and ensuring greater development of manufacturing and service sectors." said Kenneth Simler, Senior Economist in the World Bank Poverty and Equity Global Practice.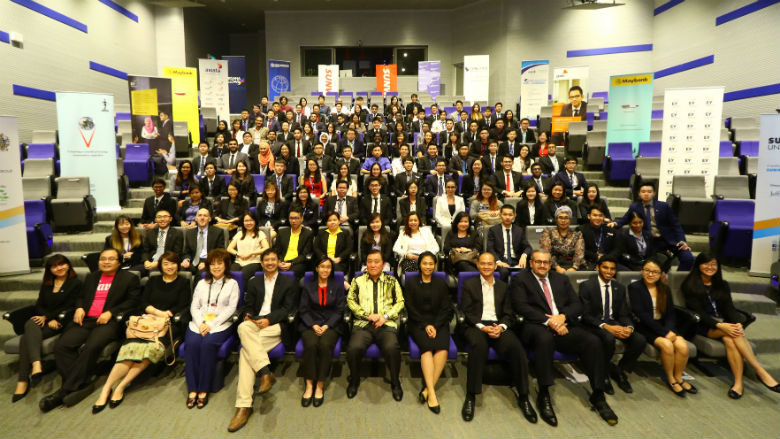 Photo: Jacob Yoon/World Bank
Highlighting youth voices in pursuit of progress
This sentiment on the challenge of inclusive growth in Malaysia was echoed by Anthony and his teammates. When his team was called to receive the second runner-up prize, they were delighted.
"We came here with the intent to shed light on the issues people don't talk about. It was intimidating to run against students from prestigious foreign universities. We are a team of public university students who came to this competition to champion a cause that is very close to our hearts," Ong said.
Anthony added, "Admittedly, there were flaws in our pitch but it's a good start. As the youth of Malaysia, we need to start thinking of ways we can coordinate resource and policy for inclusive growth."
As Malaysia moves towards becoming a high-income country, these East Malaysian youths want to ensure that their communities are not left behind. The World Bank works as a knowledge partner for the annual Malaysian Public Policy Competition organized by the International Council of Malaysian Scholars and Associates (ICMS) that involves youths from around the world. For Malaysia's journey, inclusive growth could potentially lie in the hands of the country's youth.