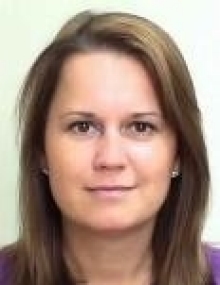 Luiza Nora, Social Development Specialist in the South Asia region, led the development of an award-winning ICT-based platform in Nepal, Fight Violence against Women (FightVAW). Ms. Nora has been working on governance, social accountability, and gender issues since 2003, and has also served as a Special Assistant to the Vice President of the World Bank Institute.
The Nepal FightVAW platform developed a helpline and full-fledged case management system to improve response to gender-based violence (GBV), based on ideas generated during a Hackathon. The platform is now being scaled up in four districts of Kathmandu through the Integrated Platform for Gender Based Violence Prevention and Response in Nepal project. The project will improve the quality and reach of services for GBV response in four districts of Kathmandu through a comprehensive response system with a 24-hour helpline and referral service for better coordination among existing service providers. The FightVAW platform was funded by the UFGE and developed in collaboration with the International Finance Cooperation (IFC).
Why is the World Bank Group helping to develop an integrated helpline for GBV survivors?
Working closely with our local partners on addressing widespread violence against women in Nepal, we found that there were substantial gaps in information and services being provided to GBV survivors at the local level. Different service providers, such as Civil Society Organizations (CSOs), the police, and medical centers, ran their own helplines which forced survivors to place multiple calls to reach medical attention, rescue vans, shelters, and other services. There was thus a dire need for a 24-hour integrated helpline.
The process began in 2013 when the World Bank was planning for the first regional GBV conference in Nepal, and was searching for innovative ideas to tackle this issue. In preparation for the conference, we brought together the private sector, the police, youth, and CSOs to articulate the problems in GBV prevention and response, and organized the Violence Against Women Hackathon to find IT-based solutions to these. Of the eighteen applications that emerged, we chose three to be developed and piloted with UFGE support.
Our local partner, Young Innovations, proposed to integrate these three applications into a single online platform allowing victims to report incidents via email, text messages, or by calling. This approach proved to be very successful as immediately after the launch our helpline began to receive numerous calls and service requests.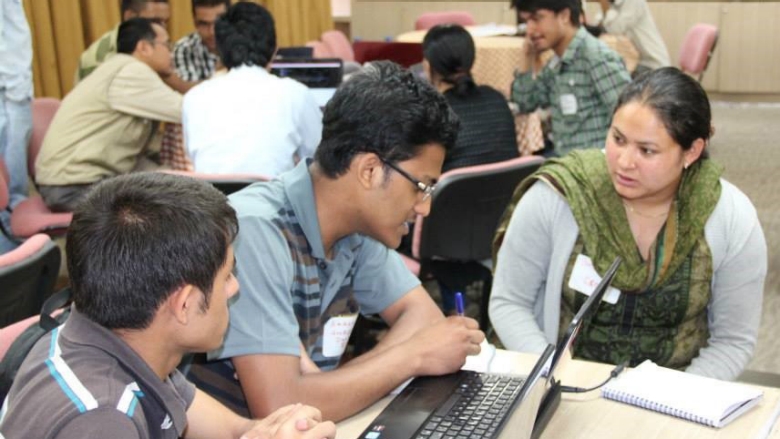 The Violence Against Women Hackathon was held in Kathmandu, Nepal, June 16, 2013 (Photo: World Bank).
What was particularly innovative in the approach chosen by FightVAW?
Definitely our use of the hackathon to source out innovative ideas on how to fight GBV in the context of Nepal, and our ability to pilot and test those ideas. We drew on the experience of the Domestic Violence Hackathon for Central America. While hackathons are common in developed countries, they are not often held in the least developed countries. Moreover, the biggest challenge of hackathons is that many good ideas are born but they die the next day because of a lack of funding for implementation. With the UFGE support, we were able to test and pilot the three most promising applications. I would have never thought that three years later this would become a $2 million standalone project.
What are the main take-aways for those who are looking to do similar work elsewhere?
For colleagues who are interested in working on GBV, I would say that it is important to look for entry points at the country level. While the prevalence of GBV might be acknowledged and openly discussed in the media, it is a sensitive subject to tackle due to persistent social norms and behaviors. The regional conference gave us an entry point to start the dialogue. It's also important to look for the right country level partners and champions. In our case, YoungInnovations and the National Women Commission Nepal helped spearhead the initiative at the local level. Another important factor of our success was being able to ignite broad support of non-traditional stakeholders, such as the Nepal Ministry of Information and Communications, the private sector, and the police.
Another important take-away is that the ICT component did not drive the project. Instead, we used a consultative process to design the platform, working with end users to see what works and what doesn't in the context of Nepal, and continued to refine the platform based on feedback and as new needs arose.
For example, we added the case management system later – the intention was to refer people to outside services, but once the platform began operating the service providers told us that they needed a database to store and track this information. This turned out to be one of the most instrumental functions of the platform. We are now able to identify future needs – for example, if there is more demand for medical centers, legal counselling, or shelters. In addition, being part of the integrated referral system gives the service providers more visibility. The CSOs, particularly, are now able to show that they are part of the established network of providers, and to demonstrate the demand for their services.
Can some of these components be integrated into projects in other sectors?
Integrating a GBV component into projects in other sectors is not sufficient for tackling such a multi-dimensional and cross-cutting issue. For instance, if you want to change local social norms and behaviors related to GBV, you cannot bury it in a small component of bigger project. GBV requires a holistic approach in which various stakeholders come together to find solutions, as we did in Nepal. Addressing GBV requires, for instance, educating youth about healthy gender norms, addressing laws and policies that make women vulnerable, and economically empowering women to enable them to leave abusive circumstances.
That said, there is value in integrating some of these approaches in other operations, particularly in the health and education sectors. Health projects that include GBV measures could strengthen the crisis centers that provide the first response and medical services to survivors of GBV. Some technical elements of the integrated online platform, such as the referral and tracking service, could also be adapted to other programs, for example to help coordinate service providers and track demand for services. Moreover, addressing GBV through sectoral projects can be helpful in starting a dialogue with country-level partners about what can be done to prevent GBV and to better support survivors of GBV.