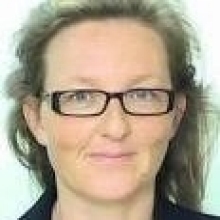 Helle Buchhave, Senior Social Development Specialist, leads the Transport and Gender Capacity Building Program for clients in East Asia and the Pacific (EAP). Ms. Buchhave, who joined the World Bank in 2004, is the Regional Gender Focal Point for EAP, and works as a Gender Specialist both in EAP and Africa. Prior to joining the World Bank, she was based in Lao PDR, working for the United Nations Development Programme (UNDP).

The Transport and Gender Capacity Building Program trains transport authorities and project stakeholders, including project directors, managers and engineers, to implement strategic transport operations that address gender gaps, including access to jobs and road safety, through South-South exchanges and regional workshops. The program's first phase, in which 11 World Bank Group projects from countries as diverse as China and Tonga participated, focused on rural transport. The next steps for the program will include expanding activities to cover urban transport.
Why did the World Bank select the transport sector for its client capacity building in East Asia and the Pacific?
First of all, although we have seen good progress in reducing gender gaps in the region, there remain several gaps between opportunities for men and women in access to jobs and human endowments, particularly within rural communities and specifically within remote ethnic minority communities. The rural transport sector has a special role to play in closing some of these gaps.
Second, several clients were showing increasing interest in approaches that are inclusive of both women and men, particularly in rural road maintenance, as a means to generate jobs for the rural poor, and in measuring the impact of transport projects on gaps between women and men. We wanted to respond to this interest by providing lessons on how rural transport projects can play a role in narrowing gender gaps and to make sure that clients are able to learn from good practices in the region and elsewhere.
Third, the World Bank has substantial knowledge and experience in gender-smart transport projects, particularly in South Asia and Latin America, and a few successful projects in East Asia. We also had an opportunity to learn from partners such as the Asian Development Bank (ADB) and the International Labor Organization (ILO) by engaging them in our training program.
Last, we found the Ministry of Transport in Vietnam to be a great candidate as an agent of change in our region. With support from the World Bank, the Ministry is interested in nationally scaling-up a World Bank -financed pilot project on engaging ethnic minority women in rural road maintenance in Lao Cai Province. This presented an opportunity for others in the region to learn from Vietnam's experiences, and for Vietnam to gain knowledge on how to refine their plans and scale up nationally.
How was the training designed to meet clients' needs?
We relied heavily on South-South exchange and peer-to-peer learning for our training. We found that our clients, who had varying levels of experience in addressing gender gaps in transport projects, were best able to learn from peers who had encountered similar challenges, such as responding to the different transport needs of men and women; establishing successful partnerships with women's unions and other local social organizations; and establishing, training and cost-effectively managing women's micro enterprises. For the training, we selected clients whose projects were either in the planning stage or had just started, and who had expressed interest in addressing gender gaps, such as employment of women and men in rural road maintenance.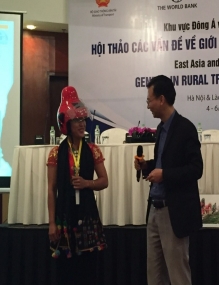 To enable clients to learn from successful approaches, we organized two South-South exchange site-visits. These included a World Bank financed project in Lao Cai Province in Vietnam, engaging ethnic minority women, and an ADB-financed roads project in Yunnan province in China. These visits allowed clients to talk directly with local officials and the women involved in the roads maintenance work, and to learn first-hand how to institutionalize the approach within the sector and the benefits of employing women in rural road maintenance.
To give clients an opportunity to convene with peers from East Asia and the Pacific, and South Asia, and with experts from the World Bank, ADB and ILO, we organized a regional workshop in Hanoi, Vietnam. For the workshop, we developed a learning module on how to integrate gender in project design, and how to institutionalize effective road maintenance and poverty reduction, and the discussions focused on good practices in rural transport design and monitoring, road safety, and job creation for women. During the workshop, the clients also worked on and presented project-specific gender action plans, including project design, safety, and rural job creation. This enabled them to learn from each other while simultaneously developing their own plans.
What are some of the key lessons that emerged from the discussions, and what are the next steps for the program?
First, for both the World Bank and our clients, this learning approach yielded many valuable outcomes. Several clients came to the training to learn how to employ women in road maintenance work—mainly creating and designing maintenance groups, choosing local partners, transferring payments, and ensuring quality of work—and left with an understanding that women's different needs are something to consider throughout the project cycle. As a result of the training, clients also increased their attention to road safety, an issue which impacts both women and men, but which women are more likely to bring up in consultations.