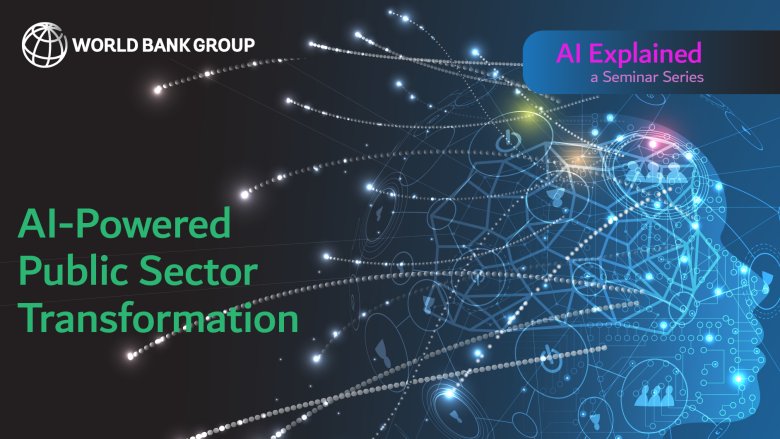 Join us for an exciting exploration of AI's potential to transform government operations and reshape public service delivery. In today's digital age, the fusion of data and artificial intelligence is a catalyst for transformation, and we're here to unravel its spectrum of possibilities in this first of a series on AI, its applications, and its potential to drive positive change on a global scale.
In the first of the series, the World Bank's Governance GP, Digital Development GP, and ITS Technology and Innovation Lab are hosting a virtual knowledge-sharing session that promises to unlock the power of AI for public sector innovation.
We bring together practitioners and innovators to share their insights on the ethical and secure use of data and AI in reshaping the public sector operations and service delivery. Our speakers, will guide us through the diverse landscapes of AI-powered government, and share their experience on topics such as crafting AI strategies for responsible AI adoption, leveraging AI to redesign government operations and public service delivery, efforts to foster digital competences. The session will deep-dive into the key enablers, challenges and risks facing governments when embarking on safe and inclusive AI adoption. We'll also highlight existing World Bank's AI related use cases and collaborations with client governments.
Engage, inquire, and join the conversation as we navigate through the Data and AI powered global development. Let's unlock the transformative power of AI and redefine the possibilities for governments worldwide. Welcome to this enlightening journey.
I. Opening Session
Welcome and Introduction
EFI MENA Regional Director: Nadir Mohammed
Moderator's Welcome
Introduction by the Moderator: Digital Development GP, Mahesh Uttamchandani
II. Leveraging Data & AI for Government Transformation
AI's Potential Unleashed: Reshaping Government Operations
Speaker: Siim Sikut, Digital Nation (Former Government CIO of Estonia)
Join the former Government Chief Information Officer of Estonia, to hear insights into how AI is revolutionizing government operations, from policy-making to public service delivery.
Revolutionizing Public Sector Innovation with AI-Powered Design
Speaker: Peter Chamberlin, Scott Logic (Formerly of UK Government Digital Service (GDS))
Discover the innovative use of AI-powered design in reshaping urban planning, policy creation, and enhancing customer experiences. The session will provide real-world examples and data-driven insights into how AI is reshaping the public sector.
Setting the Foundation: The Need for AI Strategy and Roadmaps in Government
Speaker: Yolanda Lanndquist, Director of Global AI Governance, The Future Society
The whys and how's of AI strategies and roadmaps in government, highlighting the fundamental need for governments to establish comprehensive AI frameworks to navigate the digital future.
United Arab Emirates (UAE): Reflections, opportunities, and challenges
Speaker: Dr. Ali M. Al-Khouri, Chairman of the Arab Federation for Digital Economy, Member of the Executive Office of Specialized Federations in the Arab League
III. Use of AI in World Bank Operations
AI and Robotic Process Automation in Public Procurement: A Case Study
Speaker: Yusaku Kawashima, Senior Innovation Officer, Technology and Innovation Lab
A robust and efficient public procurement system is pivotal for the success of any government. This session offers insights into the experience of integrating AI and Robotic Process Automation (RPA) technologies into public procurement processes.
AI's Role in Climate Resilience: Insights from the Maldives
Speakers: Jerome Bezzina, Senior Digital Development Specialist, DD, Anshuman Sinha, Digital Development Consultant, DD
The Maldives faces a significant climate change crisis, primarily due to its vulnerability to rising sea levels. This session will discuss the ongoing development of a Climate Resilience Bayesian Decision Support Tool Prototype being developed for the Maldives. Explore how Bayesian Belief Networks (BBN) can integrate diverse sources of information, ranging from field data, model-generated data, expert opinions, and community wisdom.to enhance data-driven planning and policymaking for climate adaptation and resilience, with specific insights from the Maldives.
IV. Engage, Discuss, and Question
Interactive 20-minute Q&A session and discussion
V. Closing Session
Closing Remarks
Concluding thoughts by the Moderator: Digital Development GP, Mahesh Uttamchandani