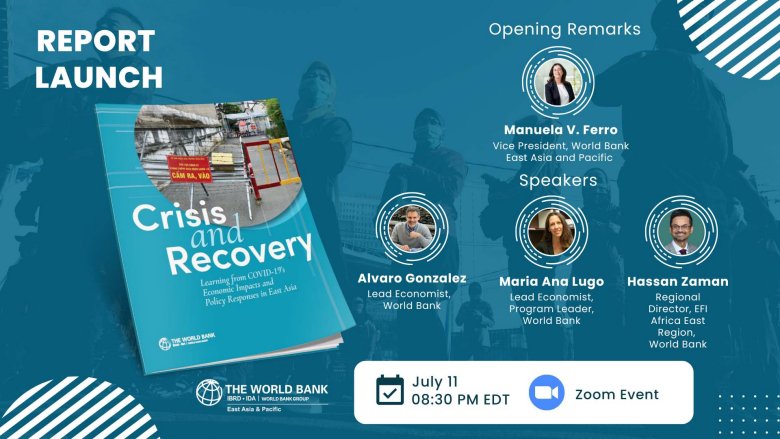 Analyzed in this edited volume are the economic repercussions of COVID-19 and government responses in six East Asian countries: Cambodia, Indonesia, Malaysia, Mongolia, the Philippines, and Vietnam. The unique circumstances in each country resulted in varying measures being taken to contain the virus and mitigate the economic fallout. Using an exclusive set of data, this report tracks the welfare of households and enterprises throughout the pandemic, identifying the groups that were hardest hit and evaluating whether recovery efforts were sustained and expanding.
The report's findings indicate that countries that possessed broader social safety nets, lower levels of informality, more openness to trade, greater export diversification, less burdensome business environments, deeper and broader financial markets, and better digital infrastructure were able to respond more effectively in protecting their citizens and enterprises. The experience of the six countries studied also suggests that a reliance on existing social protection programs, a variety of complementary instruments, and innovations in delivery systems helped households fare better.
Nevertheless, the pandemic revealed the limitations of social protection systems in place, with widespread implementation challenges in some countries.
The report highlights that digital solutions were beneficial to firms in all six countries, helping them weather the economic shock of the pandemic. Lastly, targeted payment deferral programs may have better addressed the working capital crunch faced by businesses during the recession.
Opening remarks
Manuela V. Ferro, Vice President for East Asia and Pacific, World Bank
Speakers:
Maria Ana Lugo, Lead Economist, Program Leader, World Bank
Alvaro Gonzalez, Lead Economist, World Bank
Hassan Zaman, Regional Director, EFI Africa East Region, World Bank
Moderator:
Geetanjali Chopra, Manager, External Affairs East Asia and Pacific, World Bank