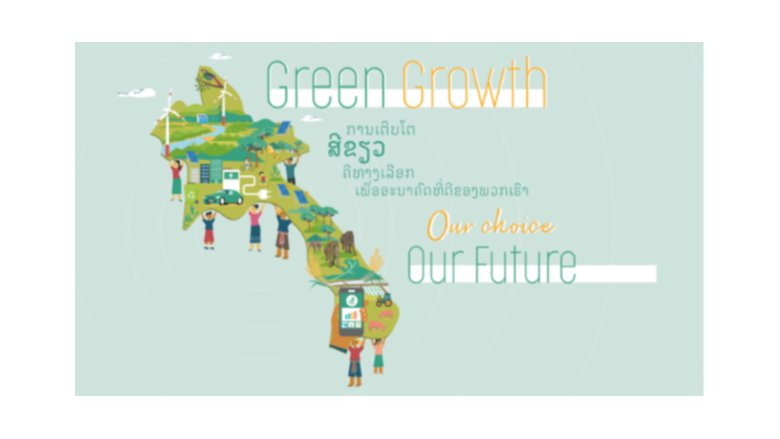 Showcasing Progress and Identifying Solutions for Green Growth
Join meeting virtually at:
https://zoom.us/j/97158180670

Meeting ID: 971 5818 0670
Passcode: 12345678
Green growth is a resilient, inclusive and sustainable economic strategy that can boost employment — raising incomes and reducing poverty — while reducing the costs of economic growth on human health and the natural environment.
This two-day forum, hosted by the Ministry of Planning and Investment, with the support of the Global Green Growth Institute and the World Bank, brings Lao agencies and organizations together to discuss progress on the National Green Growth Strategy and identify future priorities. It provides an opportunity for policy makers, development partners, civil society and the private sector to explore green growth issues and showcase solutions related to low-carbon development, the management of natural capital, electric mobility, and waste management.
Laos' Ninth National Socio-Economic Development Plan includes a strong set of policy reforms to promote cleaner growth based on the National Green Growth Strategy 2030. This prioritizes action on renewable natural resources, environmental pollution and waste management, along with environmental fiscal instruments and nature-based tourism that can drive economic growth and help create green jobs.
Recent progress toward green growth includes the government's $42 million for results-based emission reduction payments from forests, new policies for green industry and solid waste management, and a strengthened environmental and social impact assessments system that will help minimize environmental degradation. Laos has also committed to ambitious goals such as making 30% of all vehicles electric by 2030, reaching 70% forest cover across the country by 2035, and becoming carbon neutral by 2050. This last makes Laos the first ASEAN member to commit to net zero emissions.
At this forum, stakeholders will discuss how Laos can benefit from the global turn to green growth and implement a long-term strategy for sustainable green growth that can drive the country forward. As the Minister of Planning and Investment says, everyone needs to work together for a greener future, in every sector and province, to make the Lao PDR a country of sustainability.
Day 1: October 4, 2022
Day 1

8:00–8:30

Registration

8:30–8:35

Welcoming Remarks

8:35–8:50

Opening Remarks by Vice Minister of MPI

Welcoming Remarks by Country Manager, World Bank

Welcoming Remarks by Country Representative, GGGI

1. LAO PDR'S GREEN TRANSITION

8:50–9:10

Keynote Address: Green Growth Powering the Economy of Lao PDR

9:10–9:15

Video Address: Lao PDR: A Leader in the Green Transition

9:15–10:15

Planning and Financing for the Green Transition

10:15–10:30

Group Photo

10:30-10:45

Coffee break

2. SECTORAL INNOVATIONS FOR GREEN GROWTH

10:45–12:00

Sectoral Innovations Session 1: Scaling Up Clean Energy and Green Industry.

12:00–13:00

Lunch

13:00–14:00

Sectoral Innovations 2: Powering Forward with Electric Mobility

14:00–15:00

Sectoral Innovations Session 3: Advancing the Circular Economy

15:00–15:15

Coffee Break

15:15–16:15

Sectoral Innovations Session 4: Improving Plastics Management

16:15–16:30

Wrap Up of Day 1

16:30–18:00

Evening Reception
DAY 2: October 5, 2022
Day 2

8:00–8:30

Registration

8:30–8:45

Welcoming Remarks

8:45–10:00

Sectoral Innovations Session 5: Investing in Lao PDR's Natural Capital

10:00– 10:15

Coffee break

10:15–11:30

Sectoral Innovations Session 6: Carbon Markets

11:30–12:00

Closing Remarks

· Thank You Remarks by WB

· Thank You Remarks by GGGI

· Closing Remarks by MPI

12:00–13:30

Lunch