As global vaccine supplies increase, a key challenge is to ensure that supplies quickly get to where they are needed and, once they are there, countries have the capabilities and resources to get vaccines into arms. The objective of this high-level event on Scaling up Vaccine Deployment was to advance the goal of turning vaccines into vaccinations and bring more clarity about the required actions. The event brought together the World Bank Group, key partner institutions and governments, for a discussion of country-level challenges to vaccine deployment, and provided an opportunity to share lessons and good practices around how partners can, and are, working together to solve challenges.
Context
More than two years since the onset of COVID-19, the world has seen multiple waves and multiple variants of the virus. The risk of a new Variant of Concern (VoC) emerging continues to be high due to intense transmission of the virus and low vaccination levels in many parts of the world. This carries with it the threat of further waves of serious disease, mortality, and societal and economic disruption.
The world has a comprehensive COVID-19 toolkit of vaccines, tests, treatments, and Personal Protective Equipment (PPE) to mitigate this risk. COVID-19 vaccines act as a first line of defense and remain highly effective at reducing serious illness and deaths, even as the virus has continued to mutate.
In 2021, WHO laid out a global target to vaccinate 70% of the population in all countries, toward ending and recovering from the pandemic. That target has been met by only 52 countries, while the interim milestone of 40% coverage is yet to be achieved by 69 countries, 21 of which have not yet achieved even 10% coverage. The significant inequities in COVID-19 vaccine coverage threaten to derail sustainable economic recovery, particularly in countries with low coverage levels. Over 11.3 billion doses of COVID-19 vaccines have been administered worldwide resulting in 58% of the world's population having primary vaccination. Yet only 11% of the population in low-income countries are fully vaccinated, compared with 73% of those in high income countries.
For the first time since the pandemic began, the global supply of vaccines is not currently a binding constraint. With coordination between global, regional, and bilateral vaccine suppliers and manufacturers, low and lower-middle countries can now better match the supply of vaccines arriving in country with their own country specific demand for doses.
This means the overarching challenge now is vaccine deployment – getting shots into arms. A continued, concerted and country-led push to deliver against nationally defined vaccination strategies can act in support of global targets. The greatest benefits within that approach will come from prioritizing full vaccination and boosters for high-risk populations – older adults, healthcare workers, persons with co-morbidities including immunocompromised persons.
Strong leadership engagement and commitment to detailed and costed vaccination plans will be essential. National healthcare system capacity will need to be strengthened. Increasingly COVID-19 vaccination services will need to be integrated with other immunization services and alongside other health and social interventions for maximum impact and to build long-term capacity. As people's risk perception of the virus wanes, careful risk communication and community engagement plans need to be adapted to enhance demand for vaccination, and domestic and international funding needs to be coordinated, available and swift to deliver against clear country plans.
The COVID-19 Vaccine Delivery Partnership, launched by WHO, UNICEF, and Gavi with international partners including the World Bank, focuses on 34 low coverage countries, with the government at the center, to accelerate COVID-19 vaccination. Some progress has been made in recent months but persisting challenges remain in many countries to get a step-change in vaccination rates. Concerted and urgent action from countries, international partners, and agencies, is required to increase vaccination levels.
Focus countries (34) where concerted support is being provided to accelerate vaccination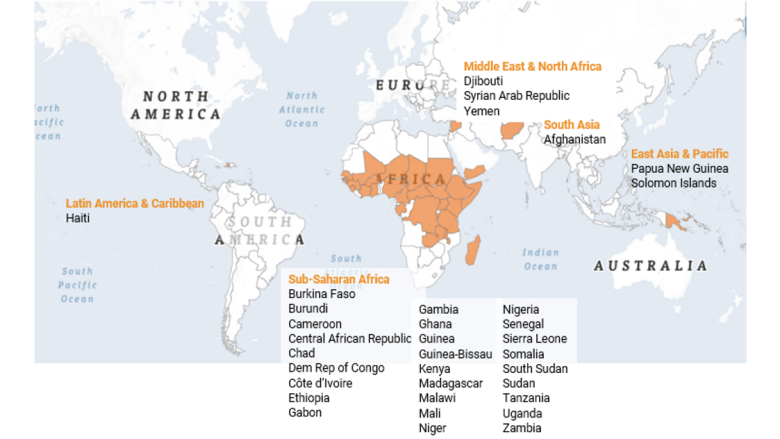 Summary of Recent Progress Across the 34 Countries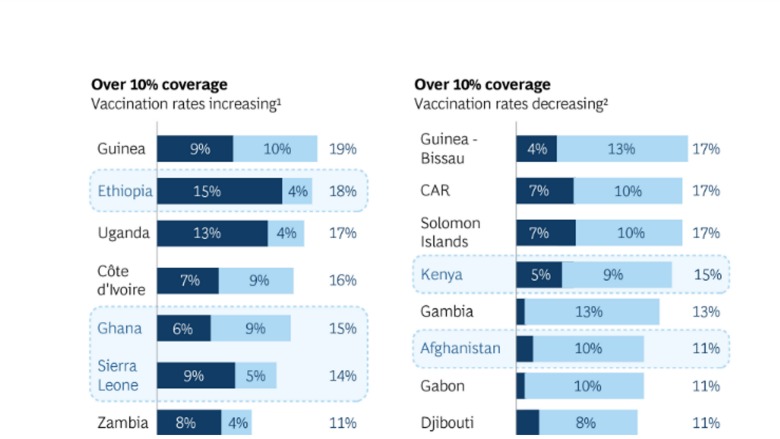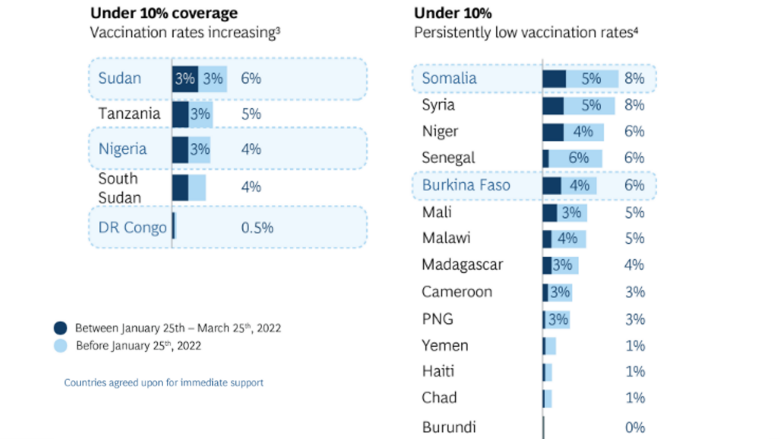 Themes
Closing vaccination gaps: Why it's urgent and important to vaccinate the world; the risks of inequitable access to vaccines; the political commitment necessary to make this a priority.
Strengthening in-country planning and investments to better align supply with demand and address capacity challenges (logistics, supply chains, cold chain, storage, workforce issues, data systems to support vaccination campaigns) and hesitancy, including lessons and good practices and role of partnerships and coordination.
Overcoming last mile issues and safeguarding the health of people in the face of a changing pandemic.
Desired Outcomes
Strengthened alignment, coordination and communication among leading global and regional agencies supporting vaccine deployment efforts; actionable steps.
Increased commitment, particularly among developing country Ministers, to confronting challenges and accelerating vaccinations, especially in countries that are the furthest behind and with a focus on vulnerable population groups.
Greater clarity on what needs to be done, and by whom, and how countries and partners can come together to develop practical solutions to address challenges identified.
Greater clarity on how global institutions can better serve the needs of country responses.
Cross-country learning and sharing of innovative solutions to increase vaccine access.