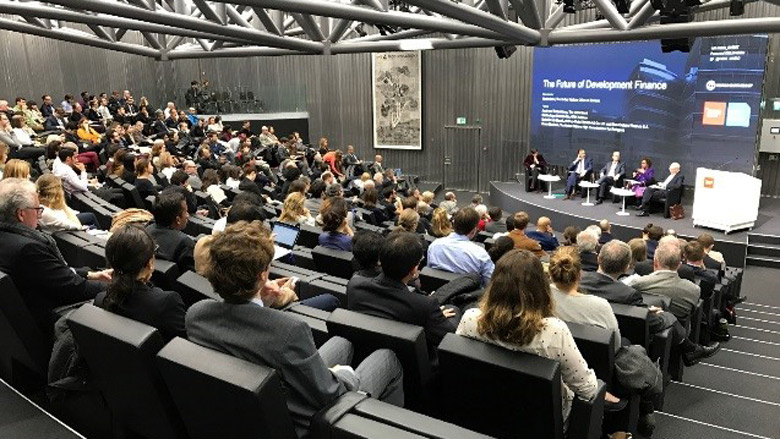 Second event of the series on The Future of Development Finance
On Tuesday March 14, the second event of the series on The Future of Development Finance was held in Geneva, organized by the Graduate Institute's Centre for Finance and Development, the United Nations Office at Geneva (UNOG) and the World Bank Group Geneva. The series bring various stakeholders to the table to discuss the financing of the 2030 Agenda.
The second event, moderated by Nadia Isler, Director of the SDG Lab, UNOG, brought together World Bank Vice-President of Development Finance, Axel van Trotsenburg, GAVI Managing Partner, Resource Mobilisation and Private Sector Partnerships, Marie-Ange Saraka-Yao, Blue Orchard Vice-President and member of the Board of Directors, Melchior de Muralt, and UNHCR Head of the Policy Development and Evaluation Service, Ewen Macleod. They discussed the challenges that Low Income Countries (LICs) face in the new global economy, and the need for innovative approaches to development and its financing.
Axel van Trotsenburg presented the results of the recently completed International Development Association (IDA) replenishment, and analyzed the use of IDA resources in general and, in particular, to induce private sector funding as a mechanism for leveraging concessional finance for LICs. Van Trotsenburg underlined that multilateral institutions are needed to face the problems of today's world, given that issues such as pandemics, climate change or migration will not be solved at country level alone. But to stay relevant, multilaterals need to introduce innovation and show results, mainly by rethinking the way they finance and putting forward relevant policy packages that deal with difficult issues. Last December, IDA18 was a successful replenishment, with a coalition of over 50 donors and a $75 billion package, because it managed to introduce such innovations. Van Trotsenburg mentioned in this regard the sub-window of $2 billion to support refugees and their host communities, a $2.5 billion Private Sector Window, and the doubling of resources to countries facing fragility, conflict and violence, from $7 to $14 billion. Additionally, for the first time in its 55 years of history, IDA will go to the capital markets, thanks to the triple A ratings issued by two of the main rating agencies. By blending concessional contributions from donors with capital market, IDA18 will increase the impact of partner contributions, generating about three dollars of financing commitments for every one dollar from partners. By way of conclusion, van Trotsenburg highlighted that IDA18 is an example of the innovative financial mechanisms that will be needed to mobilize the resources needed to implement the 2030 Agenda.
Marie-Ange Saraka-Yao presented the experience of GAVI, which was created in 2000 by global health champions as a unique partnership to improve access to new and underused vaccines for children living in the world's poorest countries. This was at a time when immunization rates were declining, and children were dying from vaccine preventable diseases. Saraka-Yao stressed that GAVI was created as a public-private partnership, designed to leverage not just financial resources but expertise too, bringing together UN agencies, governments, the vaccine industry, private sector and civil society, to help make vaccines more affordable, more available and their provision more sustainable. What GAVI did was to create a new vaccine market by regrouping the demand of 70 developing countries which represent 60% of the world vaccine demand. By doing this, they incentivized manufacturers to serve this market with reasonable prices, as economies of scale are critical in vaccine production. Saraka-Yao highlighted that predictability was also a key element of the market reshaping, given that vaccine production is capital intensive. The financing instruments with long term pledges of over 20 years provided security to vaccine producers, and also to governments, which can embark in immunization campaigns without the risk of disruption of supplies.
Melchior de Muralt provided the private sector perspective, sharing the experience of BlueOrchard, an impact investment manager founded in 2001 as the first commercial manager of microfinance debt investments worldwide. De Muralt started by stressing that there is a growing demand by investors, institutional and individuals, for investments that have positive social and environmental impact, not only financial returns. This is captured in the notion of impact investment. One of the challenges in impact investment is assessing the social and environmental returns on investment, the impact metrics, which is more complex than simply measuring financial results. Another challenge is keeping the adequate balance between risk and return. He continued by providing some examples of BlueOrchard, such as the flagship Microfinance Fund, a pure fixed-income fund investing in microfinance institutions in emerging and frontier markets, with a solid track record of more than 15 years, 4.35% annualized return since inception and an optimized risk/return profile. A second example, illustrative of how to structure private and public development finance, is the Microfinance Initiative for Asia (MIFA) supported by BMZ, EU, IFC and KFW. MIFA is a microfinance initiative exclusively targeting Tier II and Tier III MFIs in Asia, with the objectives to create and enhance institutional capacity for sustainable microfinance delivery and to strengthen links between domestic and international capital markets. De Muralt finished by arguing that the capital market has to increasingly integrate social and environmental aspects, if not the legitimacy of capitalism itself will be endangered, and that purpose and impact will be the driving force of the future capital market behavior.
Ewen Macleod shared that UNHCR has been in the business of development finance for refugees for many years, in fact one of the first IBRD loans was to UNHCR for the resettlement of German refugees to Denmark after World War II. Today, the crisis in Syria detonated global conscience of the risks of leaving protracted crisis and refugee situations unattended. He reminded that the cost of the Syria refugee response has a scale, complexity and speed not faced since the Rwanda genocide, with humanitarian needs that exceeded $5 billion for the first time in history in 2014. Macleod continued by arguing that if we are to achieve the SDGs and leave no one behind, the relation between poverty and contexts of fragility, conflict and violence (FCV) is crucial, as it is expected that 50% of the global poor will be found in FCV contexts by 2030. Another element to consider is the changing nature of conflict, with wars fought within states, with non-state armed groups challenging power of weak and underperforming governments and public administrations. A third challenge is the lack of legitimacy of governments, which are unable to deliver social services and to ensure the security of its citizens. On the remedies, Macleod stressed that the Secretary General has put the focus on the key challenge, which is peace and security, as there is no remedy to situations of fragility other than political solutions. He finished by underscoring the importance of the engagement of international financial institutions in situations of displacement that we have seen recently. This tendency, led by the World Bank with its policy statement at the Spring Meetings last year and with the IDA18 focus on fragility and refugees, is seen as "game changer" as it offers for the first time a form of predictable financing over the medium term. Refugees and displacement has been treated by states as a political and security risk, not as an economic, social and development challenge. There needs to be a shift to recognize that this complex challenge cannot only by dealt by humanitarian instruments and organizations alone.
The discussion with the audience revolved around questions related to impact metrics, the drivers to invest in social investment, the risks to mobilize investments in contexts of fragility and conflict, and the role of technology to reinvent solutions for development finance.