Vietnam has long experience with natural disasters, particularly along its coast. Typhoons, storm surges, riverine flooding, coastal erosion, droughts, or saline intrusion are all-too-familiar threats to most people living along the coast. Storms and floods sweep away crops, damage yields, inundate ponds, kill livestock, destroy buildings and disrupt essential public assets such as hospitals and power lines. Droughts and storm surges cause saline intrusion, which can devastate soil fertility for years. The effects have direct consequences on the jobs and incomes of millions people. For example, in 2016, a severe drought in the Mekong Delta caused severe saline intrusion in over 1.4 million hectares of farmland, rendering 22 percent of its rice paddies unviable (12 percent of national rice production and 8 percent of national agricultural GDP), directly affecting the livelihoods of some 3 million rice farmers.
Rapid urbanization, economic growth, and climate change also mean that disaster risks are bound to increase in the future. New development in coastal areas is increasingly occurring in high flood risk zones as safe places are already occupied. Entire villages are built on sensitive dunes, vulnerable to erosion. In some places the coastline has retreated as much as 300 meters, forcing displacement of hundreds of households and disrupting their livelihoods. While such natural risks are already substantial, climate change and human pressures on natural ecosystems are exacerbating risks.
Yet despite these risks, coastal regions host thriving economic sectors, providing livelihoods for a growing and rapidly urbanizing population. Home to half of the country's population, Vietnam's coastal regions are undergoing rapid development, offering opportunities in tourism, agriculture, industry and other sectors, that have helped sustain prosperous livelihoods, decrease poverty rates and keep drawing many people into these areas. If the growing natural risks to these regions can be managed, then they could continue to act as powerful engines for Vietnam's continued socioeconomic development.
About 200 meters of beach have disappeared in 10 years in Cua Dai, near Hoi An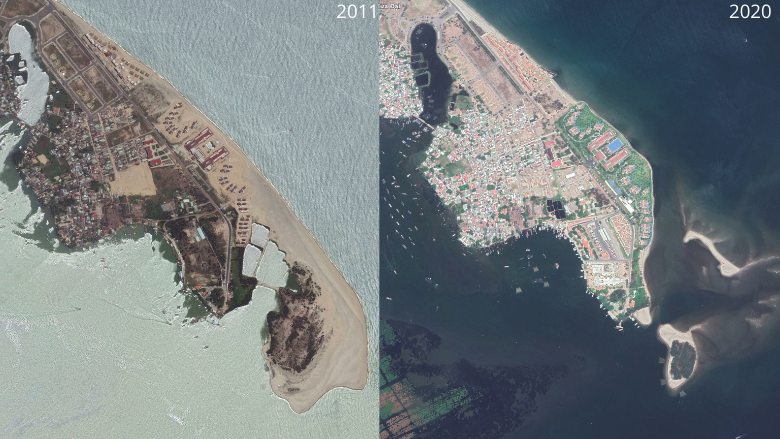 Source: Google Earth
The government of Vietnam has long recognized the importance of disaster risk management as an essential principle of sustainable socio-economic development. Although it has made impressive progress in reducing and managing natural risks, current trends show that the work is far from complete. As disasters continue to claim lives and disrupt livelihoods, they highlight the need for a comprehensive coastal resilience strategy. However, designing this can be challenging when the coastline stretches more than 3,000 kilometers and faces a wide range of hazards.