Since Russia's invasion of Ukraine in February 2022, the World Bank Group has been working with international partners to mobilize fast-disbursing funds that help the Government of Ukraine sustain essential public service delivery to the Ukrainian people, including wages for hospital workers, pensions for the elderly, and social programs for the vulnerable. As of February 24, 2023, the World Bank has mobilized over $20.6 billion in emergency financing in support of the people of Ukraine, including commitments and pledges from donors to help blunt the widespread human and economic impacts of the war.
As of February 2023, the largest part of the emergency financing for Ukraine, almost $15.5 billion, has been channeled through the Public Expenditures for Administrative Capacity Endurance (PEACE) Project. The PEACE became the World Bank's flagship financing instrument for Ukraine and enabled other international donors to unite their efforts to provide fast, targeted and predictable support.
In August 2022, the PEACE Project attracted a $4.5 billion grant provided by the United States. On September 30, 2022, an additional $530 million in loan guarantees by the United Kingdom ($500 million) and the Kingdom of Denmark ($30 million) was mobilized under the PEACE Project. On December 20, 2022, the World Bank announced it would provide additional financing of $500 million through an IBRD loan that is supported by a guarantee from the United Kingdom for the same amount and mobilized under PEACE. In February 2023, the PEACE Project attracted a new $2.5 billion grant provided by the United States Agency for International Development (USAID). And help for Ukraine from Donor Governments is continuing.
The PEACE Project is also co-financed by contributions to a new Multi-Donor Trust Fund (MDTF) from several countries.
As Ukraine and development partners have sought instruments with rapid, secure, and efficient disbursement mechanisms to support the country, the World Bank has emerged as a crucial trusted partner and will continue to support Ukraine's efforts to rebuild through a new Umbrella Program, the Ukraine Relief, Recovery, Reconstruction and Reform Trust Fund (URTF). The URTF was launched at the Annual Meetings in October 2022.
Government programs in Ukraine supported through the PEACE mobilized financing:
Pensions
Social assistance for the poor
Social assistance to compensate payment of utility bills
Social assistance for children with disabilities
Grants to internally displaced persons
Payments to hospitals and clinics for health service delivery
Wages to State Emergency Service staff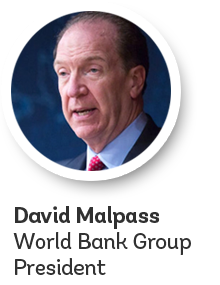 "Ukraine needs continued government services, including health, education, and social protection to prevent further deterioration in living conditions and poverty. We are grateful to the United States and our partners for their ongoing support through our rapid support mechanisms and for the generous grant that will greatly support the Ukrainian people."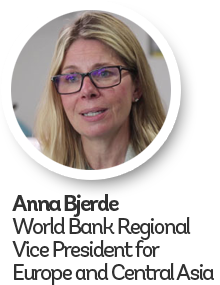 "The toll of destruction, damage, and dislocation in Ukraine is staggering and continues to grow. The support of the international community so far has been impressive, and we are so grateful to the people of United Kingdom and the Kingdom of Denmark for their continued assistance. The Ukrainian people have a long road to recovery ahead and development partners will need to continue to pull together to support Ukraine's reconstruction."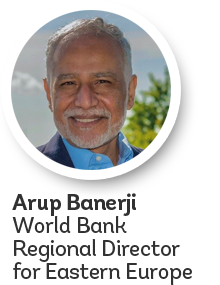 "There is an enormous need for resources to sustain the daily delivery of essential services, as well as for reconstruction. As such, our development partners have come together, each bringing to the table their respective areas of strength. As the focus turns to recovery and reconstruction, it will also be critical to increase attention to reforms, transparency, and governance, as Ukraine prepares for a transition to post-war recovery. Supporting the continuation of essential social services will support a more successful and less costly recovery and reconstruction."