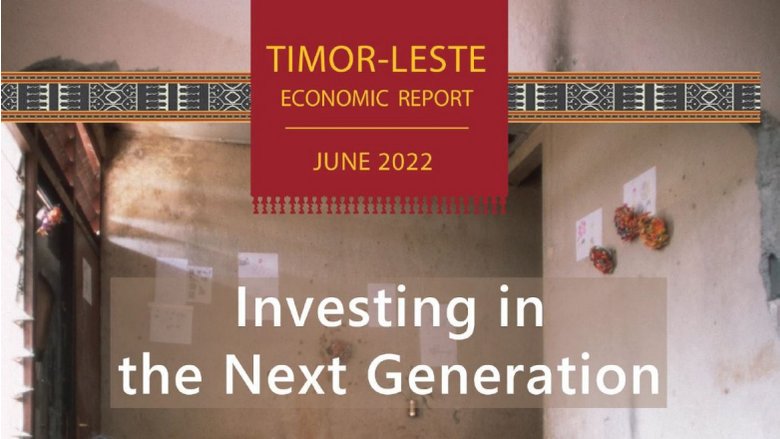 Buffeted by the twin shocks of COVID-19 and Tropical Cyclone Seroja, the non-oil economy grew by 1.5 percent in 2021. A record-high budget with expenditure of nearly 90 percent of GDP bolstered government consumption. A series of fiscal stimulus measures supported employment and incomes, allowing households to maintain their spending. However, this growth follows recessions in 2017, 2018, and 2020 which have left Timor-Leste's Gross Domestic Product (GDP) lower than it was in 2016.
Rising commodity prices spurred by the Ukraine-Russia war imposes an additional hurdle but Timor-Leste has the policy space to absorb the shocks through various social protection schemes. Despite the negligible direct impact, the Timor-Leste economy is greatly exposed to the indirect impacts of the war through commodity markets. Headline inflation rose to 6.6 percent year-on-year (YoY) in April 2022, driven by surging global food and energy prices.
The President has recently promulgated a 2022 budget revision of US$1.24 billion (74.8 percent of non-GDP). Of the new measures proposed by the government nearly 90 percent will be allocated to the National Liberation Combatants' Fund (NLCF). The revised 2022 State Budget will amount to USD 2.4 billion (nearly double of non-oil GDP), the largest budget in the country's history and will accelerate the depletion of the Petroleum Fund to less than a decade.
Uncertainties surrounding the baseline forecast remain large whilst risks are tilted to the downside. Macroeconomic risks include further increases in global food and energy prices and COVID-19-related mobility restrictions. Timor-Leste's exposure to extreme weather events and natural disasters also makes it vulnerable to upward pressure on food prices ‒especially if there is another spell of heavy floods. Domestic political uncertainty and policy reform slippages can also lead to protracted macroeconomic imbalances.
According to the report, a strategy to address short- and medium-term challenges is urgently needed. Fiscal policy should aim to protect the vulnerable from rising food and fuel prices, preferably through targeted assistance. The government can promote policy actions conducive to reducing food prices through increasing agricultural productivity and increasing nutrition through diversifying domestic production.
Diversification of the economy through development of export sectors is essential for sustained growth. On the energy side, the efficiency of electricity generation and provision should be improved as doing so would positively impact the budget and reduce the carbon footprint of the country. Diversified energy sources, including renewables, should be explored.
The report also includes a special focus on Human Capital (HC) – which refers to the knowledge, skills and health that people accumulate over their lives, that allows each person to fully realize his or her potential. Measured by the Human Capital Index (HCI), a child born in Timor-Leste today will only be 45% as productive as an adult than she could be if she enjoyed complete education and full health.
The risk of the Petroleum Fund depletion over the next decade - having underpinned the oil-driven economy and allowed increased spending - means that the Timorese people themselves need to be the drivers of the country's economic growth. With 37 percent of the population under the age of 15, designing cost-effective interventions to invest in people to accumulate and protect human capital is critical.