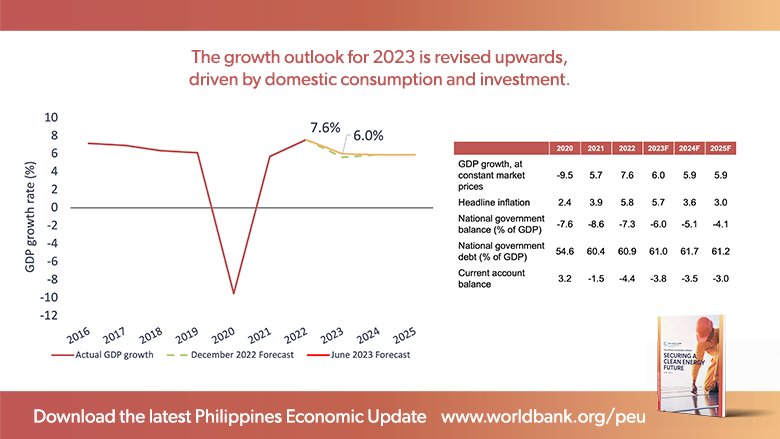 Philippine Economy
Robust domestic demand fueled 6.4 percent growth in the first quarter of 2023, countering weaker global demand.
After peaking in early 2023 inflation fell to 6.1 percent in May after the BSP tightened monetary policy, although it remains well above peer countries in ASEAN.
The medium-term fiscal consolidation plan is broadly on track with the fiscal deficit in 2022 narrowing to 7.3 percent of GDP and national government debt stabilizing around 61 percent of GDP.
Going forward, strong domestic demand will drive the economy to grow at 6.0 percent in 2023 and gradually move to its potential over the medium term.
The economic recovery will support poverty reduction, although the labor market is showing a shift to low-productivity jobs.
Managing inflation, pursuing revenue-enhancing policies and public spending efficiency, promoting investments, and pursuing a clean energy transition are key drivers to safeguard growth and achieve long term development goals.
Special Focus Note: Energy Transition in the Philippines
The Philippines will benefit from an energy transition toward low- and zero-carbon alternatives. This transition will substantially increase the use of indigenous and renewable energy resources such as hydropower, solar, and wind while reducing reliance on imported fossil fuels, which will enhance energy security.
A cleaner energy future is expected to be more affordable, given the savings in fuel costs and the global trends of declining costs related to deploying and integrating solar and wind power.
Reducing fossil fuel consumption, particularly by electrifying urban transport and reducing the use of coal in power generation, will reduce ambient air pollution in urban areas, improving public health.
Greening the power supply through an energy transition would help the Philippines stay competitive and attract foreign investments.
Key policy recommendations to build a solid foundation for the country's energy transition and accelerating the energy transition are to: 1) prioritize planning and investments in transmission capacity and grid flexibility; 2) prioritize energy efficiency and demand-side management for buildings and industries; and 3) establish a framework for ensuring a just energy transition.