The context
Fiji, the second largest economy in the Pacific, is an archipelago stretching across more than 330 islands with a population of 880,000 concentrated on the country's two main islands of Viti Levu and Vanua Levu.
Prior to COVID-19, services accounted for 70 percent of the economy, providing jobs for nearly 40 percent of Fijians. Tourism – a mainstay of the economy and a major source of foreign exchange – contributed nearly 40 percent of GDP, with over 894,000 visitor arrivals in 2019. Agriculture remains the main source of livelihood for nearly half of rural Fijians, contributing approximately eight percent of GDP prior to COVID-19.
COVID-19 international travel restrictions have brought the tourism sector to a virtual standstill and declining remittances are negatively affecting consumption, finance and investment. These climate and public-health emergencies have resulted in Fiji's GDP contracting by 19 percent in 2020 and has compounded Fiji's development challenges, such as its vulnerability to natural disasters, high unemployment, poverty and urban inequality, health issues particularly non-communicable diseases, and violence against women.
In addition to the unprecedented impacts of COVID-19, in 2020 Fiji was also hit by Category 4 Tropical Cyclone Harold (April 2020), which impacted 20 percent of the population. Then in December 2020, the country was again hit by a major cyclone – this time a Category 5 – Tropical Cyclone Yasa; the worst cyclone to hit Fiji since 2016's Tropical Cyclone Winston.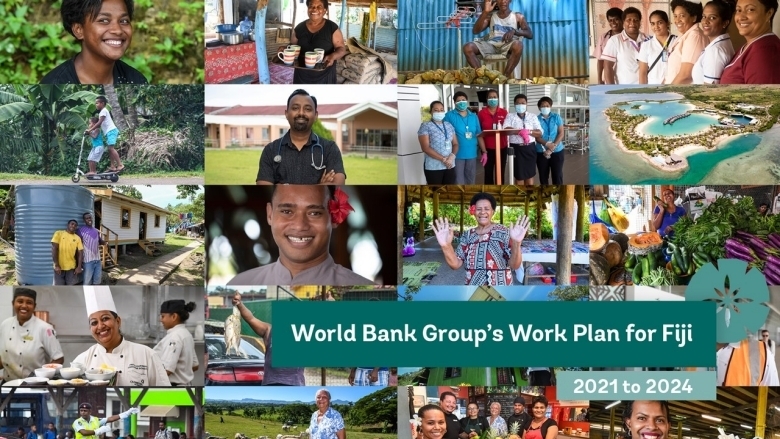 The New Country Partnership Framework (CPF) for Fiji
In efforts to help Fiji recover from the impacts of COVID-19 and cyclones Harold and Yasa, the World Bank Group has discussed its first ever Country Partnership Framework (CPF) for Fiji. It is the World Bank Group's prioritized plan of work for Fiji over the next four years.
The CPF was developed after close consultations with government, civil society organizations and the private sector in Fiji, and is aligned with Fiji's five- and 20-year National Development Plans (NDP). The CPF also focuses on advancing progress toward the World Bank Group's twin goals of reducing poverty and increasing shared prosperity in a sustainable manner.
The World Bank Group's aims in Fiji
The World Bank Group's new CPF is the first standalone strategy for Fiji that aims to boost the Fijian economy and strengthen its fiscal, climate and social resilience following the unprecedented economic and social impacts of COVID-19, as well as severe Tropical Cyclones Harold and Yasa; all three events having hit Fiji in 2020, in addition to the ongoing impacts of climate change.
Key Focuses of the Country Partnership Framework 2020-2024
1. Fostering Private Sector-led Growth and Inclusive Economic Opportunities
Improve competitiveness through creating a better investment climate and strengthening financial infrastructure:
Improve income generation and job opportunities from the services sector, especially tourism
Enhance delivery of productivity-enabling resilient infrastructure.
That means:
Focusing on reforms and cutting barriers to spur business and create jobs;
Improving access to financing;
Revitalizing the tourism industry, and boosting the use of Fiji's home grown produce;
Providing better infrastructure; better digital services and more clean energy
2. Building Resilience
Strengthen fiscal resilience, including through improved macroeconomic governance
Increase climate resilience and strengthen management of disaster risks and health emergencies
Improve efficiency and effectiveness of the social protection system
That means:
Strengthening resilience of key transport infrastructure;
Delivering affordable climate resilient homes for low income earners;
Supporting development of the Blue Economy;
Helping communities prepare for and respond to climate and public health emergencies; and
Providing assistance to help families and businesses recover, as quickly as possible, from the impacts of COVID-19.
Cutting across all of this work, is the need to strengthen governance and increase gender equality, by creating more jobs for women and addressing gender-based violence.