These are just a few of the questions that are examined in the World Bank's Systematic Country Diagnostic for FYR Macedonia: Seizing a Brighter Future for All. Prepared in close consultations with national authorities and key stakeholders, the Systematic Country Diagnostics identifies not only opportunities for the country to grow faster and more inclusively, but also barriers to be dismantled, while ensuring that benefits are sustained over the long term.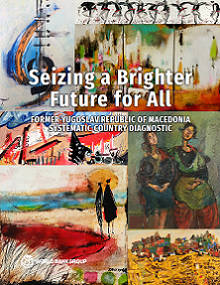 FYR Macedonia Systematic Country Diagnostic: Seizing a Brighter Future for All
|
DOWNLOAD PDF
|
Overview PDF
The Systematic Country Diagnostic presents a wealth of evidence about the country's economic development and the progress achieved in reducing poverty and advancing shared prosperity. FYR Macedonia has come a long way since its independence in 1991. Its early market-oriented reforms, openness to trade, and prudent macroeconomic management created an environment of economic stability that attracted private investment and boosted exports, particularly in manufacturing. Its strategic geographical location is also a major asset, given the largely untapped export potential of its agriculture and services sectors.
Since 2002, income per capita doubled and the country moved from low-middle to upper-middle income status.
However, despite these achievements, economic growth has been insufficient to close the gap in living standards with European countries. Macedonian firms show low levels of productivity and innovation, and for the most part they are disconnected from the global economy. Close to 25 percent of Macedonians still live in poverty and only 50 percent of people of working-age have jobs. Meanwhile, low birth rates and emigration are shrinking the size of the workforce.
How can FYR Macedonia achieve faster, more inclusive, and sustainable growth? The Systematic Country Diagnostic identifies three complimentary pathways to this end:
Fostering a more dynamic and competitive private sector
Developing a more competitive and adaptive human capital and closing opportunity gaps
Achieving sustainability through effective governance, fiscal prudence, and enhanced environmental management and resilience to natural hazards
Ten policy priorities are identified across these three pathways. Topping these priorities, based on their expected impact, is the need for reforms that can strengthen the rule of law and build capable public institutions, endow all people with quality and relevant skills, and improve the ability of Macedonian firms to compete globally.
Through an iterative process of evidence-gathering and stakeholder consultations, the Systematic Country Diagnostic aims to inform government, civil society, representatives of the private sector, and development partners.
It is ambitious but realistic to think that in the coming decades FYR Macedonia can build a robust middle-class society and seize the opportunities that European Union accession can bring. The country's success will depend on its ability to act boldly and hold to a steady reform course.
Download the Full Report in Macedonian.
Download the Overview in Macedonian, Albanian.