RECENT ECONOMIC DEVELOPMENTS
A strong recovery in domestic demand has driven growth. Movement restrictions in combination with an almost complete shut-down of tourism during the COVID-19 pandemic resulted in Nepal's first economic contraction in 30 years in FY20 (-2.4 percent). A decisive vaccine roll-out and the reopening of borders have supported the economy's recovery, with growth estimated to have accelerated to 5.8 percent in FY22. Strong growth in domestic demand for consumption and investment was the main driver of the recovery.
Imports have recovered much faster than Nepal's traditional external financing sources. Due to a variety of structural constraints1 Nepal's domestic production of consumption and investment goods is limited, which means that the country relies predominantly on imports to meet domestic demand. As a result, the demand-led recovery after COVID-19 was also accompanied by a surge in imports. This surge peaked in late 2021 and has moderated since then. In contrast to imports, remittances, Nepal's traditional source of foreign exchange earnings, have not grown substantially during the pandemic due to restrictions on international travel and have only begun accelerating since March 2022. Service export earnings are also growing more slowly as the country reopens for tourism. They remain below pre-pandemic levels as many Chinese tourists have yet to return.
At the beginning of the pandemic Nepal accumulated a substantial buffer of foreign exchange reserves, due to both a slump in imports and new concessional loan disbursements. As imports outpaced foreign currency earnings during the recovery phase, Nepal used its reserves to finance imports, chipping away at the reserves stock until it was once again at pre-pandemic levels. Now that remittances and service exports are rising and the import boom abating, reserves are beginning to stabilize and covered 6.9 months of imports in the most recent data. This is above the optimal level of 5.5 months recommended by the IMF,2 and close to the central bank policy floor of 7 months of import cover.
Aiming to support households and firms, the Nepal Rastra Bank (NRB), the country's central bank, pursued an accommodative policy stance for most of the pandemic. In addition to a low policy rate, the NRB maintained a generous loan refinancing facility for small and medium firms, loan repayment facilities, and relaxed lending standards. These measures contributed to lowering lending rates early in the pandemic and fed a subsequent credit boom.
The war impacted the country primarily through increasing global commodity prices. This had two effects. First, due to a low short-term demand elasticity, the value of fuel and commodity imports rose. Total fuel and lubricant imports for the period from March to June 2022 were 75 percent higher than in the same period in the year before. Second, rising commodity prices were passed on to consumers, leading to higher domestic inflation. For instance, in June 2022 transportation sector prices were 26 percent higher than one year earlier.
The Nepali Rupee has been pegged to the Indian Rupee at a constant rate since 1993. Although the peg provides stability to domestic import-dependent businesses and investors and anchors expectations, it also eliminates a key pricing mechanism as its inability to depreciate during the post-covid import boom likely delayed a rebalancing of foreign currency demand and supply. In the absence of price mechanisms, the policy response included an import ban for multiple product categories in April 2022, which is set to expire in October 2022. In addition to the ban, the authorities issued regulations that require importers of 47 product groups to deposit 50 to 100 percent of the imports' value in bank accounts to obtain a letter of credit prior to import. The authorities have also urged banks to limit the issuance of letter of credits for imports and have publicly advocated for stronger import substitution policies. In addition, the NRB has raised the policy rate three times - in August 2021, February 2022, and July 2022 - to reduce credit and import demand.
Low budget execution rates and reduced intergovernmental transfers have kept the deficit in check, but structural problems remain unaddressed. Nepal's federal fiscal deficit stood at 3.5 percent of GDP at the end of FY22, continuing a three-year decline after a peak of 5.4 percent of GDP in FY20. The reduction in the fiscal deficit was driven by a 0.8 percentage point of GDP reduction of expenditure, as Nepal spent less on intergovernmental transfers and only executed 57 percent of its capital budget. While total government spending decreased, spending net of intergovernmental transfers increased,highlighting that the federal government did not reduce its expenditure envelope to align with its reduced scope of responsibility after the transition to federalism. Revenue increased by 0.2 percentage points of GDP in FY22 due to an expansion of excise revenue. By contrast, collections from less distortionary revenue sources, including income taxes and VAT, stagnated or declined. The revenue mix thus continues to be tilted towards production inefficient sources. Import duty revenues also declined, partially due to the impact of import bans since April 2022. Public debt stood at 41.5 percent of GDP at the end of F Y22 and is split approximately evenly between external concessional and domestic sources.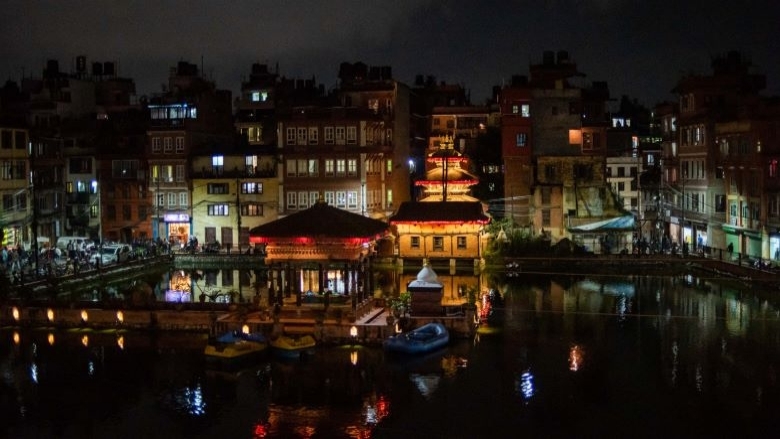 Sabrina Dangol/World Bank
Outlook, Risks, and Challenges
The forecast projects growth moderating to 5.1 percent in FY23 and 4.9 percent in FY24, reflecting monetary policy normalization, the end of pandemic-era monetary support measures, and still relatively high commodity prices. A rebound in tourism is projected to support the services sector, although higher interest rates could weigh on demand in other sub-sectors. Industrial growth is expected to be strong due to increased hydroelectricity production and an increased supply of electricity to other industrial sectors. Continued fertilizer shortages would weigh on agricultural growth. Inflation is expected to moderate to 5.3 percent in FY24 as commodity prices stabilize and a hawkish monetary policy is fully implemented.
The fiscal deficit is projected to fall from 3.4 percent of GDP in FY23 to 2.4 percent in FY24 as remaining COVID-19 support measures and FY23 electoral spending end, and the government implements revenue-enhancing reforms. Total public debt is projected to decrease to 40.7 percent of GDP by FY24. The current account deficit is expected to narrow to 8.8 percent of GDP in FY23 and 5.7 percent in FY24 as tightened monetary policy increases import financing costs and commodity prices stabilize. Remittances are expected to increase by 0.7 percent of GDP between 2022 to 2024 reflecting increased outmigration and exports, while small in magnitude, are projected to rise. FDI is projected to remain low, leaving external borrowing and reserves drawdowns to continue financing the current account deficit.
Higher than expected inflation would reduce household purchasing power and drag growth, as would an extension of import restrictions. Welfare recovery remains uncertain due to rising inflation and risks to agricultural production. While a steeper drop in commodity prices would reduce the import bill and ease external pressures, a strong correction in oil prices could lower the demand for migrants in Gulf countries and weigh on remittances inflows.
Last Updated: Oct 07, 2022