ANTANANARIVO, June 1, 2022 – According to the latest Madagascar Economic Update: Navigating Through the Storm, development prospects in Madagascar continue to be hampered by the country's low growth potential and exposure to frequent, deep, and persistent crises.
"A commitment by the government to implement bold reforms to stimulate private investment and job creation, improve public sector governance, and reinforce resilience to shocks have become all the more urgent as Madagascar faces new headwinds," said Marc Stocker, World Bank Senior Economist in Madagascar and author of the report.
Here are some of the main takeaways of the latest economic update for Madagascar:
Growth and poverty reduction made limited headways before the COVID-19 crisis
Growth before the crisis remained insufficient to boost living standards and reduce poverty. A return to political stability renewed access to key export markets and external financing helped spur a modest economic revival up from 2013 to 2019, but growth only averaged 3.5% over that period, which barely surpassed population growth and was significantly weaker than the previous investment-led upturn of the mid-2000s. Overall, gross domestic product (GDP) per capita increased at an average pace of 0.7% per year from 2013 to 2019, which was insufficient to create opportunities to lift a share of the population out of poverty.
GDP growth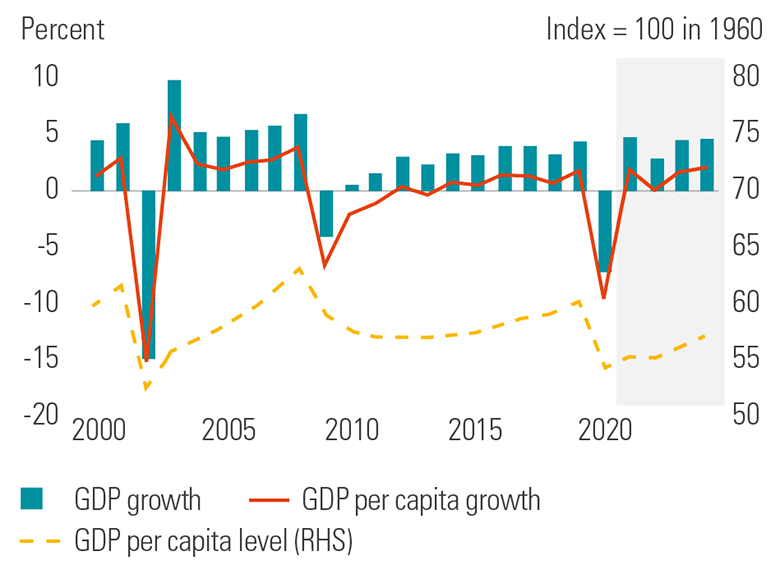 Poverty rate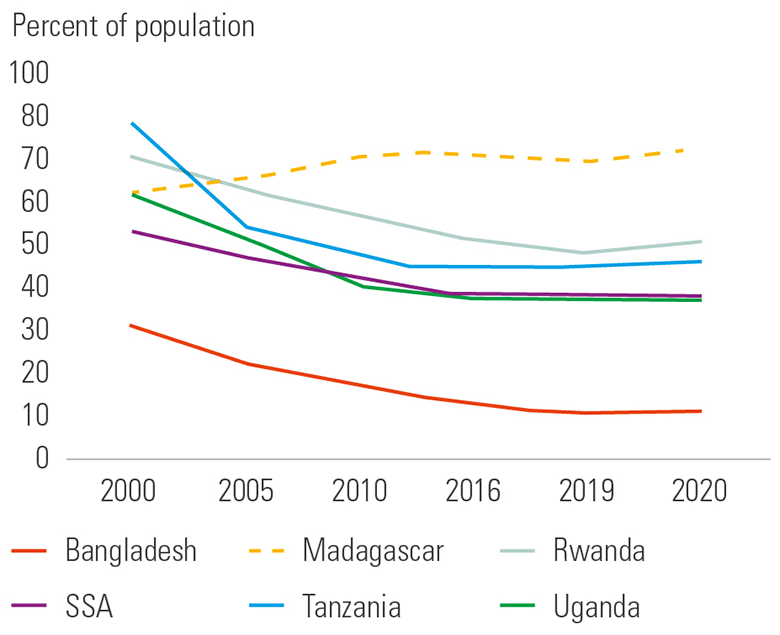 The COVID-19 pandemic triggered one of the deepest recessions in Madagascar's history
Despite a comparatively modest number of COVID-19 (coronavirus) cases in Madagascar, the shock associated with the pandemic triggered a recession that was about three times deeper than in the rest of Sub-Saharan Africa, with a collapse in export revenues and private investment resulting in a contraction of GDP by 7.1% and of income per capita by 9.8%. As a result, an additional 1.8 million people are estimated to have fallen below the international poverty line in 2020, bringing the poverty rate to an all-time high of 80.7%. Rising poverty reflects job losses in most exposed sectors such as transport, tourism, and trade, delayed salary payments (part of which is remitted to poor relatives in rural areas) and declining revenues in informal sectors. Compounding this shock, historic droughts in the South had pushed 1.6 million people in a situation of acute food insecurity by early 2022, and a series of floods and cyclones have impacted key infrastructure and the livelihood of exposed populations in other parts of the country in early 2022.
New headwinds weigh on growth prospects and the outlook
Growth is projected to moderate in 2022, reflecting a combination of severe domestic and international shocks. The combined impact of a third wave of the pandemic around the turn of the year, five major tropical storms hitting the country since January and the escalating conflict in Ukraine are expected to result in growth dipping in 2022 to 2.6%, while inflation accelerates to 7.5 and the current account deficit widens to 7% of GDP. Growth is expected to pick up to 4.2% in 2023 and 4.6% in 2024, driven by a modest rebound in consumer spending and private investment. The expected recovery in economic activity in 2023-24 will translate into a gradual decline in poverty rates, to 80.2% in 2023 and 79.9% in 2024.
Figure 1.34: Poverty rate and GDP per capita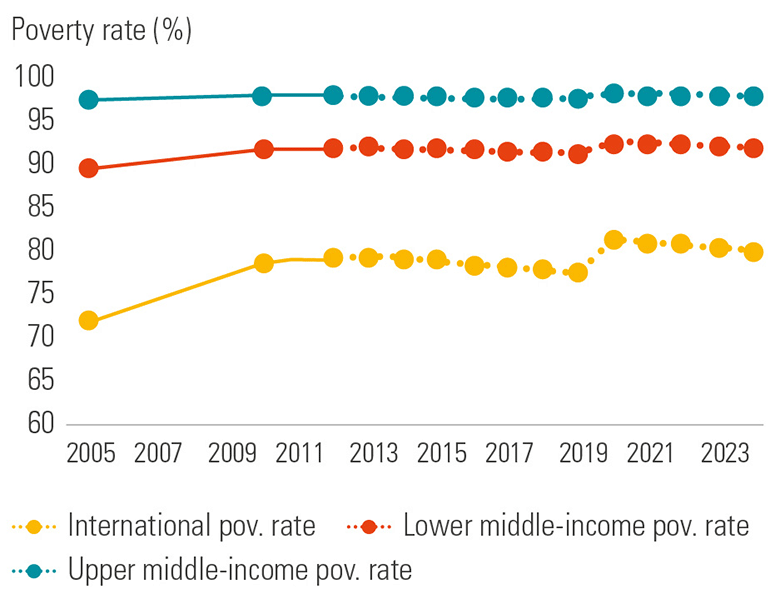 Both international and domestic risks have increased. At the international level, a further escalation of geopolitical tensions associated with the Russian invasion of Ukraine could have larger-than-expected repercussions on global energy, fertilizer and grain prices and trigger a recession among main trading partners. New variants of COVID-19 could also heighten the risk of a hard landing of the global economy, which would negatively impact a small open economy like Madagascar. At the national level, additional climate shocks could lead to further damages to infrastructure, crop production and the livelihood of most affected populations.
In the absence of a new drive for reforms, Madagascar risks falling further behind
Based on pre-crisis trends, it would take about 10 years of uninterrupted growth to revert the loss in average incomes that occurred during the 2020-22 crisis and 73 years to reach current living standards in Rwanda, which is Madagascar's closest aspirational peer.
Figure 1.41: Years needed to reach pre-crisis living standards of peers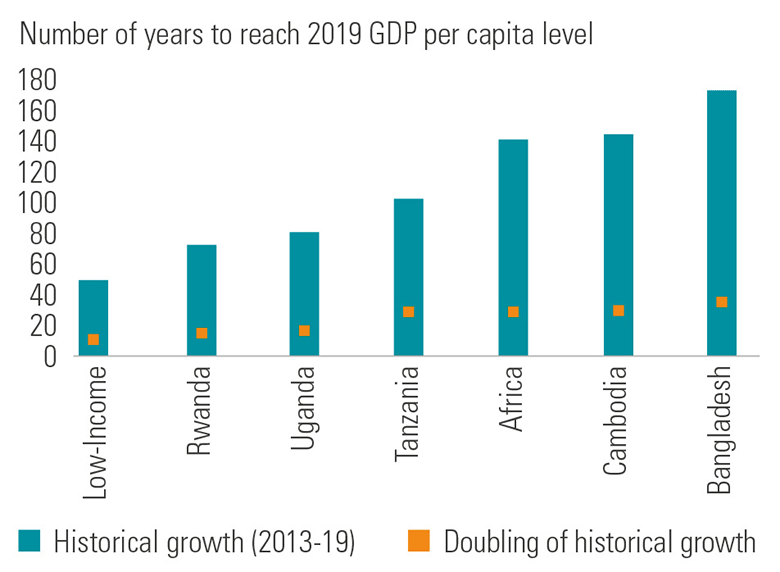 To have a meaningful shot at reducing poverty in coming years, the country would need to sustain significantly higher and more inclusive growth. This can only happen if the government kickstarts far-reaching reforms that will enable new investments in sectors critical to job creation and structural transformation, better access to basic infrastructure, greater resilience of vulnerable populations, and more transparency and accountability in public policies. Several policy priorities are highlighted as particularly urgent in this Economic Update, including (i) a clear strategy to speed up vaccination for vulnerable groups as well as in urban and tourist areas; (ii) the restoration of essential public services and connectivity infrastructure following recent climate shocks; (iii) forceful actions to address food insecurity and boost domestic food production; (iv) fuel and electricity price reforms that protect the poor while preventing ballooning fiscal deficits and socially regressive subsidies; (v) a new momentum to boost access and affordability of broadband and digital services; and (vi) more public sector transparency and accountability.
Special Focus: Boosting School Performance
Learning outcomes have deteriorated over the last decade. School closures during the pandemic have intensified a more structural deterioration in learning outcomes in previous years. The poor performance of the education system is tightly connected to teacher effectiveness, job satisfaction and school management. Teachers generally have low academic qualifications, particularly community teachers, as 80% of them have no formal credentials. In addition, school management systems do not provide adequate support to teachers or accountability in case of poor performance or unethical behavior. Job satisfaction among public school personnel is very low, reflecting difficulties in getting paid, job insecurity, lack of in-service training, high pupil-teacher ratios, and lack of basic infrastructure and teaching materials. Reform strategies that combine measures boosting transparency and effectiveness of teachers' selection and evaluation, salary and school grant management, citizen engagement, school management, and teacher incentives can significantly boost school performance and learning outcomes.