As in many countries, tax collection is a development challenge in Kosovo.
The Tax Administration of Kosovo (TAK) requested assistance from the World Bank and the Deutsche Gesellschaft für Internationale Zusammenarbeit (GIZ) to address this challenge using an evidence-based approach.
To this end, the World Bank and GIZ applied behavioral insights to promote tax compliance among specific groups of taxpayers.
Simple, behaviorally designed messages were effective in inducing tax declaration in Kosovo, and helped raise the tax declaration rate during certain perids.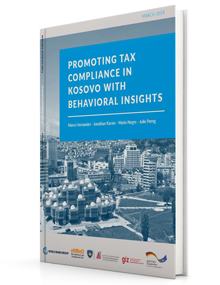 Promoting Tax Compliance in Kosovo with Behavioral Insights
Lessons from the tax experiments in Kosovo highlight the benefits of rigorous impact evaluation and the need to establish processes that help integrate tax collection functions and data systems.
It is recommended that similar tax collection efforts in Kosovo in the future investigate additional communication channels and populations of interest.