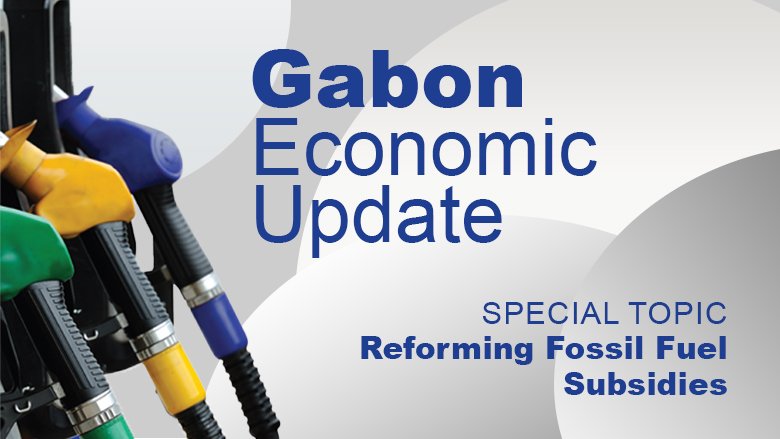 STORY HIGHLIGHTS
While gradually decreasing, high oil prices are likely to continue to buoy Gabon's economy in the medium term, says the World Bank's Gabon Economic Update. However, the high dependence on oil prices also poses significant downside risks, underscoring the need for economic diversification.
The report analyzes the costs of fuel subsidies and highlights that fossil fuel subsidies, which represent a growing fiscal burden in Gabon, largely benefit the wealthiest segments of the population.
The report also presents good practices in fuel subsidies reforms and possible accompanying measures to make fuel price adjustments socially acceptable and minimize the impact on the population.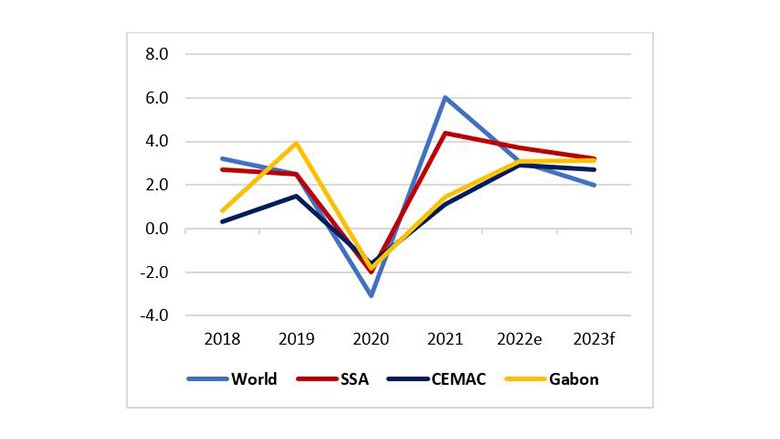 Sources: Global Economic Prospects and World Bank staff calculations. | Note: Preliminary data for 2022; projections for 2023.
Pro-poor Approach to Reforming Fossil Fuel Subsidies
While Gabon's economy has benefited from high oil prices, this has also led to an exponential increase in the fiscal cost of fossil fuel subsidies for the country.
As the Gabonese population, particularly the most vulnerable, was increasingly affected by the recent surge in inflation, the Government increased spending on fuel and food subsidies to contain the rising cost of living.
Fuel subsidies were estimated at 100.6 billion CFA francs (about US$165 million) in 2022, equivalent to 0.7% of GDP. In an attempt to contain the fiscal costs of fuel subsidies, Gabon abolished subsidies for the industrial sector in June 2022. Despite this effort, public spending on subsidies still represented two thirds of total public spending on health, and more than half of public spending allocated to education for the same year.
The fiscal and social opportunity costs of subsidies are high. Furthermore, fuel subsidies benefit mostly the wealthiest segments of the population, highlighting the importance to consider more effective and better-targeted alternatives to support the most vulnerable. Reducing fuel subsidies could free up resources to support a counter-cyclical fiscal policy and to address Gabon's development challenges. Investing in a country's people ─ in their health, skills, and resilience to shocks ─ is essential to fostering more inclusive growth, particularly in Gabon, where a child born today will on average be only 46% as productive as he or she could be.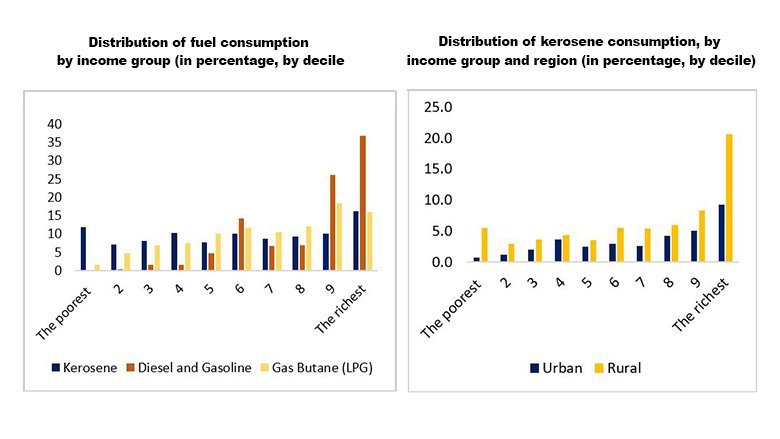 Sources: Gabonese authorities and World Bank staff calculations.
Note: Estimates are based on data from the 2017 Gabon Poverty Assessment (Enquête Gabonaise pour l'Evaluation et le Suivi de la Pauvreté).
Based on the experience of countries that have successfully carried out fuel price adjustments to tackle the fiscal cost of fuel subsidies, good practices and possible accompanying measures to make fuel price adjustments socially acceptable and minimize the impact on the population include:
Prioritizing reforms of fuels that benefit the richest segments of the population and that represent the highest fiscal cost;
Adopting a temporary price-smoothing mechanism that strikes a balance between excessive price volatility and fiscal risks;
Staggering the reform to allow households and firms to adapt and deploy mitigation measures;
Engaging in consultations with all stakeholders and conducting communication campaigns to address the concerns of different economic groups;
Adopting targeted measures to mitigate the impact on the most vulnerable and on key sectors for the economy, by strengthening social safety nets and increasing social spending.