BANGUI, November 16, 2023 – The World Bank issued today its first-ever Poverty Assessment report for the Central African Republic (CAR).
Here are some highlights from the report:
1. Extreme poverty is widespread in CAR
CAR has one of the world's highest rates of poverty – almost 7 out of 10 people are living on less than $2.15 per day, the international poverty line for extreme poverty. More than half are food poor, which means they are unable to afford enough food even if they devote their entire household budget to food.
Many of country's 6.1 million people are also suffering from extreme non-monetary deprivations – almost nine out of 10 people have no access to electricity; secondary school enrolment is a meagre 16%; and only 2.5% of the country's roads are paved.
Poverty at $2.15 per day in CAR and comparator countries
2. Declining prosperity
Conflict, political instability and displacement have plagued CAR since gaining independence in 1960. As a result, the country's real Gross Domestic Product (GDP) per capita has been declining and is lower today than in the 1960s.
Real GDP per capita in CAR (1960-present)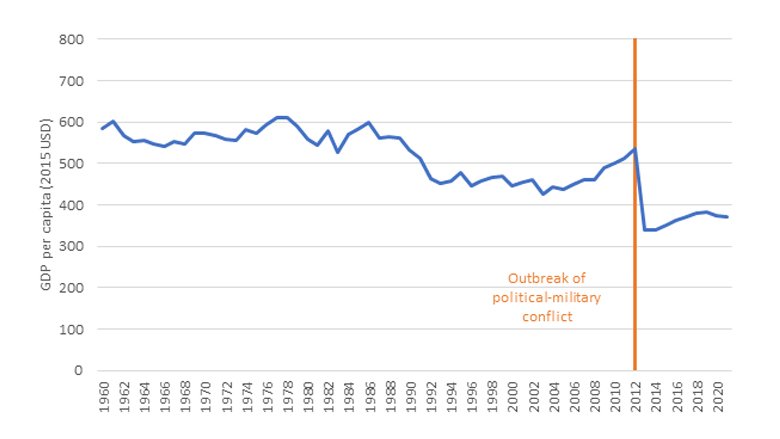 3. Fixing Farming and Infrastructure
The report identifies a roadmap to reducing poverty. With 70% of the country's working age population dependent on farming, fixing agriculture offers the most direct way to improve livelihoods and feed people. Rainfed agriculture is prevalent throughout the country, with cassava, maize, rice, sorghum, and millet comprising the main staple crops. These activities are also potentially vulnerable to climate-related shocks.
However, agricultural productivity is low, constrained by lack of access to key inputs (such as fertilizers, irrigation, and equipment) and markets (lack of paved roads and limited trade). About 1 in 10 Central Africans need to walk more than one hour to reach a primary, secondary, or tertiary road. This underscores the importance of investing in infrastructure to improve farmers' access to markets for enhancing agricultural productivity and bolstering livelihoods.
Difficulties encountered by households trying to sell agricultural produce