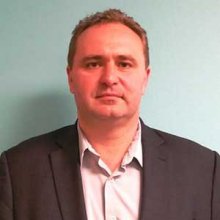 Acting Vice President and WBG Chief Information Officer, Information & Technology Solutions
Valentin Prudius is the Acting World Bank Group Chief Information Officer and Vice President, Information & Technology Solutions. In this role, he will manage the Bank Group's information management and technology portfolio, which is tightly linked with the institutions' overall strategic direction.
He is also the Director of the WBG Finance IT department that provides technology solutions to finance, treasury, human resources, and general services functions across the Bank Group.
He has previously led the WBG enterprise-wide Data Management Office and had roles both in IT and Financial Risk Management promoting data and Information Management practices through capital projects and business engagements. He joined the Bank Group in 2004 and held several leadership positions with the IFC and World Bank including heading the Risk, HR, and Legal IT portfolios and managing the Bank Group's financial risk management and analytics. Prior to that he has worked in the health systems administration, consulting, and banking sectors.
Mr Prudius, a native of Moldova, earned his engineering license from the University of Moldova and an MBA from George Mason University, focusing on management information systems and finance. He also completed his doctoral coursework in Software Engineering at George Mason University. He has also authored publications and has a patent in health administration.