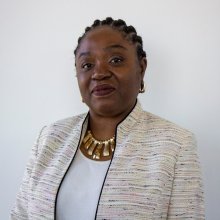 Program Manager - Sint Maarten Trust Fund Program (LCRST)
LCR Latin America and Caribbean
Toyin Jagha heads the World Bank's Sint Maarten (SXM) Trust Fund portfolio in the Caribbean country management unit of the Latin America and Caribbean region (LCR) at the World Bank Group. In this role, she provides overall strategic direction, leads program delivery and management, and contributes to knowledge management in Sint Maarten. She leads the Bank's dialogue in Sint Maarten on a broad range of operational, policy, and program issues, including establishing the office, identifying risks, overseeing staff, and managing resources effectively to deliver high quality investment projects, analytics, and advisory services.
Ms. Jagha has wide-ranging experience spanning multiple countries, sectors, and clients. She has contributed operations advice and hands-on support to more than 76 projects in over 14 sectors, 17 countries, and four regions. When she joined the World Bank Nigeria office in 2006, she spent three years working closely with task team leaders to design and implement health, social protection, and education projects. She then managed the monitoring and evaluation aspects of at least 29 projects across many sectors in the Nigeria program for four years. She was part of core teams that developed three country partnership frameworks and four performance and learning reviews, and she authored two completion and learning reports. In addition, she served as Senior Country Officer for 18 months.
As a Senior Operations Officer in the Operations Policy and Country Services (OPCS) unit from 2014 to 2018, Ms. Jagha was part of the Results team responsible for strengthening the Bank's outcome monitoring and measurement. She led the World Bank Group and World Bank Corporate Scorecard preparation and discussion with the Board of Executive Directors. In OPCS, she also led the revamp of the 179 Core Sector Indicators, leading to the rolling out of 25 Corporate Results Indicators.
In addition to her regular staff positions, Ms. Jagha has been an operations trainer for ten years, facilitating various face-to-face and virtual learning sessions, including the Fundamentals of Bank Operations, the Core and Advanced Operations Academy, Results Monitoring and Evaluation, and the Country Partnership Framework Academy.
Before joining the Bank, Ms. Jagha was the Planning, Monitoring, and Evaluation Manager at WaterAid International in Abuja, Nigeria, engaging with partners and donors across various sectors and countries.
Ms. Jagha holds a Master's in Public Health, focusing on health education and communication, from the University of Ibadan, Nigeria's Premier University. She also has a Bachelor's in Human Nutrition and is completing a Master of Business Administration at the University of Warwick, United Kingdom.