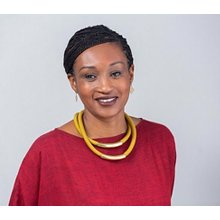 Director of Gender and Economic Inclusion, IFC
Nathalie Akon Gabala joined IFC as Director of Gender & Economic Inclusion Department in September 2023. Nathalie, an American and Ivorian national, was earlier the Executive Director at Mastercard Foundation. She was responsible for the Pan-Africa platform, leading enterprise-wide the four programmatic thematic areas of Gender, Entrepreneurship Development, Digital Economy and Agrifood Systems and Climate.

She previously held the role of the Regional Director, overseeing the Foundation's expansion into West, Central and Northern Africa, leading a large team across the region, and setting the overall strategic direction and framing for programming in line with the Foundation's values and priorities.

Prior to joining the Mastercard Foundation, Nathalie was a Partner & Managing Director Africa of Equator Capital Partners, an impact investment fund manager, where she supervised the Africa investment team throughout the investment process including origination, structuring and negotiation, investment committee proposals and board representation.

Nathalie served as an independent director on leading African banks, and as Chair of the investment committee of the private sector facility of the African Development Bank Group. She was also listed in the 100 most influential women in the 2022 publication by Advance Media.
Nathalie holds a Master of Management in Strategy and a Minor in Finance from Ecole Supérieure de Commerce de Paris, France.