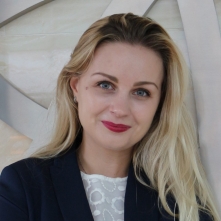 Private Sector Development Specialist, Business Ready (B-READY), Global Indicators Group
DEC Development Economics
Nadia Novik is the Topic Lead of the Taxation team within the Business Ready (B-READY) project at the World Bank. Prior to her current role, she led the Financial Services team in the same project at the time of its initial development.
Mrs. Novik joined the World Bank in 2013, working on the Doing Business project, where she covered the Starting a Business and the Paying Taxes Indicators before taking on the role of leading the Getting Credit – Credit Information indicator.
Before joining the World Bank, Mrs. Novik worked at PwC as a Tax Consultant specializing in international taxation and structuring. She also interned at the Department of International Relations of the Chamber of Commerce and Industry of Ukraine, where she gained valuable experience in the field of international business.
Mrs. Novik holds a Master's degree in International Business Management and a Bachelor's degree in International Economics from the Kyiv National Economic University. She has also completed a course on circular economy at the WageningenX and a series of statistics and computer programming classes at the Harvard Extension School, demonstrating her commitment to ongoing professional development.