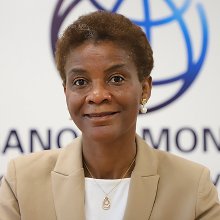 Resident Representative for the Republic of Congo
A Gabonese national, Louise Pierrette Mvono has been the World Bank's Resident Representative in the Republic of Congo since July 1, 2023. She joined the World Bank Group in 2016, as Senior Education Specialist in the Democratic Republic of Congo, then in Morocco.
Prior to joining the World Bank, she held several positions within the United Nations System in Africa, the Middle East and North Africa region and South Asia, where she managed several public policy reform programs in the sectors of basic education, integrated early childhood and adolescent development, social protection, and skills development for employability, with a particular focus on partnerships between training institutions and the private sector. She has over 25 years' experience in human capital development and the fight against poverty.
Ms. Mvono holds a PhD in Educational Systems Evaluation from the Institut de Recherche sur l'Économie de l'Éducation (IREDU) at the University of Bourgogne in France.