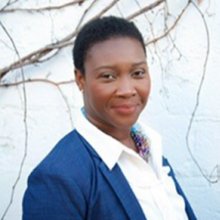 Lead, Partnerships-Private Sector, Foundations and Think Tanks
ECR External and Corporate Relations
Anna Thompson-Quaye is the Lead, Partnerships, in the Engagement and Partnerships unit, World Bank Group. She is responsible for strengthening the Bank's engagement with the private sector, foundations, philanthropic organizations, and think thanks.
Anna has extensive experience building private sector and foundation partnerships, mobilizing resources as well as developing partnerships with the business and philanthropic communities to leverage their comparative advantages to address development challenges in low-income countries.
Anna brings experience implementing programs in low-income countries with local stakeholders. She has worked within international organizations as well as with businesses, business coalitions, networks, and platforms. She worked with senior executives of mid-sized and Fortune 500 companies on workplace and social investment programs; facilitated the development of industry action on procurement with leading bed net manufacturers; orchestrated the effective engagement of the private sector on board policies of the Global Fund to Fight AIDS, Tuberculosis, and Malaria; and has organized and facilitated dialogues across multi-stakeholder groups.