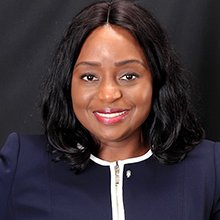 World Bank Resident Representative for Gabon and Equatorial Guinea
AFR Africa
Aissatou Diallo officially took office as the World Bank Resident Representative for Gabon and Equatorial Guinea on October 1, 2022.
Prior to her appointment to this position, she was the Senior Financial Management Coordinator in the Governance Global Practice of the Western and Central Africa region of the World Bank where she oversaw the fiduciary assurance program for Cameroon, Congo, Gabon, and the Central African Republic as well as World Bank technical assistance for Gabon.
She has held various positions within the World Bank Group over the past 19 years, including leading the financial management program for the West Africa Regional Integration Program. She also led the initiative to develop a Risk Appetite Framework.
During her career, she has contributed to the preparation and implementation of development programs and projects for the Western and Central Africa region as well as the Middle East from 2008 to 2017 and the Europe and Central Asia region from 2020 to 2021.
Aissatou Diallo has over 25 years of experience in development finance, risk management, digitalization, transparency and has in-depth knowledge of World Bank products and services.
Prior to joining the World Bank in 2003, she worked as an internal auditor and tax accountant with Halco Mining Inc.