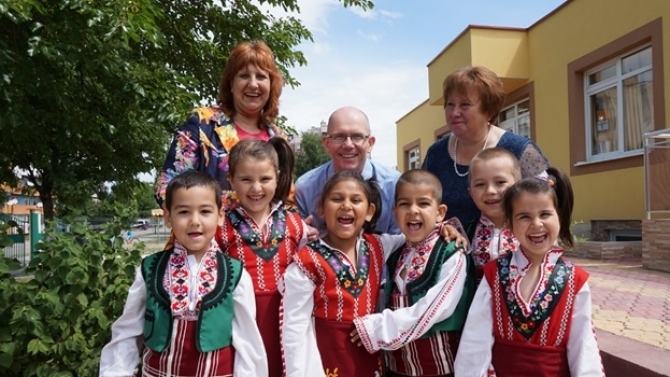 The World Bank Group (WBG) is launching a recruitment drive for IT, Treasury and Procurement professionals for the recently opened Shared Services Center in Sofia, Bulgaria.
While the World Bank Office in Bulgaria has been operational since 1992, the Shared Services Center in Sofia was opened in 2019 to provide administrative and technology support to the Group's business operations in 160 locations around the globe. The Center will be located near Sofia Business Park beginning in early 2021 and will be home to the World Bank's growing Sofia workforce.
A career with the World Bank Group offers a unique opportunity for exceptionally talented individuals with a passion for international development to contribute to solving some of the world's most pressing problems.
If you want to change the world, then the World Bank Group is the right place for you. We are proud to be an equal opportunity and inclusive employer with a dedicated and committed workforce, and do not discriminate based on gender, gender identity, religion, race, ethnicity, sexual orientation, or disability.
The Bank Group offers competitive salaries, a very competitive benefits package and exciting opportunities for an international career in a very stimulating environment.
Employment Benefits
The Bank Group offers competitive global employment benefits to you and your family members from your first day of employment, throughout your career, during and beyond your retirement. Our benefit programs include essential elements that will support you and your family needs. Just a few of the benefits we offer are:
Staff Retirement Plan
Medical Benefits Plan (MBP)
The Financial Assistance Program
Life Insurance Programs
The Disability Insurance Program
Comprehensive Leave Policy
Parental leave Policy
Child Planning Benefit
Future Openings
More positions will come throughout the year. We will be looking for the following experts so please look for our career opportunities.
Experience transitioning legacy data stores to cloud platforms, building data pipelines and strong programming skills with the ability to manipulate data with scripting languages.
Experience in data analytics, specifically with front-end and Business Intelligence development, creating and delivering reports and dashboards with modern cloud-based platforms.
Experience in deriving technical specifications from business requirements, robust understanding of modern cloud databases, proved track record of using a suite of analytics solutions and solid technical documentation skills.
Experience in designing scalable data management systems in the cloud, plus developing solutions to improve data reliability, efficiency and quality with hands on experience with complex technical data stores.
Experience in solving complex business problems by developing modern software systems, track record in designing and documenting critical cross-functional business process flows, supporting the development and review of solution design, architecture and security.
Solid experience in applications development and delivery across a range of areas covering modern, cloud-based solution development in complex heterogeneous environment.
Strong experience in data analysis, machine learning and semantic analysis, track record in analyzing data and applying models to understand trends and patterns that uncover solutions to business challenges.
Network Operations Centre Engineer
Experience with Service Management tools and ticketing systems (Remedy, ServiceNow, etc.) with good knowledge and understanding of LAN (wired and wireless)/WAN technology.
Network Engineer LAN & Firewall Administration
Experience with Cisco routers and switches, including NXOS, IOS as well as Firewall Administration (e.g. Palo Alto) with solid understanding of TCP/IP, subnetting, VLSM, VLANs, STP, OSFP and BGP.
For a complete listings for all World Bank Group job openings, click here.
ADDITIONAL LINK:
Press statement: World Bank Group Opens New Office for Shared Services in Sofia
Last Updated: Jan 22, 2021