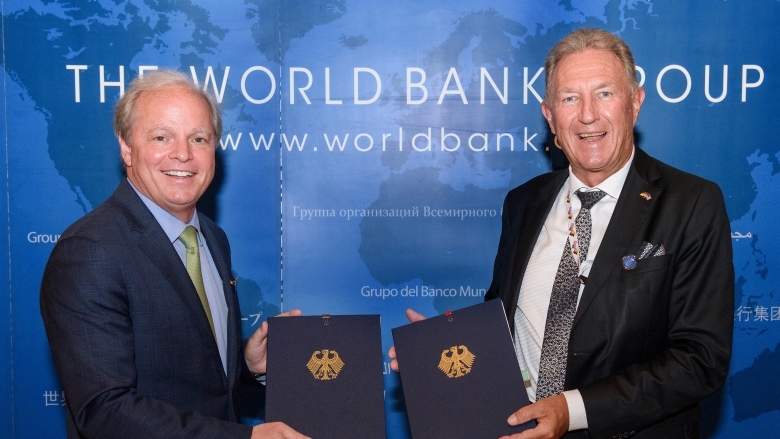 Washington, 15.10.2021 – Die Weltbank und das Bundesministerium für wirtschaftliche Zusammenarbeit und Entwicklung (BMZ) unterzeichnen heute eine Absichtserklärung, die die Richtung zu weiterer Zusammenarbeit weisen, die Entwicklungsfortschritte für grüne, resiliente und inklusive Entwicklung vorantreiben und die Bewältigung der Corona-Krise unterstützen wird. Die Absichtserklärung ist Ausdruck der gemeinsamen Überzeugung, dass nachhaltiges und inklusives Wachstum eine Notwendigkeit ist.
Norbert Barthle, Parlamentarischer Staatssekretär im BMZ, und Axel van Trotsenburg, Managing Director of Operations bei der Weltbank, unterzeichnen am Rande der Jahrestagung der Weltbankgruppe und des Internationalen Währungsfonds (IWF) in Washington D.C. die Absichtserklärung als übergeordneten Rahmen für die weitere Zusammenarbeit.
"Wir wollen unsere Zusammenarbeit für das Ziel der nachhaltigen globalen Entwicklung vertiefen. Die COVID-19-Krise hat uns sehr deutlich gezeigt, wie wichtig der Schutz von Investitionen in globale öffentliche Güter ist," sagt Norbert Barthle, Parlamentarischer Staatssekretär des BMZ. "Bündeln wir unsere Kräfte, um unsere Partnerländer dabei zu unterstützen, ihre Wirtschaft so wieder aufzubauen, dass sie resilienter gegen Schocks wie den Klimawandel und zunehmende Ungleichheiten ist. Unsere Absichtserklärung schafft eine solide Basis für gemeinsame Anstrengungen zum Schutz mehrerer globaler öffentlicher Güter: Wir arbeiten gemeinsam am Klimaschutz und an der Anpassung an den Klimawandel, an weiteren Themen wie Gesundheit, soziale Sicherung und sozialer Zusammenhalt, Umweltschutz und Erhalt der Artenvielfalt, Stabilität der Finanzmärkte sowie an übergreifenden Themen wie Geschlechtergerechtigkeit."
"Deutschland ist seit Jahren ein verlässlicher Partner der Weltbank. Partnerschaften wie diese sind schon zu normalen Zeiten wichtig; in Krisenzeiten wie der jetzigen gilt das noch viel mehr", so Axel van Trotsenburg, Managing Director of Operations bei der Weltbank. "Wir freuen uns, unser gemeinsames Engagement zur Unterstützung der ärmsten Länder bei der Bewältigung der Krise und beim Gestalten einer grüneren, resilienteren und inklusiveren Zukunft zu formalisieren."
Die Absichtserklärung baut auf bestehender Zusammenarbeit auf und konzentriert sich auf:
Förderung grüner, resilienter und inklusiver Entwicklung (GRID).
Schutz von und Investition in öffentliche Güter, einschließlich Krisenprävention und -vorsorge.
Investition in Klimaschutz und Anpassung an den Klimawandel.
Bekämpfung der Ursachen von Konflikten und Fragilität.
Fördern von Inklusion und Chancengerechtigkeit durch Zugang zu essentiellen Dienstleistungen.
Unterstützung für Politikreformen.
Die Zusammenarbeit wird unter anderem Parallelfinanzierung und Ko-Finanzierung umfassen, um gemeinsame Entwicklungsziele zu unterstützen, Deutschlands kontinuierliche Beiträge an Treuhandfonds und an durch die Weltbank verwaltete intermediäre Fonds, Wissensaustausch und Kommunikation sowie gemeinsame Forschungsvorhaben.