Advisory Council on Gender and Development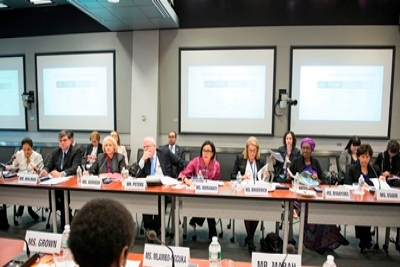 Highlights
The Council's objectives are to consider progress on, and constraints to, gender equality globally, and to provide feedback and advice for the World Bank's work on gender equality.
Council members serve two-year terms renewable at the discretion of the Chair.
The Council typically meets twice a year, usually to discuss special topics.
The World Bank's Advisory Council on Gender and Development is the main external consultative body helping us promote gender equality around the world. It helps us implement activities that support women's and girls' opportunities, in particular in areas recommended in the 2012 World Development Report. The Advisory Council typically meets at least twice a year, usually on special topics like women's voice, agency and political participation, or women's access to financial services and jobs.

The Council's objectives are to consider progress on, and constraints to, gender equality globally, and to provide feedback and advice for the World Bank's work on gender equality. It is charged with promoting collaboration on gender and development between members (and others) also when the World Bank isn't necessarily a primary partner, and to help overall efforts to raise awareness in countries of gender-related issues as well as of the benefits to societies and economies of improving opportunities for women and girls.

Council members serve two-year terms renewable at the discretion of the Chair. Members are usually senior government representatives from World Bank client and donor countries, internationally recognized private sector leaders, distinguished experts in the fields of economics and gender and development, and civil society leaders in the field of economic development and gender equality.
Current Members (2013-2015):

Penny Abeywardena
Director of Girls & Women Integration, Clinton Global Initiative
@PAbeywardena

Penny Abeywardena is the Director of Girls & Women Integration at the Clinton Global Initiative. She has notably led the growth of girls and women-related commitments; advised multinational corporations, philanthropists, NGOs, and multilateral institutions to increase investments in gender-focused development initiatives; and increased the community of CGI members who are incorporating the gender lens in their work. She is a Term Member of the Council on Foreign Relations, a contributing author in the book Women in the Global Economy: Leading Social Change, and was recognized by a newly launched UN summit, Decide Now Act (DNA), as one of 101 Global Innovators for her work to put women's rights on the global political agenda.
Sheikh Abdullah Bin Mohammed Bin Saud Al Thani
Chairman of the Board, Ooredoo Group
Sheikh Abdullah Bin Mohammed Bin Saud Al Thani is the Chairman of the Board of Directors for Ooredoo (Formerly Qtel Group). In his capacity as Chairman since 2000, he enjoys the status of State Minister in the State of Qatar. Sheikh Abdullah has been instrumental in the restructuring and regional expansion of Ooredoo. Since the launch of the company's expansion strategy in 2005, he has steered the growth of Ooredoo from being a single nation telecom operator to a Group with a presence in 17 countries, spanning from North Africa, Middle East to South East Asia, including Myanmar. He also serves as President Commissioner of Indosat (Indonesia), where Ooredoo has a 65% stake and Wataniya Kuwait, where Ooredoo owns 92% of the Group. Prior to joining Ooredoo, Sheikh Abdullah was Chief of the Royal Court (Amiri Diwan) from 2000 to 2005.
Elizabeth Broderick
Sex Discrimination Commissioner, Australia
@LizBroderick
Ms. Broderick has travelled the length and breadth of Australia listening to women and men's concerns about gender equality and age discrimination. In 2009, she accompanied a group of Aboriginal women to the United Nations where they told their story of rebuilding their community following years of alcohol abuse. She has been a strong advocate for Australia's national paid parental leave scheme and more recently has championed the changes to the ASX Corporate Governance Principles to increase the number of women at decision-making level.
Winnie Byanyima
Executive Director, Oxfam International
@Winnie_Byanyima

Prior to being appointed executive director of Oxfam International, Ms. Byanyima has held roles that reinforced the governance of the African Union, and she influenced the international agenda at the United Nations and through her leadership in many coalitions of civil society organizations. She is recognized for extensive work in peace-building, budget and electoral reform, and building social coalitions. And she is an authority on the gender dimension of climate change, economic policymaking, and social and economic equality. In her earlier career, she founded a still-thriving NGO in Uganda and served three terms as a member of the Ugandan parliament.
Maria Eitel
President and CEO, The Nike Foundation

Ms. Eitel is the founding President and CEO of the Nike Foundation where she works to unleash the girl effect, the powerful social and economic change brought about when girls have opportunity. She leads the Foundation's efforts to put girls on the global agenda and drive resources to them with the goal of eradicating global poverty. Prior to the Foundation, Ms. Eitel served as NIKE, Inc.'s first Vice President of Corporate Responsibility working on the development and implementation of its first corporate responsibility agenda. Before Nike, she served at the White House, the Microsoft Corporation, the Corporation for Public Broadcasting and MCI Communications Corp.
Jacquelline Fuller
Managing Director, Google.org
Jacquelline Fuller leads Google.org which provides more than $100 million yearly to support tech innovators making transformational impact in areas such as education, development and renewable energy. Ms. Fuller joined Google in 2007 and serves as the Managing Director in charge of Google's philanthropic work and advocacy. She previously served as Deputy Director of Global Health at the Bill & Melinda Gates Foundation, where she was a member of the senior management team for eight years. Prior experience also includes serving as speechwriter to U.S. Secretary of Health and Human Services, Dr. Louis Sullivan. She serves on the boards of World Vision and the Eastern Congo Initiative.

Justine Greening
Secretary of State for International Development, UK
@JustineGreening

Ms. Greening was appointed Secretary of State for International Development on Sept. 4, 2012. She is the Conservative MP for Putney, Roehampton and Southfields. Justine was a finance manager at Centrica plc before being elected as a Member of Parliament in May 2005. Following her election she was appointed as a Vice Chairman of the Conservative Party, with responsibility for youth. As well as being a member of the Work and Pensions Select Committee, in 2007 she became a Shadow Treasury Minister and in January 2009 became the Shadow Minister for London. Ms. Greening was Economic Secretary to the Treasury from May 2010 to October 2011 and Secretary of State for Transport from October 2011 to September 2012.
Viviana Caro Hinojosa
Minister of Development Planning, Bolivia

Ms. Caro is an Economist from the Catholic University of Lima-Peru and holds a Masters Degree from University of Wisconsin. She is former Executive Director of UDAPE (Unidad de Analisis de Politicas Economicas y Sociales), a government-based economic and social analytical center. She was appointed to the cabinet in January 2010.
Indira Jaising
Director of Lawyers Collective Women's Rights Initiative (LCWRI), India

Ms. Jaising became the second woman to be designated as a Senior Advocate by the High Court of Bombay in 1986. In 2009 she became the first woman to be appointed Additional Solicitor General of India and served in that position until June 2014. From the beginning of her legal career, she has focused on protection of human rights, rights of women and those of the poor working class. Ms. Jaising has had a fellowship at the Institute of Advanced Legal Studies London and has been a visiting Scholar at the Columbia University New York.
Mogens Jensen
Minister for Development and Trade, Denmark
Mr. Jensen became the Minister for Development and Trade in February 2014. He has previously been Chairman for the Danish Delegation to the Parliamentary Assembly of the Council of Europe, and a member of numerous committees in the Danish Parliament, including Cultural Affairs Committee, The Foreign Policy Committee, The Foreign Affairs Committee and The Legal Affairs Committee. The new minister has been a parliamentarian for seven years and been strong advocate for the LBGT community.
Nursyahbani Katjasungkana
National Coordinator LBH-APIK, Indonesian Legal Aid Association for Women
Ms. Katjasungkana is a prominent Indonesian lawyer and human rights activist. She was a member of parliament from 2004-2009. In 1995, she founded the Women's Association for Justice (APIK) and established the Women's Legal Aid institution in Jakarta. During the 1998 reformation, along with several other women activists, Nursyahbani founded the Indonesian Women's Coalition for Justice and Democracy, the first mass-based women's organization in the country since 1965, and was elected its first Secretary General. She has gained international recognition and has served as member of several international organizations, among them, Women, Law and Development International in Washington, Women's Human Rights Task Force of the Asia Pacific Women Law and Development, Gender Issues of the International Criminal Justice Institute in Washington, and the Kartini Women's Studies and Gender Networks in Asia.
Irene Khan
Director-General, International Development Law Organization
@Irenekhan

Irene Khan is Director-General of the International Development Law Organization (IDLO). The first woman to hold this office, she was elected by Member Parties November 2011. An international thought leader on human rights, gender and social justice issues, Irene Khan was Secretary General of Amnesty International from 2001-2009. Prior to this, she worked for the UN High Commissioner for Refugees for 21 years at headquarters and in various field operations. She was Visiting Professor at the State University of New York Law School (Buffalo) in 2011. Ms. Khan is Chancellor of Salford University (UK), and a member of the UNAIDS High Level Commission on HIV Prevention. Ms. Khan received the Sydney Peace Prize in 2006 for her work to end violence against women and girls.

Nehad Aboul Komsan
Chairperson, Egyptian Center for Women's Rights

Ms. Aboul Komsan is a senior lawyer and the Chairwoman of the Egyptian Center for Women's Rights. She has supported the establishment of many civil society organizations and is currently a member of the UN Women-led Global Civil Society Advisory Group and a member of the National Council for Women. Ms. Aboul Komsan is the former Secretary General of the National Council for Women, and a former member of the Supreme Council of Islamic Affairs. She has received international recognition for her work and received a number or prices and awards for her initiatives.
Zhang Lixi
President, China Women's University
Ms. Lixi has been personally involved in many feminist projects since the early 1990s. With her strong leadership, CWU created the first Women's Studies Department in China in 2001 and the first Women's Studies major in China in 2006. CWU is affiliated with the All-China Women's Federation, and responsible for providing training to female officials of the Women's Federation system nationwide, and from other fields as well. She is assuming prominent positions in Chinese Women's Research Society and China Social Work Education Association. Ms. Lixi's feminist activism in promoting women's studies in the women's federation has had great implications for transforming the official women's organization, strengthening gender awareness and protecting women's rights and interests.
Isabella Lövin
Minister for International Development Cooperation, Sweden
A journalist covering culture and environmental issues, Ms. Lövin won the Swedish Pulitzer Prize equivalent (among a total of 14 prizes) in 2007 for her book, Tyst hav (Silent Seas), which discusses the emptying of fisheries resources. In 2009 she was elected to the European Parliament for the Swedish Green Party, where she continued her strong focus on fisheries issues, as first member (2009 onwards) then vice chair (2014) of the EP Committee on Fisheries. In 2012 she won the Fair Politician of the Year prize (issued by the Dutch Evert Vermeer Foundation) for her work to make EU fisheries policy fairer to developing countries. She also served as a substitute on the EP Committee on Development from 2009-2014. Ms. Lövin became Sweden's Minister for International Development Cooperation in October 2014.
Kaifala Marah
Minister of Finance, Sierra Leone

Dr. Marah has been the Minister of Finance since December 2012. Prior to this he was the chief of staff in President Koroma's first government. He has been a Public Finance Advisor in the Governance and Institutional Development Division at the commonwealth Secretariat in London where he developed a government self-assessment toolkit on financial management for member countries. Recently he was honored as a "New Generation Leader for Africa."
Phumzile Mlambo-Ngcuka
Under-Secretary-General and Executive Director, UN Women
@phumzileunwomen

Ms. Mlambo-Ngcuka was the first woman to hold the position of Deputy President of South Africa from 2005 to 2008. She initially became a Member of Parliament in 1994 chairing the Public Service Portfolio Committee. She was Deputy Minister in the Department of Trade and Industry (1996-1999), Minister of Minerals and Energy (1999-2005) and briefly served as acting Minister of Arts, Culture, Science and Technology in 2004. Ms. Mlambo-Ngcuka was Young Women's Coordinator for the World Young Women's Christian Association in Geneva (1984-1986) and served as the first President of the Natal Organization of Women, an affiliate of the United Democratic Front, when it was formed in December 1983. Ms. Mlambo-Ngcuka established Umlambo Foundation in 2008 to provide support to schools in impoverished areas in South Africa through mentorship and coaching for teachers and in Malawi through school improvements with local partners.

Ngozi Okonjo-Iweala
Minister of Finance and Coordinating Minister for the Economy, Nigeria
@NOIweala
Ms. Okonjo-Iweala was appointed to her current post in July 2011, the first female Minster of Finance in Nigeria. Prior to this she was the Managing Director at the World Bank (October 2007-August 2011). She served as Minister of Foreign Affairs of Nigeria (June-August 2006) and Minister of Finance and Economy (July 2003-June 2006) and played a pivotal role in stabilizing and revitalizing the economic growth of Nigeria and its historical debt cancellation negotiations. She was a development economist for 21 years at the World Bank before joining the Nigerian Government and held various senior positions, including Vice President and Corporate Secretary.
Catherine M. Russell
Ambassador-at-Large for Global Women's Issues, United States Department of State
@S_GWI

Ms. Russell currently serves as the U.S. Ambassador-at-Large for Global Women's Issues. Prior to assuming this position in August 2013, she served as Deputy Assistant to the President and Chief of Staff to Second Lady Dr. Jill Biden focusing on military families and higher education. During her tenure at the White House, Ambassador Russell coordinated the development of the Administration's strategy to prevent and respond to gender-based violence globally. She previously served as a Senior Advisor to the Senate Foreign Relations Committee on international women's issues. During the Clinton Administration, Russell served as Associate Deputy Attorney General. She has also served as Staff Director of the Senate Judiciary Committee and Senior Counsel to Senator Patrick J. Leahy.

Maria Fernanda Teixeira
Senior Vice President, First Data Brazil

Ms. Teixeira has 30 years of experience in the financial services industry. Recently, she served as president for Latin America ICT Group, a global provider of customer management and business process outsourcing solutions. She previously worked at EDS for 23 years, reaching the position of Vice President of Operations in Latin America. Ms. Teixeira is the founder and President of the Group Executive Women of São Paulo and also a member of the Committee of the American Chamber of Commerce. She holds a degree in Business Administration from Methodist University and a graduate degree in Economics and Marketing from Fundacao Getulio Vargas.
Melanne Verveer
Executive Director, Institute for Women, Peace and Security, Georgetown University
@MelanneVerveer

Ambassador Verveer most recently served as U.S. Ambassador-at-Large for Global Women's Issues and director of the Department of State's office on Global Women's Issues. In this position, she coordinated foreign policy issues and activities relating to the political, economic and social advancement of women around the world. She mobilized concrete support for women's rights and political and economic empowerment through initiatives and programs designed to increase women's and girls' access to education and health care, to combat violence against women and girls in all its forms, and to ensure that women's rights are fully integrated with human rights in the development of U.S. foreign policy. Previously, she served as Chair and Co-CEO of Vital Voices Global Partnership and during the first Clinton administration, as Assistant to the President and Chief of Staff to the First Lady, Hillary Clinton.