Climate Action Peer Exchange (CAPE) is a forum for peer learning, knowledge sharing, and mutual advisory support. It brings together ministers and senior technical specialists from finance ministries across the world, as well as World Bank staff and other international experts, to discuss the fiscal challenges involved in implementing the Nationally Determined Contributions (NDCs) established under the 2015 Paris Agreement. The NDCs are country-level commitments to reach the long-term goal of keeping the increase in global average temperatures to well below 2 degrees Celsius, and to support climate resilient development. The World Bank, working with the Moroccan COP22 Presidency, proposed the creation of CAPE in November 2016 at the climate summit in Marrakesh. The first CAPE Partnership meeting took place in Washington D.C. during the 2017 WB-IMF Spring Meetings. While CAPE membership targets finance ministry staff, officials from budget agencies and revenue authorities are strongly encouraged to participate.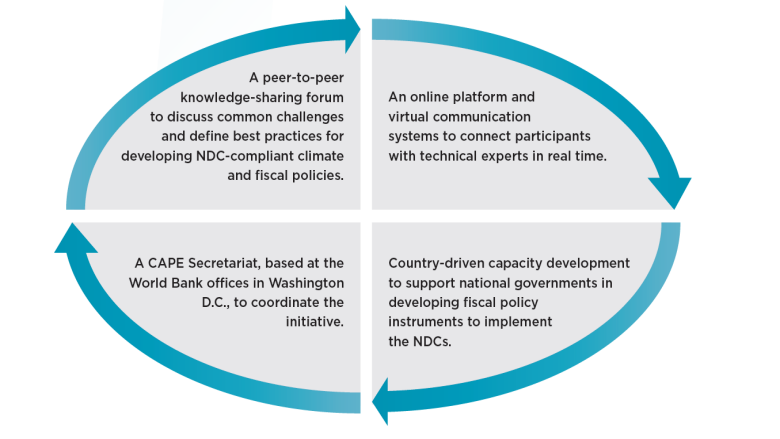 Selected Focus Areas
• Fiscal instruments for low-carbon growth, carbon pricing, emissions-trading systems, fuel taxes, feed-in tariffs, and subsidies for renewable energy and green technologies.
• Macroeconomic modeling to forecast economic growth and public-debt trajectories under alternative strategies for meeting NDC commitments.
• Fiscal risk assessments to estimate the potential fiscal impact of alternative transition paths to low-carbon growth and their implications for debt dynamics.
• Climate-change financing frameworks to integrate low-carbon growth into national planning, budgeting, and monitoring and evaluation systems.
• Public investment planning techniques to mitigate uncertainty and manage the economic costs of climate-change adaptation, both in key sectors and economy-wide.
• Analytical capacity to estimate the distributional and competitiveness impacts of environmental tax reforms on sectors, firms, and households at different income levels.
The CAPE initiative is funded by the NDC Partnership Support Facility, the South-South Facility, and the World Bank. Requests for information should be directed to: Capesecretariat@worldbank.org

LATEST NEWS:
Fiscal Policy for NDCs and Green Investment, Africa Carbon Forum - April 11-13, 2018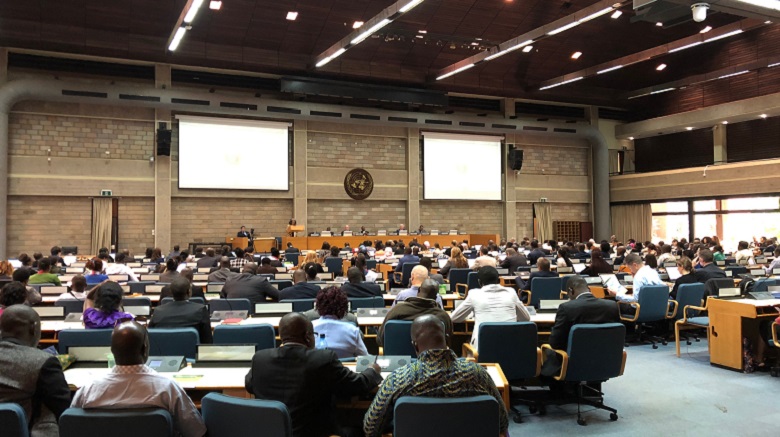 The Africa Carbon Forum brings together policymakers and practitioners to discuss the latest developments related to climate change policy, carbon markets and finance. Its goal is to share knowledge on innovative solutions in the context of Nationally Determined Contributions (NDCs) and other strategies, and to explore possibilities for collaboration on regional and global climate change initiatives. At the 2018 Africa Carbon Forum in Nairobi, Kenya, the Climate Action Peer Exchange (CAPE) joined forces with the Green Fiscal Policy Network to organize the High-Level segment on "Fiscal Policy to support NDCs and mobilize Green Investments". See the complete agenda here.
The session took place on April 12, 2018, and touched on a spectrum of fiscal issues related to advancing NDC and climate policy implementation. Public finance for green investment and climate policy implementation can be channeled in various ways – such as in the form of public investment programs, or provided as fiscal incentives that work alongside regulatory measures.
Carbon taxes and fossil fuel subsidy reforms are effective fiscal instruments for climate policy. They provide the necessary price signal to shift consumer and business behavior, which will also stimulate private financial flows to low-carbon investments. These fiscal instruments are considered cost-effective and efficient from the perspective of tax design and GHG mitigation. Dr Mulugeta Mengist Ayalew, Director of Climate Change Affairs from the Office of the Prime Minister of Ethiopia spoke on "Exploring Carbon Price in a Low-Income Country". Ethiopia aims to attain lower middle-income status by 2025, and has put forward a Climate Resilient Green Economy (CRGE) Strategy to chart a sustainable pathway to this goal. The carbon tax is one option in the policy package for the CRGE, and a CGE modelling study was commissioned to inform deliberations on the final choice of policy instruments for CRGE. The speaker reviewed the preliminary findings of the modelling study, including growth impacts, emissions impact (predicted to reduce by 17% reduction in the covered sectors, or equivalent to 2% reduction of the national baseline), and revenue potential of up to $800M. Various revenue recycling options were studied, including a reduction in direct and/or indirect taxes, and increased public investments and social spending. As stressed in the speaker's remarks and from questions received, further analytical work and other considerations will be taken into account before any decision on the inclusion of a carbon tax. Analysis should include in-depth studies on distributional impacts and a fully designed revenue package. Issues related to tax avoidance and the granting of exemptions would also need to be part of tax design.

Ethiopia's emissions profile is characteristic of other low-income African countries, where land-use emissions command a large share. Landholdings are often as small as 1 hectare, and the number of emission sources to be regulated under a tax would lead to insurmountable administrative and financial costs. The Ethiopia example illustrates that a carbon tax on fuel combustion can still be a relevant policy response in such a situation, by efficiently addressing some sectors while relying on non-tax measures for others.

Mr. Hubert Ruzibiza, Chief Executive Officer of FONERWA, introduced the Rwanda Green Fund (FORNEWA). His presentation served to illustrate the use of statutory instruments to provide financial support to green growth and climate policy objectives. FONERWA was established in 2017 as a legal entity for the purpose of receiving and managing public and other funds for green growth, such as projects in waste management, clean energy, land-use management. The public financial contribution to the FONERWA is derived from revenue from pollution levies and other environmental charges. FONERWA was also able to attract capital contributions from donors, and demonstrates how public funds can be deployed to crowd-in private finance. There were questions from the floor about FONERWA's investment priorities, which highlighted the interest in forest and land-use projects. In his response, the speaker made reference to the carbon tax presentation and opined that an economy-wide tax could be a more reliable source of capital for a national investment fund than environmental levies and penalty payments.
The final presentation from Mr. Maged K. Mahmoud, Technical Director of the Regional Center for Renewable Energy and Energy Efficiency (RCEEEE) focused on policy interventions that can support clean energy projects. Drawing from experience among the RCEEEE's membership in Middle East and North Africa, the speaker pointed to the publicly-funded support programs such as Feed-in-Tariffs, end-user rebates for clean energy, duty exemption for clean energy technology, and direct public financing for land and supporting infrastructure that are critical for privately-sponsored clean energy projects. RCREEE has also supported clean energy through research and capacity building on the technical requirements for integrating renewable energy sources into electricity grids. In his remarks, the speaker drew a regional comparison to FONERWA and pointed to Tunisia's Transition Fund which is financed by general public resources rather than a specific tax source.
In summary, a carbon tax provides an incentive towards low-emission technologies and generates revenue for investments. For an effective carbon tax, policy makers must consider numerous technical issues ranging from sector coverage, and impacts to competitiveness and welfare, as well as the political economy. A publicly-backed investment fund is one way of focusing resources and attention on climate change and green growth, and these can be designed to attract private financing as well. To ensure a robust pipeline of climate/green investments, additional fiscal incentives can be designed and targeted at specific sectors – such as clean energy. These include tax expenditures and financing of associated public works.
Knowledge Exchange on Carbon Tax: South Africa and Ethiopia
On the margins of the forum, CAPE also facilitated a bilateral peer exchange between the two countries on the carbon tax. Ethiopia has set its ambitions on attaining lower middle-income status by 2025, and has set forth this goal in its Second Growth and Transformation Plan (GTP II). The Ministry of Finance has also placed importance on addressing climate issues, and has unveiled a Climate Resilient Green Economy strategy and plan. South Africa is an upper mid income country and has been developing carbon tax legislation for some years. In debating and designing its carbon tax, the South African government acknowledges its part in reducing global emissions but will need to account for the energy intensive nature of its economy and the need to maintain economic growth and protect vulnerable households. South Africa has legislated that the carbon tax will go into effect in 2019.
Smart Fiscal Policy for Climate Action in Arusha, Tanzania - January 23-25, 2018

The training workshop 'Smart Fiscal Policy for Climate Action' was held in Arusha, Tanzania, from January 23-25, 2018. The workshop was organized by the World Bank's Climate Action Peer Exchange (CAPE) and the Macroeconomic and Financial Management Institute of Eastern and Southern Africa (MEFMI).
The objective of the course was to discuss the impact of climate-smart tax and spending policies, energy subsidy reforms and innovative climate financing to help countries achieving their climate commitments agreed in Paris in 2015. Participants included technical staff from the Finance Ministries of Swaziland, Tanzania, Uganda, Kenya Zambia, Malawi, Zimbabwe, Namibia, Lesotho, Swaziland and Botswana and Mozambique, and speakers from South Africa, and the World Bank. The agenda included presentations and discussions on:
• Regional and international experience to implement climate mitigation mechanisms, including in the forestry sector.
• Policy and fiscal instruments to adapt to climate change and build a resilient economy.
• Climate budgeting and challenges to access international climate-related finance.
Fiscal instruments to fight climate change: an overview
The first session provided a broad overview of climate and fiscal issues. Africa's contribution to greenhouse gas emissions is estimated at less than 7% of the world total. However, Africa is the most climate-vulnerable region in the world. Over the past decades Africa has experienced a rise in annual average temperatures, and changes in rainfall patterns and in the frequency of floods and droughts. The session argued that Ministries of Finance are essential to deliver efficient and equitable responses to climate change. Fiscal instruments - taxes and public spending - are key to provide the right incentives for households and firms, and for ensuring a fair distribution of the associated costs and benefits. The session discussed the economic rationale for eliminating fossil fuel subsidies, introducing environmental taxation and measures to reduce deforestation and forest degradation. It argued that taxing carbon improves efficiency, provides incentives to develop low-carbon energy alternatives and brings revenues. Most participants were skeptical about the need for Africa to contribute to mitigation. They pointed out that developed countries must do more to stop climate change and that achieving climate obligations is likely to slow down growth. There was agreement that Finance Ministries should be responsible for climate actions, as climate and development are undistinguishable. The session ended with a discussion on an 'ideal' fiscal package to balance environmental and growth objectives.
Introducing carbon taxation in South Africa
No country in Africa has formally adopted carbon taxation. South Africa has attempted to do so for at least 10 years and may be about to succeed. The South Africa National Treasury published the Second Draft Carbon Tax Bill for public comment on 14 December 2017 and announced that the bill will soon be tabled in Parliament. The carbon tax is predicated on the "polluter pays" principle and will enable South Africa to meet its Paris commitments. The primary objective of the tax is "to encourage companies to change their future behavior by taking steps now to gradually change their fuel inputs, production techniques and processes by encouraging investments in energy efficient, low carbon technologies to lower their emissions". The impact of the tax on the price of electricity and energy intensive sectors is designed to be neutral. Thus, a package of tax incentives and revenue recycling measures will be introduced to minimize the impact the carbon tax in the first phase of the policy (up to 2022).
Reforming fossil fuel subsidies
Fossil fuel subsidies represent a significant share of budgets in several African countries, often crowding out sustainable development spending. Yet, reforming energy subsidies is complex and politically sensitive. Reforms take time and careful planning of policy actions on several fronts. Political economy factors must be considered and carefully communicated. The session discussed the Energy Subsidy Reform Assessment Framework (ESRAF), an integrated approach to carry out a comprehensive assessment of subsidies introduced by the World Bank and ESMAP. ESRAF helps Governments to design a reform program that is socially responsible, politically feasible and economically sustainable. A country case of an application of ESRAF was presented. It starts with a rapid diagnostic to identify the subsidies. It then estimates the direct and indirect impacts on households. Targeting methods are compared for their accuracy in compensating the poor. Finally, a public opinion survey is used to craft the messages for a communication campaign to build public support for the reform.
Energy Subsidy Reform in Egypt
This session presented the reform of energy subsidies in Egypt and its consequences. In 2014, the Government committed to an ambitious plan to eliminate energy subsidies. The goal was to progressively drive energy subsidies down to a target of 0.5 percent of GDP by FY18/19 leaving only limited support for LPG and electricity to benefit low-income consumers. Between July 2014 and July 2017, the Government implemented four annual electricity price reforms and three fuel price increases. As a result, energy subsidies fell steeply from 6.5 percent of GDP in FY14/15 to 3 percent in FY15/16. Subsidies were set to fall further to 2.5 percent of GDP in FY16/17. However, the substantial depreciation of the Egyptian pound and resulting increases in the cost of energy production meant that subsidies instead rose to 3.9 percent of GDP in FY16/17. Also, in the absence of any energy price reforms since 2014, it is conservatively estimated that subsidies would have been higher by EGP 256 billion in FY17/18, raising the energy subsidy bill to 8.9 percent of GDP.
The session highlighted that reforms in the energy sector are closely aligned with Egypt's contribution to the Paris Agreement on climate change. By addressing the security of supply of natural gas and promoting clean energy and energy efficiency, the reforms are supporting all four priority areas of Egypt's Nationally Determined Contribution to global efforts for mitigating greenhouse gas (GHG) emissions through: (a) more efficient use of energy, especially by end-users; (b) increased use of renewable energy; (c) use of locally appropriate and more efficient conventional energy technologies; and (d) reforming energy subsidies.
Climate Change and Fiscal Risks
Climate Action, especially for longer-term climate adaptation efforts which are more relevant for developing countries, will entail fiscal costs that will translate into a call on public budgets for many years into the future. This session highlighted the need for Ministries of Finance to better incorporate the fiscal commitments they make today, whether explicit or implicit, and the fiscal risks they pose into their fiscal policy and public investment decision-making. The session defined the sources of these fiscal risks and introduced practical analytical tools that have been developed (some in collaboration with the IMF), and are being used by the World Bank operational teams to help Ministries of Finance to assess the fiscal impacts and fiscal risks associated with contingent liabilities (such as those related to natural disasters). The Group exercise aimed to emphasize that climate-related fiscal commitments, for example those to build Climate Smart Infrastructure using public-private partnership arrangements, should be analyzed in the context of the Government's overall Fiscal Risks Matrix and fiscal sustainability considerations over time under uncertainty. Scenario analyses and stress tests are imperative in this regard, especially in arriving at appropriate ways to mitigate and manage these fiscal risks over the life of the projects being considered.
Reducing emissions from deforestation
Forests, covering one third of the world's land area, play an important role as sink to carbon, besides providing livelihood and other development benefits to the rural poor. It is estimated that forest loss and other changes to the use of land account for around 23 percent of current man-made CO2 emissions. What can we do to reverse land degradation trends and turn forest landscapes from source of emissions to net carbon sink? The workshop discussed Ghana's experience in reducing carbon emissions from deforestation and forest degradation using REDD+. Ghana succeeded in building the institutional capacity for forest governance, identifying sources and level of emissions from the forest landscape, and establishing Monitoring, Reporting and Verifying (MRV) systems. The REDD+ Strategy provided the road map for addressing drivers of deforestation in a socially and environmentally responsible manner, including a result based "Emission Reductions Program for the Cocoa Forest Mosaic Landscape", which was submitted to the Carbon Fund for financing. Participants conveyed that reducing deforestation continues to be an elusive objective despite many attempts to do so in several African countries. It was also noted that the REDD+ readiness process has taken much longer than originally anticipated.
Financing Climate Actions
This session introduced the status and trends in climate finance, spanning the public and private sectors, national and international sources, and mitigation and adaptation use of funds. It described the complexity of the climate finance market due to factors such as differing eligibility rules, readiness standards, competition between countries for limited resources, and increasing importance of private sector sources (which accounted for about two thirds % of the $383 billion in climate finance in 2016). In addition, it emphasized that there has been a steady upward trend of domestically raised investment, revealing the importance of implementing strong national policies and regulations to incentivize climate-related projects.
To help Ministry of Finance officials better prepare public climate-related investment projects, the session discussed nearly 20 aspects that make climate change projects "different" than more traditional public investment projects (say, a road or a school). These factors range from having to grapple with fundamental uncertainties (e.g., in future climate trends, carbon prices, technologies, and international negotiations), to the importance of cross-sectoral approaches (often including the need for social safety nets to offset policy impacts on the poor). The proper response to these complexities is good project economics built on good fiscal, policy and risk analysis.
Climate change adaptation: Its role in development and poverty reduction
This session focused on the important role of climate change adaptation and resilient development measures in reducing poverty. Climate-related shocks and stresses are already a major obstacle to poverty reduction. Poor people are consistently more exposed and vulnerable to natural hazards – including climate related shocks. In addition, poor people tend to have fewer social support systems available to them to assist recovery. All evidence suggests that these challenges will worsen with climate change.
At the same time this session highlighted that rapid, inclusive, and climate-informed development can prevent most adverse consequences of climate change on poverty till 2030. In other words, adaptation measures are fully aligned with development priority measures and cover a wide range of sectors including health, agriculture, infrastructure, social protection, and disaster risk reduction. Absent such good development, climate change could result in an additional 100 million people living in extreme poverty by 2030. These insights presented in this session are based on – and explained in further detail – in the World Bank's Shockwaves report (2015).
Designing and Financing Climate Adaptation
The session started by observing not only that estimating economic costs inflicted by climate change is difficult, but that recent damage estimates seem to be rising very rapidly. Reasons include the increasing magnitude of extreme events, the increasing value of the physical assets and livelihood streams that are affected, and better understanding of indirect climate effects (such as delayed health impacts and complex agricultural crop impacts). Given these increasing damage estimates, there is a clear case for countries to be as proactive as possible in addressing critical climate impacts. Risk reduction has been shown in many cases to be far cheaper than ex-post humanitarian relief. As Nicholas Stern wrote: Climate change adaptation can be described as essentially 'development in a hostile climate'. Good adaptation is also good development. The session then turned to developing and applying a framework for Ministry of Finance officials to think about designing cost-effective climate adaptation strategies. The framework follows a logical flow from (a) understanding physical climate impacts, to (b) determining impacts on the economy and human welfare, to (c) identifying the affected economic sectors, and (d) assigning responsibility for action to one or more government agencies. Step (b) is particularly important in determining adaptation priorities for action.
The session then worked through an exercise of setting priorities for climate adaptation actions in drylands Africa. It concluded by illustrating the benefits of examining three different pathways towards improving resilience, which are raising rural productivity, introducing safety nets, and facilitating alternative actions such as economic diversification or internal migration. The session's final observations were that: investments in resilience are cheaper than disaster recovery; private sector participation in adaptation finance is essential (just as it is for mitigation); and capacity-building and coordination across national-level and sub-national agencies is important.
Climate change adaptation: Identifying and prioritizing investments
This session first focused on the economic and welfare impacts associated with climate change. It highlighted the important distinction between asset losses and well-being losses. Assets losses tend to be particularly large in places where high-value assets are located. However, assets losses alone do not inform about the actual wellbeing losses incurred by people. The reason for this is that the socio-economic resilience of people – i.e. their ability to manage risks and cope with shocks – differs significantly across countries. Prioritizing adaptation investments simply based on avoided asset losses biases action away from low-income and vulnerable people. Instead, physical risks must be measured with respect to the ability to manage these risks. The insights presented in this session are based on – and explained in further detail – in the World Bank's Unbreakable report (2017).
A case study on the identification and prioritization of investments in resilient roads in Mozambique was discussed. It showed how decision criteria, such as poverty and agricultural potential, can be incorporated into the process of investment prioritization. These criteria reflect the need to account for the well-being benefits of adaptation investments, in addition to the avoidance of monetary asset losses. Most importantly, multiple uncertainties – especially on long-term climate change make standard cost-benefit approaches inapplicable. Instead, this case study introduced a frame work for decision making under uncertainty to help decision makers to stress-test possible investment options against wide range uncertainties.
Interactive group session: "Investments in adaptation infrastructure: The role of uncertainty in prioritizing actions"
This group exercise offered an interactive illustration of the approach introduced in the session 'Decision making under uncertainty'. It challenged participants to select climate adaptation measures while faced with uncertainty about future rain fall and flood risk. It showed that decisions based on the extrapolation of past trends can result in flawed investment decisions, with potentially catastrophic outcomes. It emphasized that climate change will mean that past flood risk probabilities do not offer robust guidance for the long-term future. Instead, the session showcased how decision making under uncertainty can help to eliminate strategies with catastrophic outcomes, and prioritize strategies that perform robustly under a wide range of future climate change scenario.
Climate budgeting
The Climate Budgeting presentation focused on the use of climate budgeting techniques to align public spending to climate change priorities within the given budget framework. Participants were advised to link climate policy into the early stage of budget planning, management and coordination across government units, and coding methodologies. While this is an emerging field, useful lessons on climate budgeting are already available from the Morocco, Vietnam, Philippines and others. Course attendees participated actively in the group exercise, which brought out other learning points, such as PPP as an alternate funding option, tools to support project prioritization, and how to strengthen the budget narrative. Among the participating countries, Malawi had already conducted an Climate Public and Institutional Expenditure Review and is looking at using the results to inform efforts to integrate climate change into future budgets. South Africa also approached the CAPE team for support to conduct a trial pre-budget technical hearing with key sector ministries to discuss climate change spending. This is currently being done in the Philippines.
Environmental Fiscal Reforms for Low Carbon Growth Workshop in Bogotá - October 30, 2017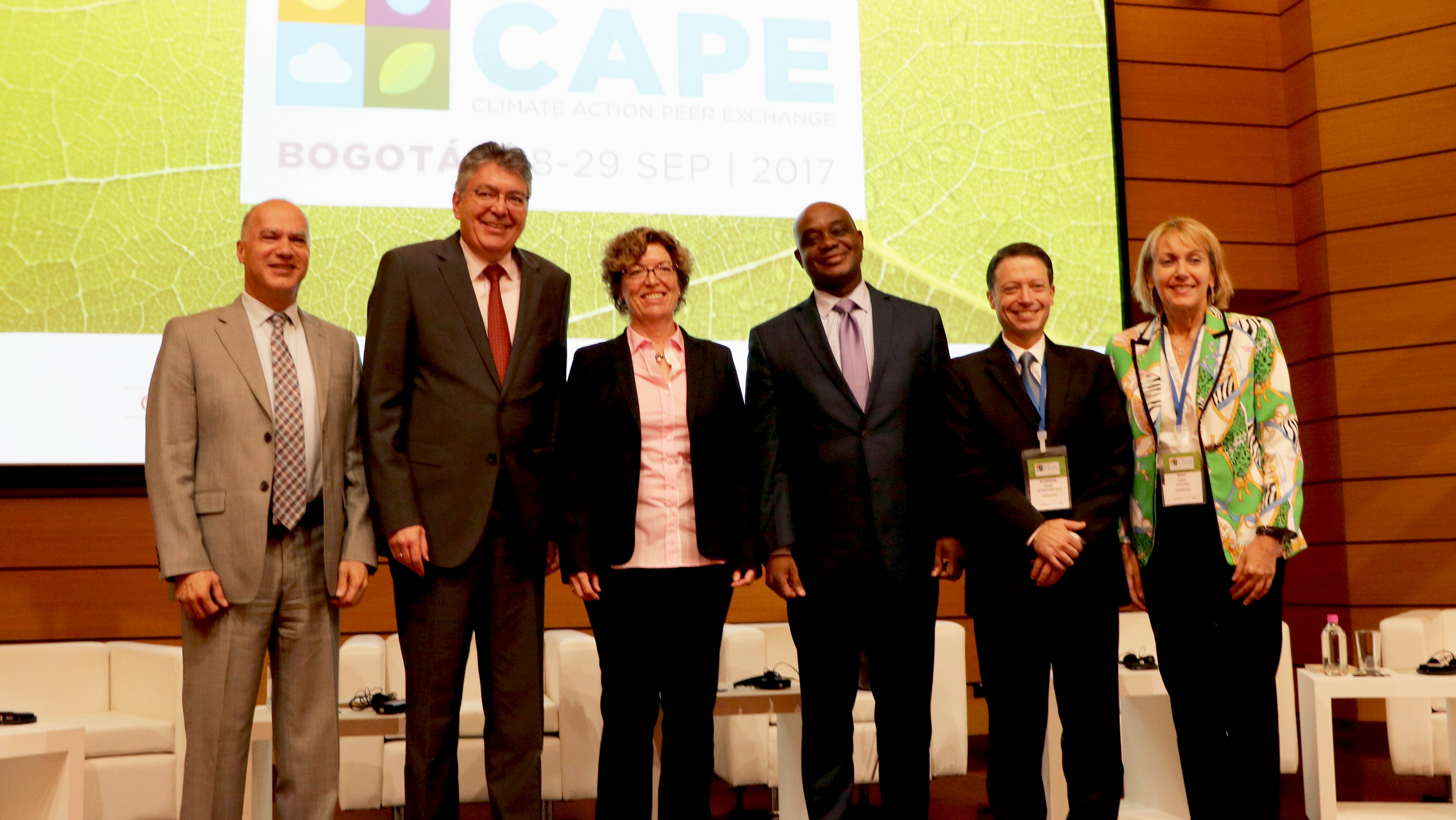 At the first CAPE Partnership meeting in Washington D.C., during the 2017 WB-IMF Spring Meetings, the Colombian Finance Minister Mauricio Cárdenas Santamaría described how Colombia was planning to implement its NDCs, including the introduction of a carbon tax on fossil fuels. He expressed his personal commitment to the CAPE initiative and offered to host a CAPE workshop in Bogota.

Following on that announcement, the CAPE high-level workshop "Environmental Fiscal Reforms for Low Carbon Growth" was jointly organized by the Ministry of Finance and Public Credit of Colombia and the CAPE in Bogota, Colombia, on September 28 and 29 with 200 participants from the Latin American region. The workshop followed a technical training workshop in Shanghai targeted towards EAP and SAR countries and builds on CAPE's objective of at providing a platform for finance ministers to identify challenges and share best practices for climate action and for the successful implementation of their respective NDCs.

In the opening session, Minister Cárdenas, welcomed the Minister of Environment and Sustainable Development, Luis Gilberto Murillo, and the Senior Director of Environment and Natural Resources of the World Bank, Karin Erika Kemper and declared:

"Colombia is committed to the fiscal policies and reforms that help us successfully implement the Paris Accord, as evidenced by the last year's Structural Tax Reform, which included a carbon tax and other provisions linked to our agenda of environmental sustainability. From the implementation of carbon taxes to the adoption of policy actions to strengthen social and economic resilience, finance ministers today have access to a wide range of instruments to help their countries manage the effects of climate change". Karin Kemper commented: "When it comes to climate action and green development, Colombia has been a strong voice both in the region and around the world. We are pleased to collaborate with Colombia on important initiatives such as CAPE to promote the international dialogue on low carbon development and highlight the vital role of finance ministers and private finance in these efforts."

The workshop was broadcasted widely. Minister Cárdenas and his team extensively used social media vehicles to advertise and cover the workshop. In addition to Facebook live coverage, over 2 million Twitter accounts were reached with exposure to almost 15 million accounts, thus attracting strong interest from the local media.

Among the experts who attended the forum were government representatives and international speakers from Mexico, Chile, Peru, Brazil, Canada, the United States and Norway.

The four sessions of the 2-days workshop focused on:
Financing the transformation to a low-carbon and climate resilient economy
Regional cooperation to fight climate change
Fiscal reforms for climate action
Financing forest conservation and fighting deforestation
Key takeaways from these sessions included the following:
Renewable energy has become a reality in Latin America and some of these technologies already outcompete fossil fuels. Although these technologies have driven the regional transition to low-carbon economies in the past decade, financing a long-term energy transformation requires substantial additional investments, targeted public finance, and innovative financing models. Panelists discussed different instruments to mobilize an expected annual gap of U$ 700 million needed in the energy sector alone for a transition to a low carbon economy in 2030, in light with the growing climate funds and green banking initiatives. Panelists recognized the immensity of the challenge and agreed that a blend of policy measures, climate finance and carbon finance will be needed.


The panelists focused in the ongoing and advanced dialogue at regional level aiming at strengthening regional climate action and cooperation. Despite of the political difficulty of engaging carbon-intensive countries given competitiveness fears, panelists stressed that the advantages of international cooperation in implementing NDCs at a cost-efficient manner are clear (i.e., same resources result in larger emission reductions in jurisdictions with lower abatement costs). Finally, it was discussed how to effectively tackle climate change through the implementation of effective fiscal policies at international level, including an international carbon market aiming at reducing abatement costs and increasing global ambition; and how to develop an enabling and broader cooperation strategy.


Government officials from Chile and Peru shared experiences with fiscal policies towards green growth. They presented the payment for environmental services considered in Peru and the ambitious green tax reform implemented in Chile, respectively. Also, they emphasized that, even with relatively low prices, the implementation of those tools provided clear and strong signals to private sector on where their economies are heading towards (i.e., in case of Chile, after the introduction of the US$ 5/tCO2 carbon tax, the energy sector companies announced the elimination of all thermopower plants from their investment plans). The alignment of carbon taxes with other fiscal policies, including GHG emissions trading systems, where also discussed. The latter follows the example of several subnational jurisdictions in the US and Canada with different climate-related policies co-existing in harmony.


Forest landscapes are central to the economic and social fabric of Latin America and the Caribbean, and essential to the region's prospects for sustainable development.[1] Learning from different countries – Mexico, Colombia, and Norway – on opportunities and requirements for transformative change was discussed: fiscal reforms (i.e., carbon tax) and incentives (i.e., or reduction in property taxes or forest bond or carbon payments to communities) that could help to reduce deforestation or can be used to finance sustainable forest management, reforestation, and conservation. Also, integrated programs that focus not only on the climate economy (i.e., Payment for ton of Carbon sequestered and REDD+), but also on developing the potential for the entire forests economy (plantations, sustainable forest management, bio-economy, ecotourism, production of ecosystem services, conservation, landscape restoration, SME in Forests etc.) were recommended. Finally, engaging with the private sector in PPP for Forest and Landscape Management, Restoration and Conservation was highlighted as the next frontier. Fighting deforestation not only from inside the forest sector, but also from other sector looking at the driver of deforestation and the entire landscape, and the role of biodiversity as a key input to make the forest more productive was brought to the attention of the public.
Overall, the workshop in Bogota reaffirmed the critical role of finance ministries in fighting climate change and the importance of sharing efforts to use fiscal instruments in implementing the NDCs.
The CAPE workshop agenda, bios and all the presentations can be downloaded from the following links:

Bios
Agenda
Presentation by Alexandre Kossoy
Presentation by Luis Fernando Mejía
Presentation by Andres Rojas
Presentation by Ian Perry
Presentation by Thomas Kansy
Presentation by Andres Velasco
Presentation by Rodrigo Pizarro
Presentation by Luis Rosa
Presentation by lsabel Studer

Catalyzing Fiscal Policies for Climate Action in Shanghai - October 06, 2017
Download the workshop agenda here.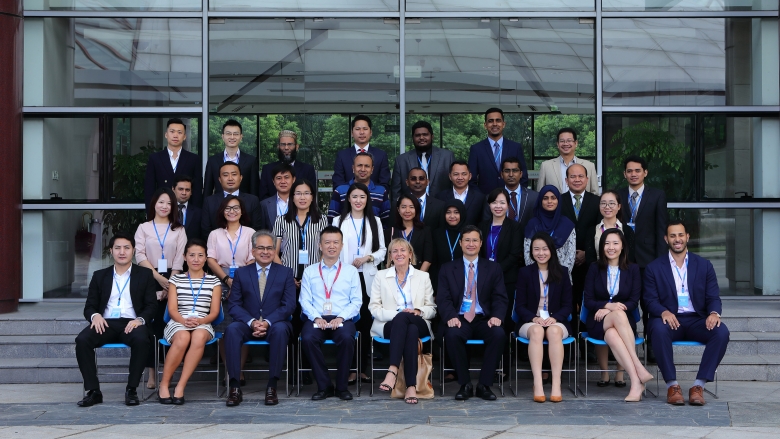 The inaugural training workshop 'Fiscal Policy for Climate Action' was held in Shanghai from September 12-15, 2017. Jointly organized by Climate Action Peer Exchange (CAPE) Secretariat and the Asia-Pacific Finance and Development Institute (AFDI), the workshop delivered a comprehensive knowledge package covering environmental fiscal policies, energy subsidy reforms, climate budgeting techniques and innovative debt financing. By drawing widely from expertise within the World Bank, the workshop featured instructors from the Macro Fiscal Management Global Practice, the Climate Change Group, and Environment and Natural Resources Global Practice.
Senior technical staff from finance ministries of 13 countries in East and South Asia countries were in attendance, (Indonesia, Laos, Maldives, Mongolia, Nepal, Philippines, Vietnam, Cambodia, Bangladesh, Bhutan, Sri Lanka, Singapore, Fiji), as well as the World Bank's Macroeconomics and Fiscal Management Global Practice senior economists working on East Asian Pacific countries. In line with CAPE's purpose of fostering peer exchange, countries also took center stage when they shared their own country experiences. Mr. Wilson Yung from National Climate Change Secretariat of Singapore presented the design and implementation arrangements of carbon taxation in Singapore. Mr. Rolando Toledo, Director of Fiscal Planning Bureau of Philippines, provided participants with an in-depth view of the implementation of national climate budgeting system in the Philippines.
Participants also engaged in case exercises that took them into the practical application of environmental fiscal tools. Centered around the fictional country of Greentopia, participants gained first-hand experience in introducing a carbon tax, applying fiscal risk assessment models and establishing a climate budgeting system – bringing to life the theoretical content presented in the course. The interactive exercise proved to be a very useful way of driving home the importance of environmental fiscal policies and the need to integrate climate risks into the budgeting process.
On the final day of the workshop, participants toured the Suzhou Creek Rehabilitation Project. Participants heard from the project leader of this ambitious cleanup program. The program's ingredients for success included sound systems analysis, integrated engineering plans, and the consultative approach adopted by the Shanghai Government in implementing the Project. From its inception in 1998, the Shanghai Municipal authorities launched this 12-year-program of integrated projects to improve wastewater management, sewage collection treatment and disposal; relocate solid waste processing wharves and reconstruct the embankments; and introduce water resource management and quality control methods. The benefits in terms of improved water quality, living standards, and emission reductions were all evident.
Overall, the workshop was successful in meeting its objectives of knowledge exchange, capacity development and partnership and outreach for finance ministries. This exercise will hopefully equip participants with basic tools to deal with climate change and the increased frequency of induced natural disasters. The real power of CAPE is the knowledge sharing and confidence building among finance ministries through regular interaction and exchange between peers. CAPE will continue carrying out training workshops, introducing country and regional level case studies and practical experiences, and fostering dialogue on fiscal policy for climate change.
Last Updated: Apr 19, 2018