Climate Action Peer Exchange (CAPE) is a forum for peer learning, knowledge sharing, and mutual advisory support. It brings together ministers and senior technical specialists from finance ministries across the world, as well as World Bank staff and other international experts, to discuss the fiscal challenges involved in implementing the Nationally Determined Contributions (NDCs) established under the 2015 Paris Agreement. The NDCs are country-level commitments to reach the long-term goal of keeping the increase in global average temperatures to well below 2 degrees Celsius, and to support climate resilient development. The World Bank, working with the Moroccan COP22 Presidency, proposed the creation of CAPE in November 2016 at the climate summit in Marrakesh. The first CAPE Partnership meeting took place in Washington D.C. during the 2017 WB-IMF Spring Meetings. While CAPE membership targets finance ministry staff, officials from budget agencies and revenue authorities are strongly encouraged to participate.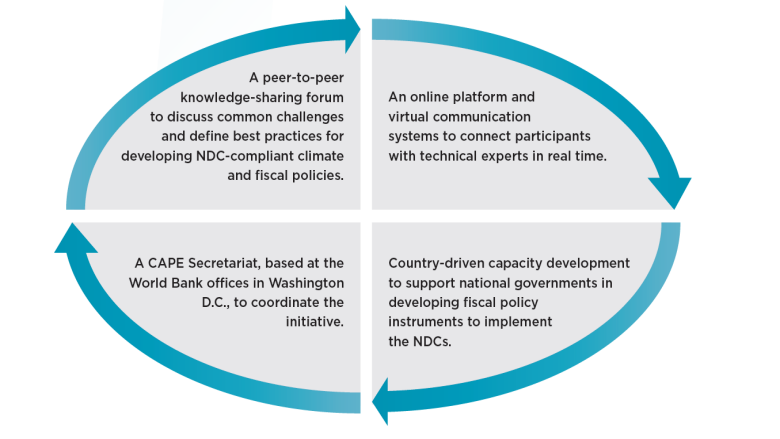 Selected Focus Areas
• Fiscal instruments for low-carbon growth, carbon pricing, emissions-trading systems, fuel taxes, feed-in tariffs, and subsidies for renewable energy and green technologies.
• Macroeconomic modeling to forecast economic growth and public-debt trajectories under alternative strategies for meeting NDC commitments.
• Fiscal risk assessments to estimate the potential fiscal impact of alternative transition paths to low-carbon growth and their implications for debt dynamics.
• Climate-change financing frameworks to integrate low-carbon growth into national planning, budgeting, and monitoring and evaluation systems.
• Public investment planning techniques to mitigate uncertainty and manage the economic costs of climate-change adaptation, both in key sectors and economy-wide.
• Analytical capacity to estimate the distributional and competitiveness impacts of environmental tax reforms on sectors, firms, and households at different income levels.
The CAPE initiative is funded by the NDC Partnership Support Facility, the South-South Facility, and the World Bank. Requests for information should be directed to: Capesecretariat@worldbank.org

LATEST NEWS:
Environmental Fiscal Reforms for Low Carbon Growth Workshop in Bogotá - October 30, 2017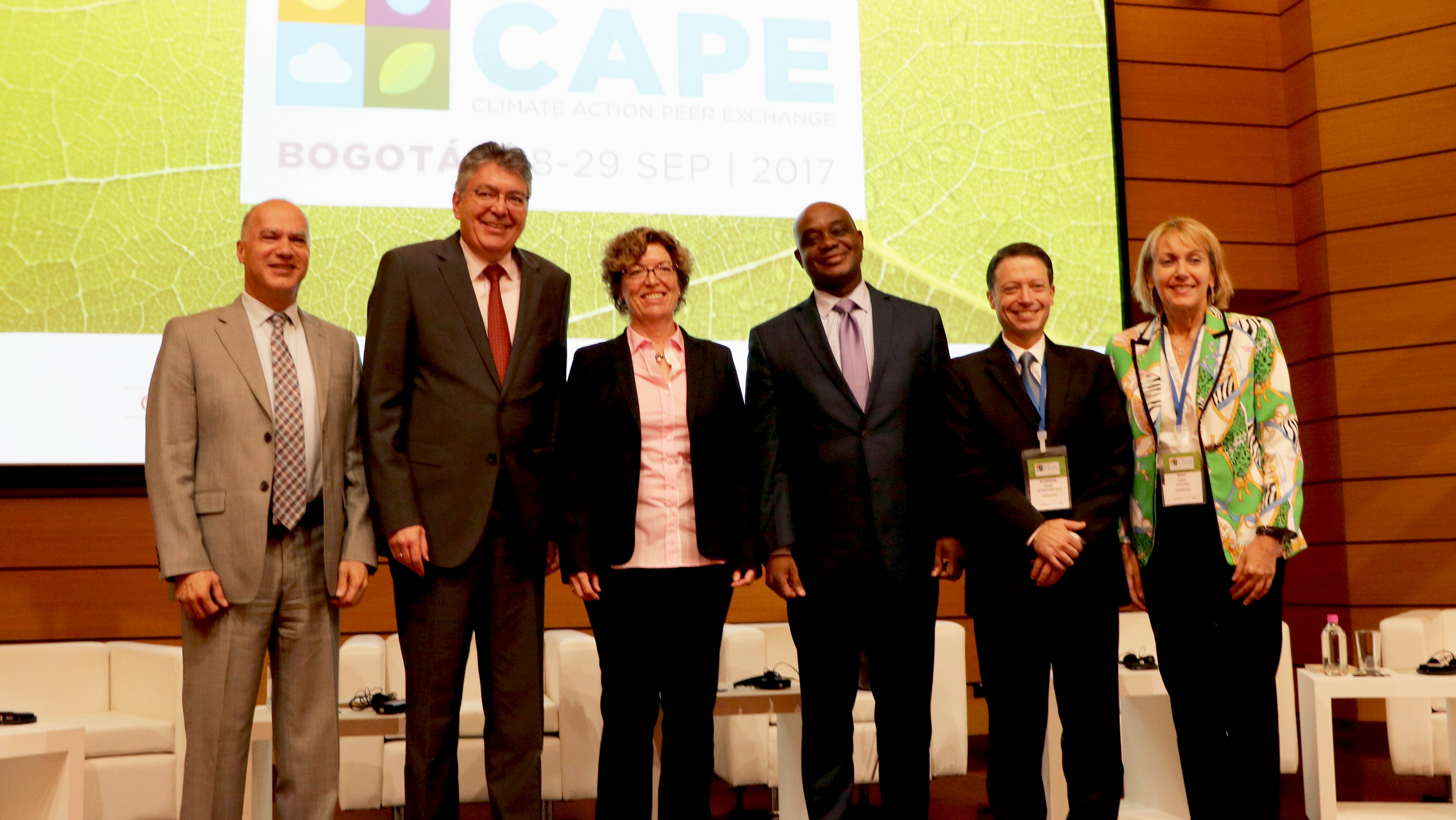 At the first CAPE Partnership meeting in Washington D.C., during the 2017 WB-IMF Spring Meetings, the Colombian Finance Minister Mauricio Cárdenas Santamaría described how Colombia was planning to implement its NDCs, including the introduction of a carbon tax on fossil fuels. He expressed his personal commitment to the CAPE initiative and offered to host a CAPE workshop in Bogota.

Following on that announcement, the CAPE high-level workshop "Environmental Fiscal Reforms for Low Carbon Growth" was jointly organized by the Ministry of Finance and Public Credit of Colombia and the CAPE in Bogota, Colombia, on September 28 and 29 with 200 participants from the Latin American region. The workshop followed a technical training workshop in Shanghai targeted towards EAP and SAR countries and builds on CAPE's objective of at providing a platform for finance ministers to identify challenges and share best practices for climate action and for the successful implementation of their respective NDCs.

In the opening session, Minister Cárdenas, welcomed the Minister of Environment and Sustainable Development, Luis Gilberto Murillo, and the Senior Director of Environment and Natural Resources of the World Bank, Karin Erika Kemper and declared:

"Colombia is committed to the fiscal policies and reforms that help us successfully implement the Paris Accord, as evidenced by the last year's Structural Tax Reform, which included a carbon tax and other provisions linked to our agenda of environmental sustainability. From the implementation of carbon taxes to the adoption of policy actions to strengthen social and economic resilience, finance ministers today have access to a wide range of instruments to help their countries manage the effects of climate change". Karin Kemper commented: "When it comes to climate action and green development, Colombia has been a strong voice both in the region and around the world. We are pleased to collaborate with Colombia on important initiatives such as CAPE to promote the international dialogue on low carbon development and highlight the vital role of finance ministers and private finance in these efforts."

The workshop was broadcasted widely. Minister Cárdenas and his team extensively used social media vehicles to advertise and cover the workshop. In addition to Facebook live coverage, over 2 million Twitter accounts were reached with exposure to almost 15 million accounts, thus attracting strong interest from the local media.

Among the experts who attended the forum were government representatives and international speakers from Mexico, Chile, Peru, Brazil, Canada, the United States and Norway.

The four sessions of the 2-days workshop focused on:
Financing the transformation to a low-carbon and climate resilient economy
Regional cooperation to fight climate change
Fiscal reforms for climate action
Financing forest conservation and fighting deforestation
Key takeaways from these sessions included the following:
Renewable energy has become a reality in Latin America and some of these technologies already outcompete fossil fuels. Although these technologies have driven the regional transition to low-carbon economies in the past decade, financing a long-term energy transformation requires substantial additional investments, targeted public finance, and innovative financing models. Panelists discussed different instruments to mobilize an expected annual gap of U$ 700 million needed in the energy sector alone for a transition to a low carbon economy in 2030, in light with the growing climate funds and green banking initiatives. Panelists recognized the immensity of the challenge and agreed that a blend of policy measures, climate finance and carbon finance will be needed.


The panelists focused in the ongoing and advanced dialogue at regional level aiming at strengthening regional climate action and cooperation. Despite of the political difficulty of engaging carbon-intensive countries given competitiveness fears, panelists stressed that the advantages of international cooperation in implementing NDCs at a cost-efficient manner are clear (i.e., same resources result in larger emission reductions in jurisdictions with lower abatement costs). Finally, it was discussed how to effectively tackle climate change through the implementation of effective fiscal policies at international level, including an international carbon market aiming at reducing abatement costs and increasing global ambition; and how to develop an enabling and broader cooperation strategy.


Government officials from Chile and Peru shared experiences with fiscal policies towards green growth. They presented the payment for environmental services considered in Peru and the ambitious green tax reform implemented in Chile, respectively. Also, they emphasized that, even with relatively low prices, the implementation of those tools provided clear and strong signals to private sector on where their economies are heading towards (i.e., in case of Chile, after the introduction of the US$ 5/tCO2 carbon tax, the energy sector companies announced the elimination of all thermopower plants from their investment plans). The alignment of carbon taxes with other fiscal policies, including GHG emissions trading systems, where also discussed. The latter follows the example of several subnational jurisdictions in the US and Canada with different climate-related policies co-existing in harmony.


Forest landscapes are central to the economic and social fabric of Latin America and the Caribbean, and essential to the region's prospects for sustainable development.[1] Learning from different countries – Mexico, Colombia, and Norway – on opportunities and requirements for transformative change was discussed: fiscal reforms (i.e., carbon tax) and incentives (i.e., or reduction in property taxes or forest bond or carbon payments to communities) that could help to reduce deforestation or can be used to finance sustainable forest management, reforestation, and conservation. Also, integrated programs that focus not only on the climate economy (i.e., Payment for ton of Carbon sequestered and REDD+), but also on developing the potential for the entire forests economy (plantations, sustainable forest management, bio-economy, ecotourism, production of ecosystem services, conservation, landscape restoration, SME in Forests etc.) were recommended. Finally, engaging with the private sector in PPP for Forest and Landscape Management, Restoration and Conservation was highlighted as the next frontier. Fighting deforestation not only from inside the forest sector, but also from other sector looking at the driver of deforestation and the entire landscape, and the role of biodiversity as a key input to make the forest more productive was brought to the attention of the public.
Overall, the workshop in Bogota reaffirmed the critical role of finance ministries in fighting climate change and the importance of sharing efforts to use fiscal instruments in implementing the NDCs.
The CAPE workshop agenda, bios and all the presentations can be downloaded from the following links:

Bios
Agenda
Presentation by Alexandre Kossoy
Presentation by Luis Fernando Mejía
Presentation by Andres Rojas
Presentation by Ian Perry
Presentation by Thomas Kansy
Presentation by Andres Velasco
Presentation by Rodrigo Pizarro
Presentation by Luis Rosa
Presentation by lsabel Studer

Catalyzing Fiscal Policies for Climate Action in Shanghai - October 06, 2017
Download the workshop agenda here.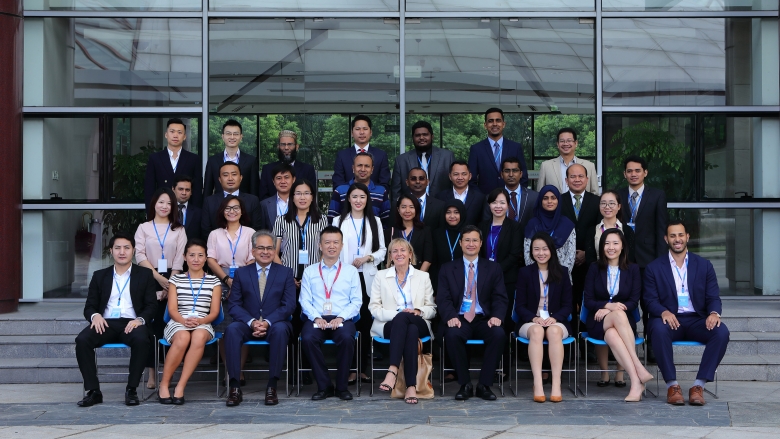 The inaugural training workshop 'Fiscal Policy for Climate Action' was held in Shanghai from September 12-15, 2017. Jointly organized by Climate Action Peer Exchange (CAPE) Secretariat and the Asia-Pacific Finance and Development Institute (AFDI), the workshop delivered a comprehensive knowledge package covering environmental fiscal policies, energy subsidy reforms, climate budgeting techniques and innovative debt financing. By drawing widely from expertise within the World Bank, the workshop featured instructors from the Macro Fiscal Management Global Practice, the Climate Change Group, and Environment and Natural Resources Global Practice.
Senior technical staff from finance ministries of 13 countries in East and South Asia countries were in attendance, (Indonesia, Laos, Maldives, Mongolia, Nepal, Philippines, Vietnam, Cambodia, Bangladesh, Bhutan, Sri Lanka, Singapore, Fiji), as well as the World Bank's Macroeconomics and Fiscal Management Global Practice senior economists working on East Asian Pacific countries. In line with CAPE's purpose of fostering peer exchange, countries also took center stage when they shared their own country experiences. Mr. Wilson Yung from National Climate Change Secretariat of Singapore presented the design and implementation arrangements of carbon taxation in Singapore. Mr. Rolando Toledo, Director of Fiscal Planning Bureau of Philippines, provided participants with an in-depth view of the implementation of national climate budgeting system in the Philippines.
Participants also engaged in case exercises that took them into the practical application of environmental fiscal tools. Centered around the fictional country of Greentopia, participants gained first-hand experience in introducing a carbon tax, applying fiscal risk assessment models and establishing a climate budgeting system – bringing to life the theoretical content presented in the course. The interactive exercise proved to be a very useful way of driving home the importance of environmental fiscal policies and the need to integrate climate risks into the budgeting process.
On the final day of the workshop, participants toured the Suzhou Creek Rehabilitation Project. Participants heard from the project leader of this ambitious cleanup program. The program's ingredients for success included sound systems analysis, integrated engineering plans, and the consultative approach adopted by the Shanghai Government in implementing the Project. From its inception in 1998, the Shanghai Municipal authorities launched this 12-year-program of integrated projects to improve wastewater management, sewage collection treatment and disposal; relocate solid waste processing wharves and reconstruct the embankments; and introduce water resource management and quality control methods. The benefits in terms of improved water quality, living standards, and emission reductions were all evident.
Overall, the workshop was successful in meeting its objectives of knowledge exchange, capacity development and partnership and outreach for finance ministries. This exercise will hopefully equip participants with basic tools to deal with climate change and the increased frequency of induced natural disasters. The real power of CAPE is the knowledge sharing and confidence building among finance ministries through regular interaction and exchange between peers. CAPE will continue carrying out training workshops, introducing country and regional level case studies and practical experiences, and fostering dialogue on fiscal policy for climate change.
Last Updated: Oct 31, 2017