FEATURE STORY
Communities of "Makers" Tackle Local Problems
August 11, 2014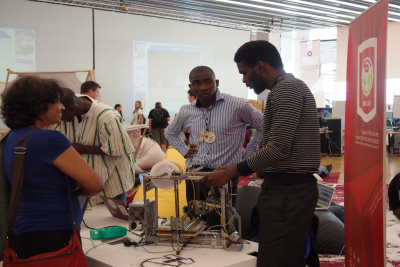 From Togo to the Philippines, Internet and Digital Fabrication Transform Problem Solving
The "Maker Movement" leverages do-it-yourself technologies – 3D printers, laser cutters, sensors, etc. – and organic communities of innovators to address local challenges.
These digital fabrication spaces have the potential to transform service delivery, develop local industry, boost entrepreneurship, provide hands-on learning experience, and increase interest in STEM education.
The World Bank is partnering with institutions and networks to explore and support digital fabrication globally. Barriers to access are decreasing exponentially; 3D printers, for example, will cost less than a personal computer by 2016.
A new model of democratized production is turning consumers into innovators, entrepreneurs and manufacturers. Powered by "makers" (creative individuals who employ do-it-yourself methodologies to develop unique technology products), this new world of digital fabrication leverages machines such as 3D printers and laser cutters to innovate in sectors including education, health and water.
Watch: What is a 3D printer and how does it work?
Read: What are examples of digital fabrication in development?
Using the power of Internet and open-source principles, products designed with digital fabrication tools can be instantaneously shared, modified and created among collaborators anywhere in the world. Items (machine parts, electronics, housewares, etc.) no longer need to be shipped long distances between producers and consumers; equipped with the right machines – whose costs are decreasing exponentially – makers simply download these products' digital files to fabricate them locally and affordably. The product's design can also be customized depending on the availability of local talent and materials and the needs of local customers, on-demand. The implications are promising: the same pair of leather slippers with a laser engraved image of President Obama, designed in Japan, can be manufactured in Kenya with a laser cutter using local materials within a day, turning into a present for President Obama's grandmother. (Click here for the video and article)
Maker communities already exist in most countries, and they collaborate with a wide variety of people – including architects, engineers, designers, educators, students, and even kids – on innovations to drive positive change. One of the main places where makers get together is a "Fab Lab," a concept that originated 10 years ago at the Massachusetts Institute of Technology's (MIT) Center of Bits and Atoms. Today the global network of Fab Labs (including potentially inactive labs) – about 350 in over 40 countries – share projects, talent and know-how among each other.
The Fab10 Conference
In order to encourage and learn from this growing movement, the World Bank's Transport and ICT Global Practice team was one of the sponsors of the 10th International Fab Lab Conference and Annual Meeting in Barcelona from July 2-8, organized by the Fab Foundation and Fab Lab Barcelona. The conference surfaced various local innovations and provided an opportunity to learn from the makers themselves about how they were approaching problem-solving with their clients.
The Fab Lab approach can be used not only in manufacturing for different sectors but also for supporting STEM (science, technology, engineering and mathematics) education, commercialization of research at higher education institutes, evolution of smart cities, waste management, and local industry development and entrepreneurship. Sajitha Bashir, Sector Manager of the Education Global Practice (Eastern and Southern Africa) at the World Bank also presented to the makers some of the key education and employability challenges, especially in Africa during the conference.
Watch: The World Bank at the Fab 10 Conference
For instance in Kenya, the Kenyatta National Hospital – the largest referral clinic in East Africa – teamed up with the University of Nairobi's Fab Lab to address a problem: the hospital needed equipment for maternity and infant health care. Led by its manager Kamau Gachigi, the Fab Lab developed a portal that links with Fab Labs around the world to surface, design and test equipment that could be manufactured locally. By pooling the world's wealth of brain power to drive towards regional solutions, makers like Mr. Gachigi are mobilizing the power of the maker movement to address local challenge.
In the Philippines, makers confronted a different challenge: in the rural area of Bohol, the plastic recycling process is inefficient, long and costly. Using this plastic waste – such as plastic bags and food packages – a Fab Lab, led by Yutaka Tokushima, housed at a local university is creating products ranging from filament for 3D printers to heat-pressed pipes. These new "upcycled" products are not only helping keep plastic waste off the landscape of Bohol, but also creating jobs and providing a stimulus in the local economy. The same principle is being applied in post-disaster environments, where debris from destroyed houses is repurposed in Fab Labs to create building materials for new temporary shelters.
The World Bank and Digital Fabrication
The Transport & ICT Global Practice continues to explore the maker space and its potential role in addressing development challenges. As a part of the Fab10 Conference, the World Bank, USAID and Intel hosted a competition that surfaced the latest digital fabrication innovations for development. Winners included a team from Togo that uses broken computer parts and other e-waste to create a 3D printer and an open-source and low-cost sensor that tracks water flow (these "Mobile Monitor" sensors are already being tested in dozens of water points in rural Tanzania with support from the World Bank Innovation Fund).
In addition to these activities, representatives of the World Bank and the clients are participating in study tours of digital fabrication spaces, including Tech Shop, the White House Maker Faire and the upcoming Maker Faire Africa (December 3-6, 2014). These engagements offer an opportunity to study an emerging, evolving and relatively undefined field. They also help test the hypothesis that digital fabrication holds the potential to support the Bank's mission of elevating shared prosperity and reducing poverty by lowering barriers to entry for entrepreneurship, local manufacturing and providing skills development opportunities. The Bank-supported MueveTT mobility innovation challenge in Gran Concepción, Chile, in July 2014, has already surfaced creative ideas that use drones, sensors and other hardware to improve traffic, bike safety and more.
As a next activity, the Transport & ICT Global Practice plans to host competitions for makers to create solutions to address green growth challenges in urban areas in Ghana, South Africa and Mongolia.
At this early stage of the Bank's involvement in digital fabrication, it is clear that harnessing the power of makers around the world could help more local innovation emerge in the future. This globally connected network of makers will continue to share their knowledge and experience to help solve some of the developing world's greatest challenges.
This story was prepared by Saori Imaizumi and Samhir Vasdev, and the video was prepared by Elisabet Diaz Sanmartin, who all work for the World Bank's Transport & ICT Global Practice.