FEATURE STORY
A First for Africa: an Advanced Degree in Gender and Peacebuilding
February 26, 2014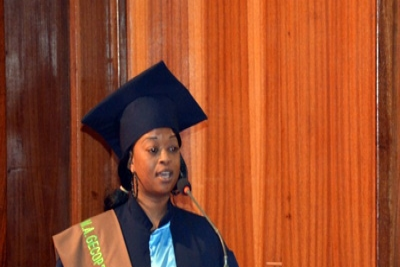 STORY HIGHLIGHTS
Twenty-nine young Africans have just received master's degrees in Gender and Peacebuilding, offered by Cheikh Anta Diop University (UCAD) in Senegal
The only program of its kind, the degree major is the fruit of a partnership between UCAD, the United Nations Peace University in Costa Rica, and the nonprofit group Femmes Africa Solidarité
The World Bank has provided $207,523 in financial backing since 2012, in addition to contributions from other partners
DAKAR, February 26, 2014 - On his Facebook page, Charles Lauandino Vieira Sanches, 33, proudly posted photos of himself receiving his advanced degree. The young man from Cabo Verde was among the first graduating class to achieve a master's degree in Gender and Peacebuilding, a brand-new bilingual (French and English) major offered by Cheikh Anta Diop University (UCAD) in Dakar, Senegal's capital.
To add to the honor, the young graduate was handed his diploma by Bineta Diop, the founder and president of Femmes Africa Solidarité (FAS), a nonprofit created in 1996 to promote leadership-building for women within the domains of conflict prevention, outreach, and conflict resolution on the African continent.
This grande dame of peace, now 64, was listed on Time magazine's annual roster of the 100 Most Influential People in the World in 2011. "If I could be on that list by the time I'm her age, that would be a good start, don't you think?" said Charles with a smile.
The sole program of its kind in Africa, the master's came about thanks to a partnership between FAS (through its Pan-African Center for Gender, Peace and Development, or PAC), the law and political science department of UCAD, and the United Nations Peace University (UPEACE) in Costa Rica.
Since 2012, the African Capacity Building Foundation and the World Bank have provided funding for the partnership effort, with the World Bank contributing $207,523 over three years. "Thus far, $97,168 has been spent on computer hardware and classroom renovation and equipment," said John Mugisa, PAC's point man for the program. The African Development Bank, UNESCO, and the governments of Norway and Sweden also contribute support.
Twenty-nine graduates (15 women and 14 men) from university and professional backgrounds made up the first class, remarkable for its diversity. The students were from Benin, Burundi, Cameroon, Côte d'Ivoire, Gabon, Mali, Niger, Nigeria, Rwanda, Senegal, Sudan, Togo and the Republic of Cabo Verde ¾ no fewer than 13 sub-Saharan African countries.
Bringing women into the peacebuilding process
According to its founders, the program seeks to train a platoon of specialists active in peace processes on the Continent, who can bring a gender perspective to the efforts toward peace.
The objective is to "close the gaps in training and fulfill the need to protect women's rights when armed conflicts occur," said FAS president Bineta Diop. The program will constantly evolve to take into account new risks and new threats as they arise, especially in the Sahel region, she noted.
Creation of the degree is part of a broader recognition that "Africa cannot have sustained growth without peace and without the participation of women, who make up 50 percent of the work force," says Vera Songwe, World Bank country director for Senegal. "Africa's growth and prosperity," she adds, "depend on policies established by our governments to build an equitable society based on peace and excellence."
Charles Lauandino Vieira Sanches noted that the program's advantages — in addition to being bilingual and addressing a crucial problem — include the high quality of instruction and diversity of perspectives. Courses are taught by professors from UCAD and UPEACE but also by experts from beyond the university realm. "This enables a merging of theory and practice," Charles explained. "I really liked the introductory course on Gender and Peace that served as the basis for the master's, as well as the course on Transitional Justice," he said. He also valued the interactive teaching methods and the use of computer and communication technologies.
Djenebou Diallo, a 27-year-old woman from Côte d'Ivoire who was one Charles's classmates, said she loved the course on Gender Mainstreaming in Peacekeeping Operations. Co-taught by Professor Mihir Kanade of UNPEACE and Birame Diop, Deputy Chief of Staff of the Senegalese air force, the course drove home the need to promote women's participation in peacekeeping operations.
"Today, thanks to this master's, I've become a different person, with new ambitions for Africa as a whole and my country in particular," Djenebou declares. Her dream? To go to work for a nonprofit organization so she can put into practice all the knowledge acquired during her training.