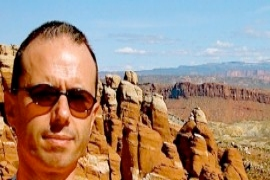 Economics for Development: A Conference in Honor of Eduardo Ley
February 12, 2014
Washington, DC
Eduardo Ley, a well-loved economist in the Economic Policy and Debt unit of the Poverty Reduction and Economic Management network, passed away tragically last year. This conference organized by his colleagues and friends honors his life and his work.
Conference
Time:

8:30 am - 3:30 pm

Location:

Room MC 13-121, World Bank Headquarters, 1818 H Street, NW, Washington DC.

CONTACT:

Harun Onder

honder@worldbank.org
This event, hosted by the Economic Policy and Debt (PRMED) unit of the World Bank, will bring together researchers and development practitioners who work in Eduardo Ley's fields of interest. The speakers come from the World Bank, the IMF and academic institutions around the world. They have expertise that ranges from fiscal policy to macroeconomics to issues specific to resource-rich countries.
Eduardo was known for his sense of fun and warm, generous personality, in addition to his talents in applied econometrics. He joined PRMED in 2006 as Lead Economist, coming from the Research Department of the IMF, where his work and research on fiscal and tax policy issues were well-recognized. At the World Bank, Eduardo undertook research and analytical work on fiscal policy in resource-rich countries, fuel subsidies, and fiscal aspects of climate change mitigation and adaptation policies. In all his work in the Bank, Eduardo demonstrated top-notch analytical orientation and clear thinking. He loved to teach as well, as he demonstrated in the well-organized and interesting materials he would prepare and deliver during PRMED fiscal, macro, and growth courses in World Bank client countries.
Born in Zaragoza, Spain, Eduardo earned his Ph.D. in Economics and M.A. in Statistics from the University of Michigan, Ann Arbor. He held teaching and research positions in universities in Spain, Poland and the United States, authoring numerous research publications and policy-oriented analytical papers.


ECONOMICS FOR DEVELOPMENT
A CONFERENCE IN HONOR OF EDUARDO LEY
08:30 – 09:00

BREAKFAST*

09:00 – 09:30

OPENING REMARKS:

Ana L. Revenga (Acting Vice-President, WB)

Jeffrey D. Lewis (Director, WB)

09:30 – 10:30

SESSION 1: REAL TIME MACRO MONITORING, STABILIZATION, AND FISCAL POLICY




"Countercyclical Fiscal Policy with Real-time Information" Harun Onder (WB)

" Global Recessions and Recoveries"; Ayhan Kose (IMF)

"What Makes a Currency Procyclical?"; Tito Cordella (WB)

"Real-time Macro Monitoring and Fiscal Policy"; Florian Misch (ZEW)

10:30 – 10:45

COFFEE BREAK

10:45 – 11:45

SESSION 2: ECONOMIC ANALYSIS IN DEVELOPMENT ASSISTANCE




Blanca Moreno-Dodson (WB)

Quality of Government and Living Standards: Adjusting for the Efficiency of Public Spending"; Francesco Grigoli (IMF)

"Is Infrastructure Capital Productive?"; Luis Serven (WB)

"Fiscal Sustainability in Practice" Doerte Doemeland (WB)

11:45 – 12:45

SESSION 3: ARE RESOURCE-RICH COUNTRIES SAVING ENOUGH FOR THE FUTURE?




Kirk Hamilton (London School of Economics)

"Quantity or Quality? Is Saving the Real Problem" Alan Gelb (CGD)

"Fiscal Regimes for Extractive Industries: Design and Implementation"; Philip Daniel (IMF)

"Diversified Development"; Naoko Kojo (WB),

"Sovereign Wealth Funds Investing at Home: Opportunity Fraught with Risks"; Havard Halland (WB)

12:45 – 14:00

LUNCH BREAK* - KEYNOTE ADDRESS




Hal Varian (UC Berkeley)



14:00 – 15:15

SESSION 4: ISSUES IN IDENTIFYING DETERMINANTS OF GROWTH




"Eduardo and BMA" Mark Steel (University of Warwick)

Did Established Early Warning Signals Predict the 2008 Crises?; Theo Eicher and Chris Papageorgiu (IMF)

"Growing Together? Model Uncertainty, Regional Economic Growth and the Future of Income Convergence in Europe"; Jesus Crespo Cuaresma (Vienna University of Economics and Business)

Steven Durlauf (University of Wisconsin-Madison)

"Growth Empirics in Panel Data under Model Uncertainty and Weak Exogeneity" Enrique Moral-Benito (Banco de Espana)

15:15 – 15:30

CLOSING REMARKS:




Sudarshan Gooptu (Manager, PRMED)






*Light breakfast and lunch will be provided.