Mozambique's Integrated Landscape Management Portfolio (ILM) brings together a series of projects to promote the sustainable management of renewable natural resources (forests, wildlife, land, and fisheries) and improve livelihoods in the country's most vulnerable rural communities.
In a country where over 70% of households rely on natural resources, the ILM Portfolio is promoting a healthy coexistence between humans and nature by tackling deforestation and resource exploitation, together with challenges such as rural poverty, community rights and land management.
Combining on-ground investments, technical assistance, analytical work and results-based finance, the over USD $500 million Portfolio assists the Government of Mozambique in improving the livelihood of rural communities, in promoting small and medium businesses linked to agriculture and natural resources, with an emphasis on women and youth, and promotes sustainable management of natural resources, including curbing deforestation, illegal timber and wildlife trade and resource degradation
By managing the projects collectively under one well-coordinated umbrella, the ILM Portfolio takes advantage of shared knowledge and resources, facilitating cross-sectoral coordination and dialogue. The result is greater national capacity in natural resource and protected area management, and environmental, social and economic benefits that extend far beyond the lifecycle of the projects.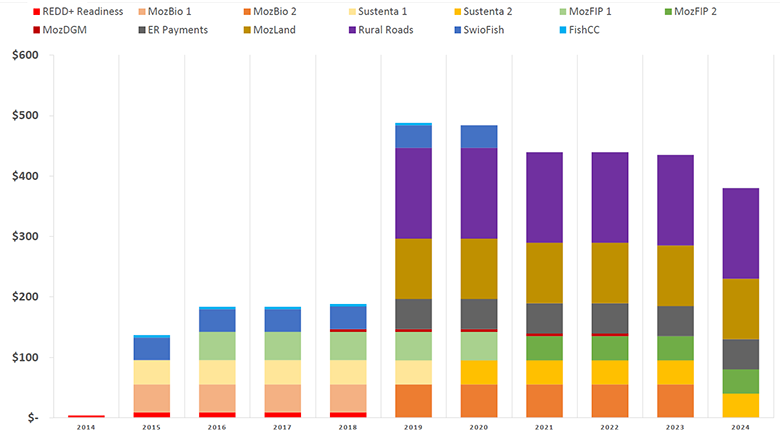 US$ Million by Fiscal Year of Budget
Projects
Recognizing the inextricable links between forests, natural resources (such as healthy soils and clean water) and the value chains that depend on them (such as agriculture, timber and tourism), the ILFM Portfolio collectively manages several projects, each with a specific focus:
Agriculture & Natural Resources Landscape Management (SUSTENTA)
The SUSTENTA Program became a government platform which has the approach to integrate management of agriculture and natural resources, stimulate the economy and improve the quality of life of rural families. Through the integration of families in the development of sustainable value chains, and sustainable management of natural resources and land.
Conservations Areas for Biodiversity & Development Project (MozBio)
Supporting Mozambique's network of national parks and reserves, while enhancing livelihoods in and around these areas, MozBio is strengthening management capacity and promoting nature-based tourism, to create business opportunities and livelihood activities that focus on conservation and biodiversity.
Mozambique Forest Investment Project (MozFIP)
MozFIP is improving forest governance and promoting sustainable forest and landscape management. Supporting activities that reduce deforestation and promote rural development, the project established a performance-based commercial plantation scheme to encourage smallholder engagement in commercial forestry, facilitate market access and provide technical support.
Sustainable Fishing in the South West Indian Ocean (SWIOFish1)
SWIOFish1-MZ is part of a regional collaboration working to reduce resource degradation and strengthen fisheries management in countries bordering the Indian Ocean. The project is working to coordinate regional fisheries management, increase economic benefits and reduce species-specific pressure by supporting catch diversification and improve governance through public policies interventions.
Artisanal Fisheries and Climate Change Project (FishCC)
FishCC is a pilot project working to improve community management of selected priority fisheries through the establishment of Territorial User Rights for Fisheries (TURFs). It is financed through a grant from the Nordic Development Fund, with the World Bank acting as trustee.FishCC has three key components: Improve community rights-based fishery management, Improve livelihoods and Integrate social marketing strategies.
Dedicated Grant Mechanism for Local Communities (DGM)
The DGM provides grants to local communities and Civil Society Organizations to assist them in participating in sustainable forest and land management and REDD+ processes at local, national and global levels.
Zambezia Emissions Reductions Project
The Carbon Fund of the Forest Carbon Partnership Facility (FCPF) will pay Zambezia for success in mitigating climate change by reducing the ongoing high loss of forest cover and reducing the emissions of greenhouses gases.
ILFM Programmatic Technical Assistance
Technical Assistance provided to the Government is increasing institutional capacity and promoting sustainable rural development. This assistance is provided under three pillars: the National Sustainable Development Fund (FNDS), analytical work in forestry management and climate change adaptation and strategic outreach and partnership creation between the Government, civil society, and academia.