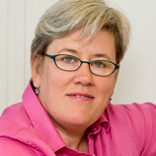 Rachel Kyte
World Bank Group Vice President and Special Envoy, Climate Change Group
Rachel Kyte is World Bank Group Vice President and Special Envoy for Climate Change. As a leading advocate for action to combat climate change because of its intrinsic link to poverty and development, Ms. Kyte is the leading figure for the World Bank Group in efforts to campaign for an ambitious agreement at the 21st Convention of the Parties of the UNFCC this December. She is leading work on climate change adaptation, mitigation, climate finance, and disaster risk and resilience across the institutions of the World Bank Group, including IBRD, IDA, IFC and MIGA.

Her team is focused on ensuring that all Bank Group operations integrate climate change and take into account the opportunities presented by inclusive green growth. The group is also an advocate for global climate action.

Ms. Kyte previously served as World Bank Vice President for Sustainable Development and was the International Finance Corporation Vice President for Business Advisory Services and a member of IFC's management team.

She is professor of practice in sustainable development at The Fletcher School of Law and Diplomacy. She holds a master's degree in international relations from Tufts University, and a bachelor's degree in history and politics from the University of London.

AREAS OF EXPERTISE
Climate Change
Sustainable Development
DISRI_webtopics
Environment
Social Development