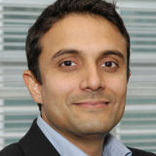 Prashant Kapoor
Principal Industry Specialist, IFC Climate Business, Climate Change Group
Prashant Kapoor is an internationally recognized thought leader and green building expert, and an advocate for sustainable design solutions at all levels of business, government, and civil society. He created the EDGE ("Excellence in Design for Greater Efficiency"), an application that reveals solutions at the early building design stage to reduce energy, water, and material consumption.
As an industry specialist based in Washington, D.C., Mr. Kapoor guides IFC's global green building program in emerging markets. Under his leadership, IFC developed investments in hotels, hospitals, housing, and commercial buildings that are energy and water efficient and use sustainable materials. Since 2010, IFC has invested nearly $600 million in green buildings (both directly and through financial intermediaries) – last year alone, IFC invested $406 million, including in green homes in India and Mexico.
In 2012, Mr. Kapoor led the IFC team that brought Jakarta authorities and building industry leaders together to launch the city's policy to cut power and water usage in buildings by 20 percent. He is currently working with governments such as Vietnam, India, Philippines, and Colombia on green building regulations and programs.
Mr. Kapoor heads the IFC's EDGE Market Transformation Program, which is a coordinated investment-advisory approach aiming to transform the construction industry in up to 20 countries/segments over the next seven years. The goal is for green buildings to reach a 20 percent market share in each target market, which is estimated to represent: the equivalent of one million cars taken off the road; and over $300 billion in green investment catalyzed over seven years.
Prior to joining IFC, Mr. Kapoor worked as a director at WSP consultants in London. He played a leading role in planning Masdar City, an innovative zero-carbon city under construction in Abu Dhabi; developing a strategic plan for Dubai, including designing a new green building regulatory system; and various pathfinder low-carbon property programs for corporate real estate, institutional investors, and developers.
Mr. Kapoor holds architecture degrees from Manipal Institute of Technology (India) and a master's degree in energy efficient building from Oxford Brooks University (UK).
AREAS OF EXPERTISE
Climate Finance
Urban Development