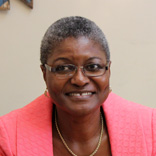 Mercy Tembon
Country manager, Africa
Mercy Tembon officially took office as Country manager for Burkina Faso on September 2, 2012. A Cameroonian national, she joined the Bank in January 2000 as an education specialist in the Africa Region Human Development Sector (AFTH2). Since then, she has held various positions, her most recent assignment being Country Manager for Burundi.

Ms. Tembon's top three priorities are to: (i) lead the Bank's policy dialogue around reforms that stimulate accelerated, inclusive and sustainable growth, improved delivery of social services and reduced social, economic and environmental vulnerabilities; (ii) oversee the implementation of the Bank's Country Partnership Strategy and ensure portfolio quality; and (iii) lead and support staff in implementing the priorities of the Africa Region strategy while adjusting to corporate realities and opportunities.

Ms Tembon holds a PH.D in economics of education from the University of London, Institute of Education.