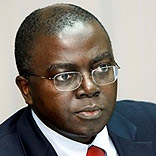 Jean-Michel Happi
Country Manager for the Kyrgyz Republic, Europe and Central Asia
Jean-Michel Happi is the World Bank Country Manager for the
Kyrgyz Republic
as of September 1, 2014.
Happi has broad ranging development experience. He has worked on issues of competition policy, privatization, governance and anti-corruption, infrastructure development and utility sector reform. He has also been involved with Bank-wide efforts to mobilize concessional financing for low-income countries, and in helping develop Bank-country partnership strategies. He has worked across many countries in South Asia, Africa, Europe and Central Asia, and Middle East. Before moving to the Kyrgyz Republic country office, he has worked as the Country Manager for Armenia.
Prior to joining the World Bank Group in 1993, Happi worked as economist at the United Nations Conference on Trade and Development (UNCTAD) in Geneva.
Happi, a Cameroonian National, is a graduate from the French School of Economics (Ecole Nationale de Statistique et de l'Administration Economique) and holds Post-Masters degrees in Applied Mathematics from Paris-6 University.
AREAS OF EXPERTISE
Private Sector Development
Anti-Corruption
Infrastructure
Public Sector & Governance