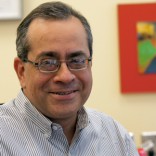 Jaime Saavedra-Chanduvi
Acting Vice President, Poverty Reduction & Economic Management Network
Jaime Saavedra Chanduvi is the Acting Vice President of the World Bank's Poverty Reduction and Economic Management network and Director for Poverty Reduction and Equity , based in Washington.
A native of Peru, Saavedra Chanduvi has overseen operational, technical assistance, and analytical work in the areas of poverty and inequality, employment and labor markets, economics of education and monitoring and evaluation systems. He has published and conducted extensive research and policy dialogue in his areas of expertise, and co-authored numerous articles and publications. He recently co-led the technical work and process that resulted in the establishment the new twin goals for the World Bank Group of sustainably ending extreme poverty and promoting shared prosperity. Prior to his current appointments, Saavedra-Chanduvi was the manager of the Poverty and Gender Unit in the World Bank's Latin American and Caribbean Vice Presidency.
Before joining the Bank, Saavedra Chanduvi was Executive Director and Principal Researcher at Grupo de Análisis para el Desarollo, a non-partisan think tank based in Lima, and a Principal Advisor to the Minister of Labor in Peru. He has been a consultant and researcher for the World Bank, the Economic Commission for Latin America and the Caribbean , the Inter-American Development Bank , and the International Labour Organization.He also served as President of the Executive Committee of the Network on Inequality and Poverty of the IADB-WB-LACEA, and as a board member at Latin America and the Caribbean Economics Association, the Nutrition Research Institute, and the National Council of Labor in Peru.
Saavedra Chanduvi has held teaching positions at Pontificia Universidad Católica del Peru and Universidad del Pacífico in Peru, and has been a visiting researcher at the University of Toronto. He holds a Ph.D in economics from Columbia University and a Bachelor's degree in economics from the Catholic University of Peru.