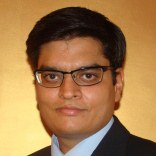 Ashish Khanna
Lead Energy Specialist, South Asia
Ashish Khanna leads the World Bank's
India
energy program, which includes a portfolio of $5 billion across the energy sector. His responsibilities involve building the program strategy, ensuring its quality, and managing client relationships with the senior-most levels in government, public organizations, the private sector, and industry forums. Khanna also leads the World Bank's renewable and energy efficiency program in India.
Before joining the World Bank in 2005, Khanna worked with KPMG/Arthur Andersen as senior manager, infrastructure and government practice, where he led business development of the firm's Indian energy business.
Khanna holds an undergraduate degree in economics and a master's degree in business administration, with specialization in finance. As a recipient of the John K. Galbraith scholarship, Khanna completed his master's in public administration at Harvard's Kennedy School of Government (Edward S. Mason Program). He has spoken at various international conferences, including the International Development Conference at Harvard. Khanna is also a regular speaker at national conferences in India.