Challenge
Growth maintained its gradual recovery in 2018 but must accelerate to maintain poverty gains given its population dynamics. Public debt levels remains a concern. Growth increased from 3%in 2017 to 3.5%in 2018, driven by diversification and increased activity in the non-extractive sector which reached 5.5%growth. However, given the high population growth rate, per capita Gross Domestic Product and poverty rates have remained almost flat since 2014. Despite the continued fiscal improvement, public debt levels increased due to the agreement of arrears payment to the Central Bank, and the DSA (Debt Sustainability Analysis) still shows a high risk of external debt distress. Inflation is moderate, and the exchange rate is stable. While the banking sector still suffers from several vulnerabilities, the authorities have strengthened the regulatory framework of the banking sector and are addressing structural weaknesses of the monetary policy with the International Monetary Fund help.
Mauritania is ranked 150 out of157 countries with a score of 0.35 on the Human Capital Index. Education trends are particularly worrisome: the average Mauritanian child can only expect to achieve 6.3 years of schooling (8.1 in Sub-Saharan Africa and 11 in Middle East and North Africa) and to score 342 points on harmonized test scores (374 in SSA and 408 in MENA), where 300 is minimal attainment and 625 is advanced attainment.
Approach
Under the Country Partnership Framework, the World Bank Group (WBG) will support a spatial approach by focusing on delivering basic services and infrastructure to a select number of intermediate cities and adjacent territories that could yield important returns on investment in human capital development and inclusive growth offering economic development opportunities and concentrating investments in fragile areas that are vulnerable to climatic shock, security risks and those particularly hard-hit by poverty.
The WBG is providing Mauritania financial services (projects and budget support) and technical assistance (economic and sectoral studies, training and knowledge) and facilitate the exchange of experiences at both national and international level (convening role).
Mauritania's program exploits the existing synergies between the different structures of the WBG – International Development Association focusing on public goods and necessary economic reforms to enable the development of the real sector (agriculture, livestock, fisheries and extractive industries), and International Finance Corporation and Multilateral Investment Guarantee Agency supporting private sector investment and improving the business climate. For this, all the WBG instruments will be deployed, leveraging complementarities between budget support and investment grants to support the implementation of economic and social reforms.
The bank also supports women empowerment through the Sahel Women's Empowerment and Demographics Project (SWEDD). It is a regional initiative that aims to boost the level of empowerment of women and adolescent girls with the goal of expediting demographic transition in the region. The project targets girls aged 10 to 19 who are at a higher risk of early marriage and motherhood and provides them with support through a package of evidence-based, age-appropriate interventions to end harmful practices, improve their life skills, keep the girls in school, and boost their earning potential. Based on work completed under the SWEDD, one pillar was devoted to capturing the demographic dividend in the Strategy for Accelerated Growth and Shared Prosperity (SCAPP) for 2016–30. Mauritania has thus launched a communication campaign geared toward behavior change, covering the subjects of girls' education, women's economic empowerment, child marriage, and birth spacing, with strong support from Imams and religious leaders as the campaign's messages are anchored in the context of the position of Islam on these issues.
Results
Between 2014 and 2019 the National Integrated Support Program for Decentralization, Local Development, and Youth Employment (PNIDDLE) which supports 100 communes distributed over 10 wilayas in the country, financed the construction and equipping of close to 563 commune-level infrastructure projects (schools, health centers, city halls, youth centers, and stadiums) and a significant number of commercial services (municipal markets, abattoirs, bus stations). It has facilitated the creation of the equivalent of 1,232 annual full-time jobs and training of 2,000 people (elected officials and municipal and technical staff). The PNIDDLE has also helped with capacity development in the central administrations most involved in its implementation. Lastly, the PNIDDLE financed the completion of numerous studies and reforms relating to decentralization, such as studies on local finances and taxation, the Rural Development Fund (FRD), decentralization of the municipal procurement system, and the national decentralization and local development strategy.
The Social Safety Net System Project supports the Government's social protection strategy aiming at protecting poor and vulnerable households and investing in their human capital through several instruments. In April 2019, close to 100,000 households were included in the social register, also around 30,000 extremely poor households benefited from cash transfers and outreach on best practices in the areas of health, hygiene and early childhood development from the national social transfer program Tekavoul. Since 2017, the shock-responsive safety net program, Elmaouna has provided support to several thousands of households experiencing food insecurity during the lean season.
The Regional Sahel Pastoralism Support Project (PRAPS-MR) is currently at mid-term and has addressed a set of fundamental problems that weaken the resilience of pastoral groups, impede the development of pastoralist production systems and ignite conflicts. As of June 2019, with a 40% disbursement, the project has supported vet services (3 million bovines vaccinated against contagious bovine pleuropneumonia) and achieved several infrastructures construction such as 19 veterinary health posts, 27 vaccination parks, 3 livestock markets, 2 rest areas, 5 rehabilitated boreholes.
IDA Box on results
Mauritania's projects are 100% financed by IDA funds
Bank Group Contribution
The current Bank portfolio in Mauritania stands at $359 million consisting all of IDA grants including seven national and nine regional operations. Regional projects make up the largest share of the Mauritania portfolio (approx. 68%) with a net commitment of $245 million, compared to $122 million for national projects. Mauritania has recently benefited from the IDA18 Refugee Sub-window ($50 million equivalent) to support host communities and refugees in the southeastern region of Hodh. There are about 56,000 refugees, mostly Malians, in the M'Berra camp located near the town of Bassikounou.
The commitments of the International Finance Corporation (IFC), the private sector arm of the World Bank Group, totaled $49.5 million in June 2018, while the gross commitments of the Multilateral Investment Guarantee Agency (MIGA) amounted to $302.7 million in May 2018.
Partners
The development partner landscape in Mauritania is characterized by close and effective collaboration. A joint Government‐Donors Committee comprised of government representatives and 17 development partners meets at least twice a year under the aegis of the ministry of finance to ensure coordinated aid flows. This committee played an important role in supporting the preparation of the SCAPP (Stratégie de Croissance Accélérée et Prospérité Partagée). Collaboration among development partners is enhanced by a formal donor coordination framework which focuses on sectoral themes. Mauritania has worked well with and benefitted from the support of several multilateral donors including the Fonds Arabe de Développement Economique et Social (FADES) – the largest contributor – the European Union (EU), the WBG, the African Development Bank (AfDB), the United Nations System, and the Islamic Development Bank (BID). It has also accessed substantial assistance from bilateral donors and traditional partners such as France, Germany, Italy, Japan, Spain and United States, as well as new partners, mainly China – the second largest contributor – and India. The WBG worked closely with the Unites Nations System, notably with the United Nations Children's Fund and the World Food Program, in developing the safety net instruments and supporting the design of a mechanism to deploy responses to climate shocks, and with UNFPA in implementing a regional program for women's empowerment and demographics (SWEDD). The WBG is also a founding institutional member of the Sahel Alliance.
Mauritania also receives support from the International Monetary Fund through the extended credit facility.
Moving Forward
To support the transition to a more inclusive, diversified and resilient model of growth, building on Mauritania's natural resource wealth through three main approaches. First by expanding opportunities for economic diversification with interventions to raise productivity in traditional livestock, fisheries, and agricultural activities; improves household welfare through access to basic services; and enabling increased participation in economic activity which will further sustain growth. Second, interventions in education, health and social protection will emphasize quality and access for the most vulnerable population segments and employability of youth and women. Third, supporting improvements in economic governance to optimize revenue mobilization and public spending, create opportunities for the private sector and strengthen the transparency of the extractives sector.
Beneficiaries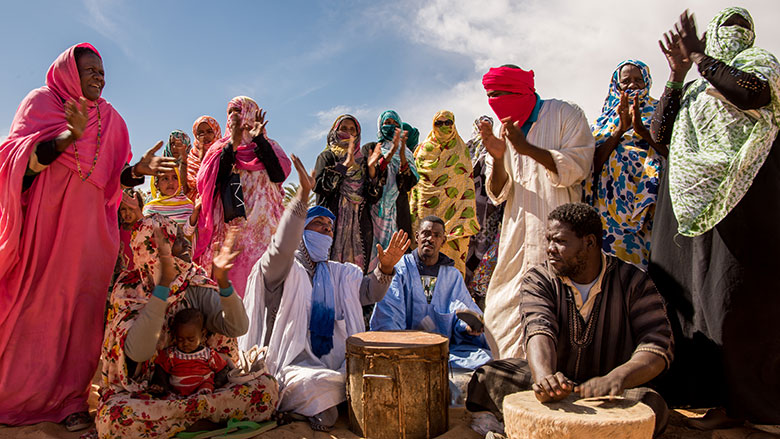 Photo: Dorte Verner/World Bank
PNIDDLE
According to Mohamed Lemine Ould Khatry, Mayor of Tintane, PNIDDLE support was most welcome at a time when the municipality was inundated by flood waters in 2017: "The human and material loss was so great that we had to relocate two thirds of the community," he states.
"Thanks to PNIDDLE, we were able to build a maternity center, a slaughterhouse, roads, and classrooms and even finance extra hours for tutoring our pupils. We no longer have any problems collecting taxes because the population is proud to see tangible achievements on the ground, while before, people used to be quite reluctant," he notes. "Whereas we used to be dependent on grants from the Mauritanian Government, today 50% of our resources come from tax collection," he adds.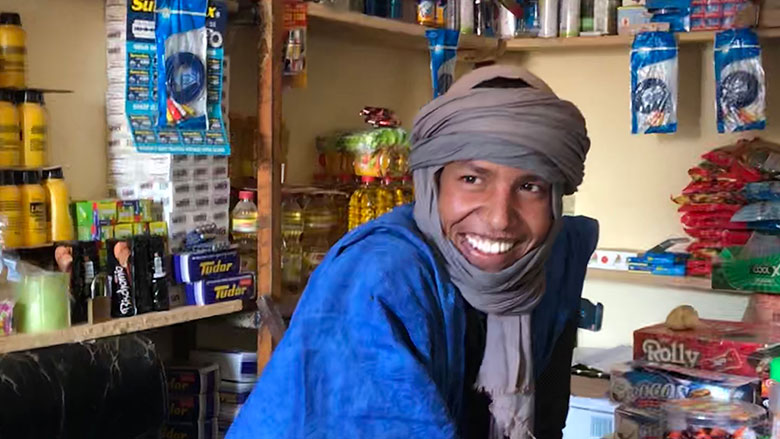 Photo: Judy Laufman/World Bank
"It is a project designed by and for young people," insists the mayor. Ely, a young man of 18 years of age, manages a small grocery shop in the heart of the old city with his brother and considers himself fortunate to have a job. He occupies one of the six shops recently constructed (three were reserved for young people and the other three for women's cooperatives) and "dreams of earning a lot of money" if he keeps his feet on the ground.
One of the objectives of PNIDDLE is to encourage the employment of youth and women in the municipalities involved in the program. In Gouraye, a municipality located in the triangle of poverty on the border with Senegal, there has been a significant rise in the women's incomes, thanks to the establishment of a weekly sub-regional market that allows women who produce vegetables and cereals to sell their local produce. "We have also entrusted two women, chosen by a village committee, with the task of managing two standpipes," notes Ms. Hajiratou Khalidou Ba, Mayor of the Gouraye municipality. "It is the women who look after everything. They sell the water, pay the bills, and take care of any repairs. This empowers them," she explains.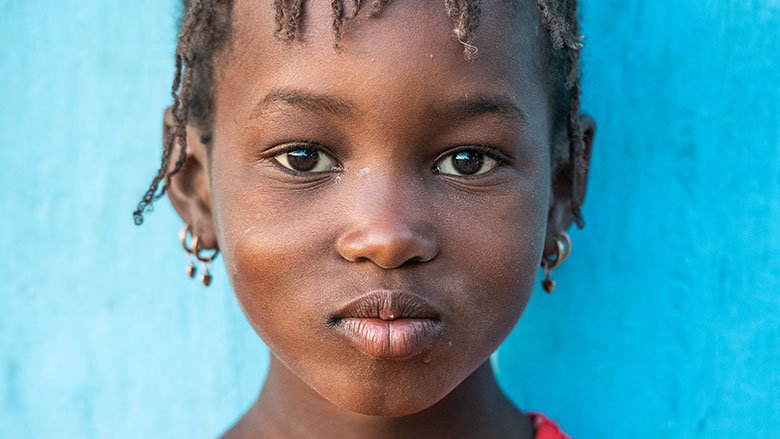 Photo: Dorte Verner/World Bank
SWEDD
The SWEDD project has helped identify influential Muslim scholars and religious and traditional leaders and from seven countries. In May 2018, they gathered in Nouakchott, Mauritania, to discuss the position Islam takes on issues related to child marriage, maternal and child health, family planning, girls' education, gender-based violence, and women's economic and social empowerment. In their declaration of engagement, issued after the conference, they said they were "committed to bring our contribution to the field of girls' schooling [and] reproductive health, including safe motherhood during pregnancy, during delivery, and women's right of access to contraceptive methods of birth spacing."