BRIEF
Pandemic Risk and One Health
October 23, 2013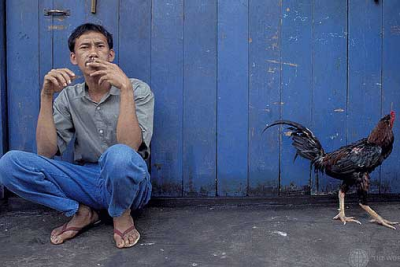 CONTEXT
A pandemic is a global disease outbreak that represents a top global catastrophic risk. Influenza (flu), for example, transmits readily and can spread fast. Every year, up to 500,000 people die from flu. In years when pandemic flu occurs, the toll can rise well into the millions. The 1918 pandemic flu, the most severe of the four flu pandemics in the last 100 years, infected up to 40% of some national populations and killed 50-100 million people.
Pathogens with pandemic potential continue to emerge, and most of them are of animal origin (zoonotic). During the past 10 years alone the world has witnessed, among others, H5N1 avian flu, H7N9 avian flu, and two kinds of coronavirus: severe acute respiratory syndrome- SARS and Middle East Respiratory Syndrome -MERS.
The World Bank has estimated that a severe flu pandemic could result in $3 trillion in global economic losses, equivalent to 4.8% of gross domestic product (GDP). Most of the losses would not be caused by disease directly, but rather by consumer reactions, labor shortages and cascading failures in economic and financial sectors. The U.S. government has warned of the potential for a severe flu pandemic to impact global security and stability.
Every year, 2.3 billion human infections occur in developing countries by zoonotic diseases, and 2.2 million die as a result. The burden on the poor is formidable, as they tend to live in close proximity to animals in communities with inadequate veterinary and human public health services. Such diseases diminish livelihoods, nutrition, food security, trade, and assets of poor households. Reducing this burden is a global development imperative. Increasing global pandemic prevention and preparedness is essential to achieve the global goals to end extreme poverty by 2030 and boost shared prosperity.
Managing pandemic risk is important for developing countries. A severe pandemic would harm health, economies, and communities everywhere, but especially in poor and fragile states. Pandemic prevention requires robust public health systems (veterinary and human) to detect contagion early, ensure correct diagnoses, and respond rapidly to defend against contagion.
The World Bank has estimated the cost of this essential, permanent, global infrastructure at $3.4 billion per year in all developing countries. The expected benefit is at least $37 billion per year, making such infrastructure a profitable use of public funds. The economic rates of return range from 50% to 123% per annum, depending on disease risk.
Yet although the threat posed by avian flu and other zoonotic diseases remains, country and donor investments in pandemic prevention and preparedness have decreased markedly in recent years.
STRATEGY
The World Bank supports countries in their efforts to strengthen veterinary and human health systems, and the bridges between them, to prevent pandemics including: communication and public awareness; coordination; building system capacity; pandemic planning at community, national, and international levels using whole-of-society approaches; and implementation assistance. This approach is in line with World Health Organization (WHO) and World Organisation for Animal Health (OIE) standards.
Since 2005, the World Bank has contributed to the international response to the avian and pandemic influenza threat through a multisectoral approach to disease control and prevention that encompasses human health, animal health, analytical and technical support, disaster risk management and development communications. This was key to effective, integrated country-led programs. A multidonor trust fund, AHIF, received $127 million from ten donors, led by the European Commission. AHIF helped developing countries tackle avian flu and other zoonotic diseases and prepare responses to a pandemic. The World Bank financed 72 projects in 60 countries under a fast-track approval mechanism, totaling $1.3 billion (of which $0.1 billion was from AHIF and other trust funds). The mechanism still serves as the model for rapid global response operations. This experience and the impact of its contributions put the WBG in a strong position to help shape future pandemic prevention and control efforts.
One Health
In 2008, the WHO, OIE, and the Food and Agriculture Organization (FAO), coordinated by the World Bank and UN System Influenza Coordinator (UNSIC), prepared a global strategy for using "One Health" approaches to reduce health risks at animal-human-environment interfaces. Ministers of health and agriculture from across the world have welcomed this strategy urged that it be implemented. The World Bank continues to work with these partners and with countries to develop tools for assessing country systems in the veterinary and human public health areas, and the bridges between them.
When these systems meet international standards, they will work to prevent pandemics (such as flu), reduce the costs of ongoing and emerging health crises such as antimicrobial resistance, zoonotic diseases like rabies, and other diseases.
RESULTS
• Largest global public health program to date reduced risk through prevention and preparedness; assistance was delivered quickly to over 100 developing countries, thanks to emergency procedures and strong leadership at all levels. Preparedness and response capacity in countries improved.
• H5N1 avian flu was controlled in most of the 63 countries in Africa, Asia, and Europe where it appeared, but still circulates in a dozen countries. Thus, the achievements are partial and fragile, despite the death from disease and disease control measures of over 600,000 poultry. This imposed high costs on developing countries, especially poor farmers.
• Preparedness for pandemics has increased, as demonstrated by responses to the 2009 H1N1 flu pandemic. Sustaining these gains requires high-level commitment, contingency planning, and periodic exercising of multisectoral plans.
The Global Program for Avian Influenza Control and Human Pandemic Preparedness and Response (GPAI) emphasizes investments in prevention and preparedness, before a disease outbreak. Results include:
• Increased capacity to assess and respond to influenza and other pandemic risks, including stronger preparedness to address health risks at the animal-human-environment interface
• Strengthened multisectoral partnerships to diagnose and respond to public health threats and other potential disasters
• Supported national action plans and intersectoral coordination to respond to avian and human influenza outbreaks in more than 50 countries
• Strengthened communications on animal and human disease risks, and on pandemic responses, including to poor and marginalized communities.
PARTNERS
The World Bank Group has worked closely with developing countries, donors, UNSIC, WHO, OIE, FAO, the European Commission and others. It has also analyzed, jointly with partners, and in response to requests from the international community, key issues such as global and country-level financing needs and gaps, poultry sector bio-security, and compensation schemes. It worked closely with UNSIC to provide joint global progress reports to ministers.
Looking ahead, the WBG will build on these partnerships and support strengthening of country systems. It will provide financing (from IDA and IBRD) in response to country requests, but in addition, countries and international organizations will need substantial grants. First, assessments of systems and preparation of system strengthening will require support from WHO, OIE and others. Second, investments and operations of the systems will then need to be financed. Grant funding is justified because of the large global public good benefit. When a country invests to bring its veterinary and human public health systems up to international standards, other countries gain in at least three ways: health security, economic security, and national security.
RELATED
Connecting Sectors and Systems for Health Results
People, Pathogens and Our Planet: The Economics of One Health
Brief: Zoonotic Disease Prevention and Control, One Health and the Role of the World Bank
Animal and Pandemic Influenza Issue Brief (2012)
Towards One Health: Interim Lessons from the Global Program on Avian and Human Pandemic Influenza (June 2011)
Last updated: January, 2014