November 11-15, 2019
Key challenges in solid waste management
Every city is different when it comes to solid waste generation and management, in terms of waste composition, governance structure, and budget; however, there are common challenges relating to governance, holistic planning and policy, sustainable financing, technology selection, integration of informal workers, and engagement with citizens and the private sector.
In response to these shared concerns, Tokyo Development Learning Center (TDLC), in collaboration with partner city Kitakyushu, organized a Technical Deep Dive (TDD) on the topic of solid waste management. The program, held Nov. 11–15, 2019, brought together practitioners, technical experts, and government representatives from 13 countries (Ethiopia, Mozambique, Sierra Leone, China, Indonesia, Philippines, Romania, Turkey, Albania, Colombia, Tunisia, Bangladesh, and India).
The TDD addressed the entire value chain of solid waste management; however, emphasis was placed on the problem of plastic waste and its accumulation in ocean environments. TDLC and the city of Kitakyushu also jointly organized the International Symposium on Marine Litter and Ocean Plastic, which TDD participants attended.
Learning from Japan's experience: infrastructure, governance and funding
In Japan, there is a fairly clear demarcation between the national, prefectural, and municipal (city, town, village) governments in dealing with solid waste issues. The national government is responsible for basic policies, management, facility standards, and emergency measures; prefectural governments typically permit and supervise waste management facilities; and municipal governments set and execute general waste management plans and manage subcontractors that work on the collection and disposal of solid waste.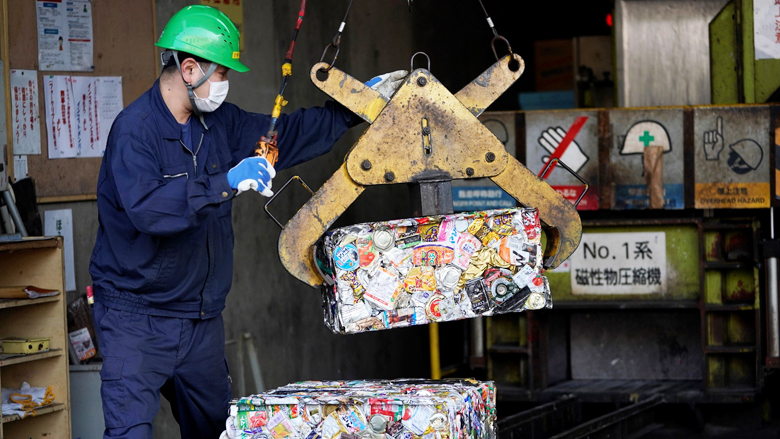 A worker compressing empty cans at Hiagari Recycling Center for Waste Cans and Bottles. Photo: World Bank Group
Integrated solid waste management requires investments in infrastructure development and operation. In the case of Japan, the national government provides a subsidy for capital expenditure, but municipal governments cover more than 60% of the total costs. To raise funds, many municipal governments have started charging residents for refuse collection by selling designated bags for garbage disposal.
Among those joining the TDD from Japan to share their expertise were representatives from the Ministry of Environment, Tokyo Metropolitan Government, and the Institute for Global Environmental Strategies. A key takeaway from Japan's experience managing solid waste is the importance of establishing a synergistic relationship between regulation, technology, and financial support to ensure proper management at a local government level.