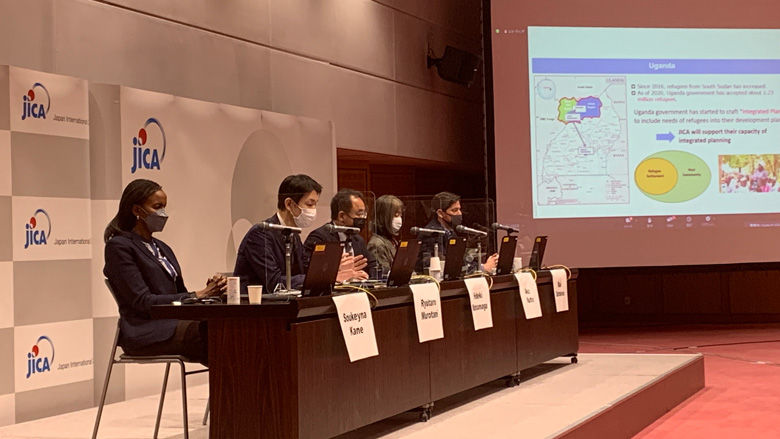 Co-organized World Bank Group and JICA Ogata Sadako Research Institute for Peace and Development
By 2030, up to two-thirds of the world's extreme poor will live in countries characterized by fragility, conflict, and violence (FCV). The global fragility landscape has worsened significantly: There are now more violent conflicts globally than at any time in the past 30 years, and the world is also facing the largest forced displacement crisis ever recorded.
Rising inequality, lack of opportunity, discrimination, and exclusion are fueling grievances and perceptions of injustice. Climate change, demographic change, migration, digital transformation, illicit financial flows, and violent extremism are often interconnected, with effects that transcend borders. These factors can increase vulnerability to shocks and crises and create regional spillovers.
The objective of the World Bank Group's FCV Strategy is to enhance the World Bank Group's effectiveness to support countries in addressing the drivers and impacts of FCV and strengthening their resilience, especially for the most vulnerable and marginalized populations.
At this seminar, Soukeyna Kane, World Bank's FCV Director, shared the main points of the FCV Strategy and program.
Date/Time:

4:00pm-5:30pm Tuesday February 21, 2023 (Japan Standard Time)
Speakers:
Soukeyna Kane
Director, FCV Group, World Bank
Presentation material: World Bank Group Engagement in Fragility, Conflict, and Violence (FCV) (PDF)
Ryutaro Murotani
Senior Director/Head, Office for Peace Keeping, JICA
Presentation material: Building Peaceful and just Societies without fear and Violence (PDF)
Hideki Matsunaga
Director General, Middle East and European Department, JICA
Presentation material: Partnership of the World Bank and JICA to tackle challenges of fragility, conflict and violence (PDF)
Ako Muto
Executive Research Fellow, JICA Ogata Research Institute
Presentation material: Introduction of the Research Project "Contextualizing International Cooperation to Sustain Peace: Pathways to Adaptive Peacebuilding" (PDF)
Rui Saraiva
Research Fellow, JICA Ogata Research Institute
Presentation material: Adaptive Mediation and Adaptive Peacebuilding in Mozambique (PDF)
Related
Fragility, Conflict & Violence
World Bank Group Strategy for Fragility, Conflict, and Violence 2020-2025
Publication : Fragility and Conflict: On the Front Lines of the Fight against Poverty
EVENT DETAILS
DATE/TIME:

4:00pm-5:30pm Tuesday February 21, 2023 (JST)

FORMAT:

Hybrid (onsite or online via Zoom)

VENUE (for onsite participants):

JICA Ogata Sadako Research Institute for Peace and Development

Enrollment limit (for onsite participants):

30 (first-served sign-up basis)

LANGUAGE:

English and Japanese (with simultaneous interpretation)

CONTACT:

Koichi Omori, World Bank Tokyo Office