Small states face unique development challenges. Due to their small population and economic base, these countries are particularly vulnerable to exogenous shocks, such as natural disasters and climate change. With limited economic opportunities and significant migration, they often face capacity constraints.
The World Bank Group is strongly committed to helping address Small States' development needs through innovative approaches that fit their specific circumstances, and in recent years has been ramping up support, particularly in four broad areas:
Enhancing development finance
Developing innovative disaster and climate financing mechanisms
Fostering private investment and diversification
Strengthening client capacity
To enhance development finance, IDA has extended special treatment to Small States in terms of access, financing volumes, and concessionality. Small States have particularly benefited from the past four IDA replenishments. Total IDA commitments (including IDA fi­nancing windows) to the IDA-eligible SSF members increased from $604 million in IDA15 to about $1.2 billion in IDA17. As of August 2019, actual IDA financing to SSF members stood at over $1.7 bil­lion, including country allocations and other IDA financing windows.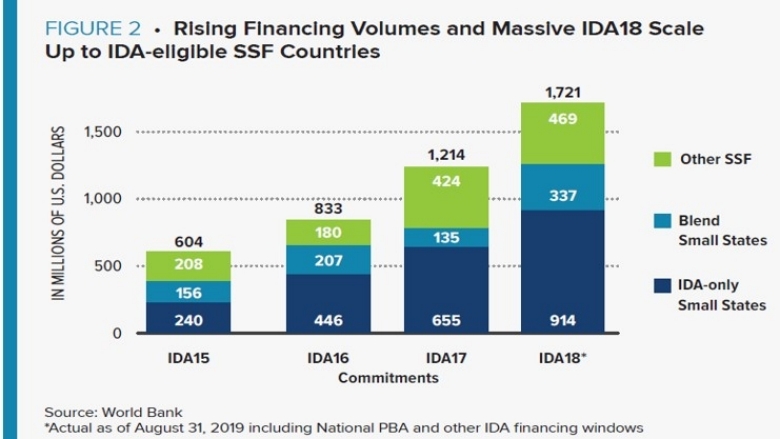 IBRD financing is available to 16 IBRD-only borrowers. Total IBRD lending commitments to this group in FY15-20 amounted to $1.7 billion. Thanks to the Capital Increase policy package endorsed by IBRD shareholders in 2018, eligible Small States benefit from a doubling of their IBRD base allocation and a waiver from price increases.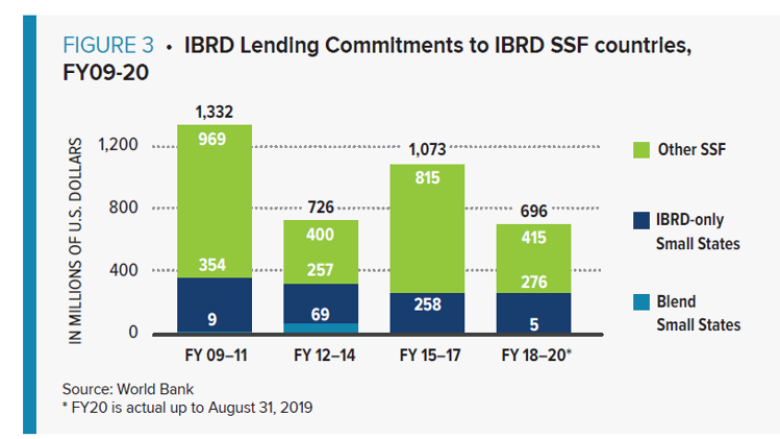 Developing innovative disaster and climate financing mechanisms helps ensure that member countries benefit from the additional financial resources available. The Bank Group offers a wide range of flexible solutions to strengthen countries' resilience, to better manage risks associated with natural disasters and financial instabilities and to address vulnerabilities using technology and connectivity.
Among options available to Small States are financing mechanisms for disaster risk management, including insurance and early warning systems; climate finance mobilization through blue and green bonds; and initiatives to attract private investments in the blue economy and digital infrastructure.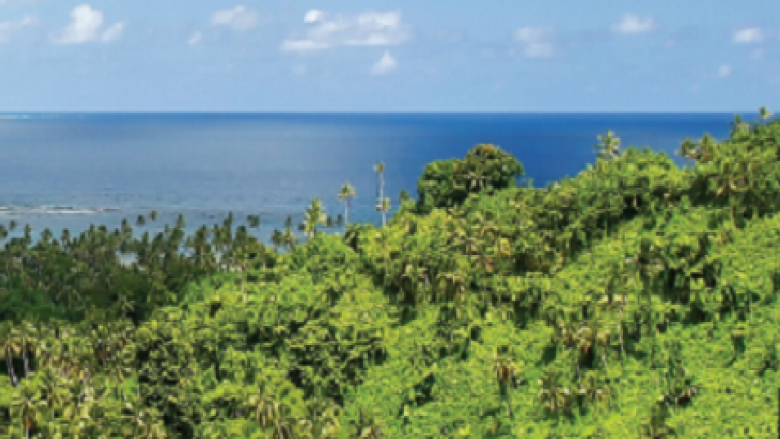 Fiji became the first emerging market to issue a sovereign green bond the proceeds of which will be used to promote low carbon and climate resilient growth.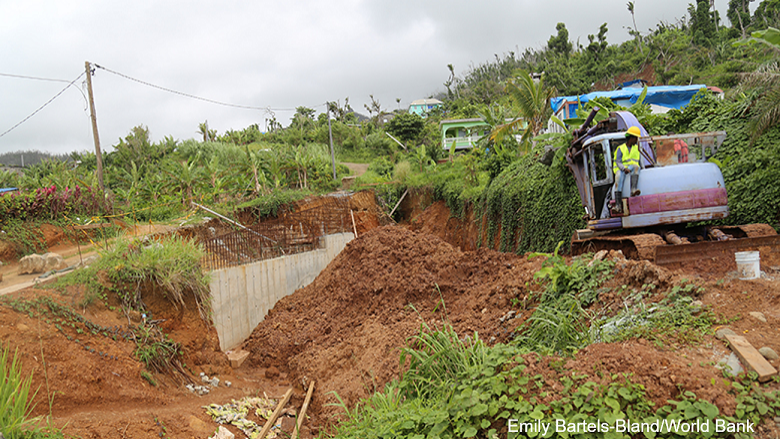 World Bank helped Dominica recover from hurricane Maria and build back a more climate resilient country.

Promoting private investment and diversification in Small States through the World Bank's private arm, the Inter­national Finance Corporation (IFC) and the Multilateral Investment Guarantee Agency (MIGA) is building resilience in sectors such as finance, infrastructure, agriculture, tourism and services. IFC also offers various de-risking and credit-enhancing tools, and MIGA provides political insurance, especially in fragile states.
In order to enhance Small States' ability to absorb devel­opment assistance in an effective and sustainable way, the World Bank supports capacity building through technical assistance and training activities, the deployment of flexible operational policies and procedures to fit their specific circumstances, and implementation support on the ground.
To get the full overview of the World Bank Group support to Small States, download the booklet.