SHAHRISTAN DISTRICT, Daykundi Province– The wind blows, rustling the yellow and green leaves on the trees of Paye Wargha Alawdal village. It is noon and most of the villagers are inside their homes, the peaceful silence broken only occasionally by the sound of children playing games under the shadow of the trees. Fatima, 40, a resident of the village, is washing dishes with water from a faucet installed in her yard.
"Life is much easier now," she says. "Now I do not need to walk long distances to reach a well. I can drink the water and wash my clothes and dishes just by turning the tap on in my home."
Nearly 240 households live in Paye Wargha Alawdal village in the Shahristan district of Daykundi Province in central Afghanistan, where the lack of access to sufficient and clean drinking water had brought about an increase in disease. "We used to bring our drinking water from streams and we had many cases of tuberculosis in our village," says Mohammad Daoud, 47, a member of the local Community Development Council (CDC). "Now, people drink the water from the pipe system and the number of people getting disease is very low."
The problem was resolved when villagers built a water supply system with help from the National Solidarity Programme (NSP). Implemented by the village CDC, the system, completed in November 2015, ensures a reliable water supply to the beneficiary households through a tank connected by pipeline to a newly dug well. More than 55 households in the village use the water supply and have sufficient access to clean water.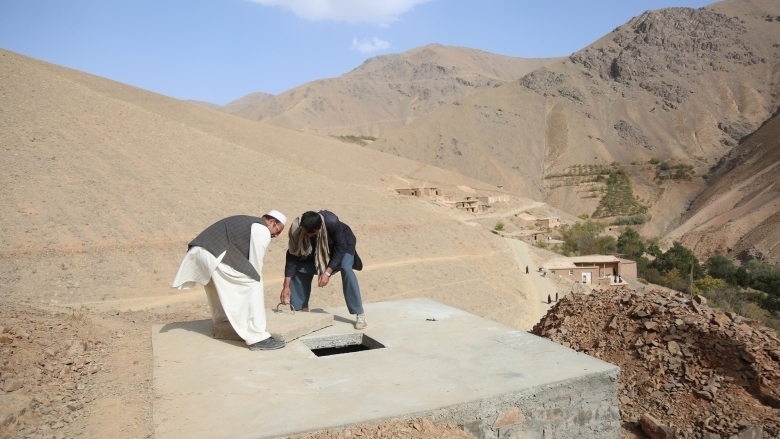 People living in Wargha Alawdal village are satisfied with NSP funding and are happy that they have access to clean water. Photo Credit: Rumi Consultancy\World Bank
With the new water system running, the villagers have seen a dramatic decrease in the incidence of disease. "We used to suffer from infectious diseases, such as tuberculosis, sore throat, and diarrhea, especially in children," says Khadim Hussain, 70, a CDC member.
The water system has also benefited villagers in other ways. "In the past, I had to walk 500 meters three times a day to fetch water," says Jan Ali, 14, a 7th grade student, playing a game with his friends. "Before the water supply system, I had less time to study my lessons and play games. I was always busy bringing the water by donkey. Now I have more time."