Job Trends November 2013: Employment Growth in Developing Countries Falls Further as Recovery Stalls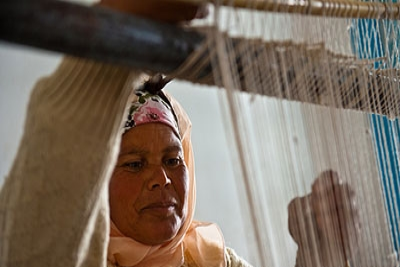 In the first quarter of 2013...
Median growth rate of wages in developing countries accelerated slightly, employment growth slowed and the unemployment rate increased.
Slowdown in employment growth mostly seen in Asia and Latin America.
Weak global recovery and uncertainty could aggravate current trends.
Employment outcomes in developing countries did not show improvements in the first quarter of 2013. Although there was a small acceleration in the median growth rate of wages, in sharp contrast to the dynamics observed during the first half of 2012, employment growth slowed down and the unemployment rate increased slightly.
Most of the slowdown in employment growth took place in Asia and in Latin America. Even in countries where employment continued to expand—Brazil, Turkey, and Romania—either the unemployment rate increased or wages fell. This can be explained in part by the slowdown in economic growth starting in the second half of 2012. The weak global recovery and uncertainty during the first half of 2013 regarding fiscal and monetary policies in the United States and Europe could aggravate current trends.
Regionally, East Asia and the Pacific drives the aggregate trend in GDP growth and continues to show relatively strong economic performance. On average, its GDP growth increased from 5.3 to 6.7 percent between the first quarters of 2012 and 2013, respectively. This can largely be attributed to the GDP growth in China (at 7.7 percent), as well as the sharp rise in Thailand (from 0.4 to 5.3 percent) and in the Philippines (6.5 to 7.8 percent). However, the income growth rates in these countries have not improved the situation in their labor markets.
Economic growth in Europe and Central Asia slowed from 4.3 to 3.8 percent, mainly due to lower GDP growth in the Russian Federation and Tajikistan. The employment growth rate improved in all countries, but remained low or even negative in most, keeping the average for the region at 1.1 percent. The notable exceptions to this pattern are Romania and Turkey, where employment grew at 3.0 and 4.7 percent, respectively.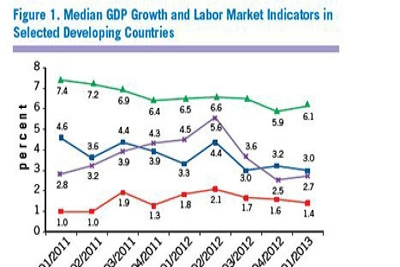 In the Latin America and Caribbean region, macroeconomic and labor market indicators weakened and showed slower growth in the first quarter of 2013 compared to the same period in 2012. GDP growth dropped from 4.5 to 3.1 percent, following a general decline over the past quarters for most countries included in the analysis. The Bolivarian Republic of Venezuela was hit particularly hard, with its GDP growth plunging from 5.9 to 0.7 percent, while most other countries saw moderate downward shifts in growth. Only Chile and Brazil managed to increase their growth rates, from 1.1 to 5.6 percent and 0.8 to 1.9 percent, respectively.
Finally, the labor market in South Africa, the only Sub-Saharan African country included in the analysis, remains in a dire situation. South Africa's economic growth continues to decline, and its employment growth has fallen further, from 2.3 to 1.5 percent, compared to the annual growth recorded in the first quarter of the previous year. Overall, unemployment remained at 25.2 percent, and real wage growth further contracted from 1 to 0.5 percent.
For the full text of the November 2013 report, click here (PDF).