Learn. Work. Thrive.
The innovative features of the Adolescent Girls Initiative pilot projects help girls make the vital transition between school and work.
February 1, 2013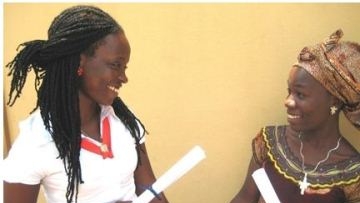 In 2008, the World Bank launched the Adolescent Girls Initiative to promote the transition of young women from school to productive employment. The program is being piloted in eight low-income countries (Afghanistan, Haiti, Jordan, Lao PDR, Liberia, Nepal, Rwanda, and South Sudan) and is currently reaching some 17,000 girls. Each program is individually tailored to the country context, with a common goal of discovering what works best in programming to help adolescent girls and young women succeed in the labor market? With new knowledge of what works, successful approaches can be replicated and brought to scale.
Challenge
Many girls are stalled between school and productive work: more than a third—34 percent—of young women in developing countries are jobless—out of the labor force and not in school. Although the gender gap in school enrollment has been closing, the gender gap in labor force participation is on the rise.
Reaching girls during adolescence is critical—decisions made and behaviors established during this period affect their horizons later in life. Adolescence for boys typically ushers increased mobility and autonomy, but for girls it often comes with increased restrictions—fewer opportunities and less freedom to exercise choice. During this formative period in their lives, it is important to provide adolescent girls with the tools they need to become economically empowered young women.
Approach
The Adolescent Girls Initiative (AGI) aims to promote the transition of adolescent girls and young women from school to productive employment. Interventions range from business development to technical and vocational training targeting skills in high demand; all projects include life skills training. The design of each pilot is tailored to the local context and addresses the specific constraints faced by girls. A rigorous impact evaluation of each pilot will help build the evidence of what works. The AGI provides a unique opportunity to break new ground—to experiment, take risks and find smart ways of introducing girl-friendly approaches to vocational training and youth employment programs.
Reaching vulnerable girls
Often the most vulnerable girls are unable to participate in training programs due to prohibitive time or monetary costs. The first step toward reaching this population of girls is to understand their needs and constraints. The AGI pilots are finding ways to make programs more accessible to the most vulnerable.
Challenging gender norms in the labor market
Social norms often relegate girls to traditional trades that are typically low paying. Girls' families, male partners, employers, or even the girls themselves may think that certain jobs are only for men, not "women's work." The job skills training components of the AGI pilots aim to equip girls with technical skills for which there is a proven demand in the local labor market.
Bridging the gap to the labor market
When it comes to finding a job, many adolescent girls and young women struggle because they are more socially isolated, with fewer contacts. The AGI pilots are actively helping girls expand their networks and link to employment opportunities. The AGI pilots are also exploring ways to incentivize placement for girls.
Building girls' assets for entrepreneurial success
The AGI pilots are building girls' assets—human, social and financial—and supporting girls who want to venture into self-employment. Many of the pilots are teaching girls budgeting and business development skills combined with the opportunity to practice savings.
This is our chance to be independent. This is my chance to learn new things, and be a leader in my community—and one day teach other girls.
Princess Sheriff
New Kru Town, Liberia
Bolstering girls' and young women's personal agency
Through the delivery of life skills training, the AGI pilots are working to equip adolescent girls and young women with the tools and confidence they need to take advantage of new economic opportunities. Life skills trainings focus on developing girls' non-cognitive skills across multiple domains (social, emotional, personality, behaviors, attitudes. etc.). Specific topics include reproductive health, rights awareness, problem solving techniques, communication and negotiation skills, and know-how on managing personal finances.
Results
Progress and preliminary results from pilots currently under implementation:
Afghanistan – Female Youth Employment Initiative (FYEI)

Project Details:
Pilot financing: US$ 2.05 million
Target population and location: 1,300 young women age 18 to 30 who are high school graduates from Balkh's urban areas and select districts.
Lead Ministry: Ministry of Education (MoE)
Implementing agency: MoE, Deputy Ministry of Administration and Finance, through the Educational Quality Improvement Project (EQUIP) arm.
Implementation Update: The team has received request forms from 2,800 eligible girls who are eager to participate in the trainings. The program is under implementation, and consists of 10 months of classroom training in demand-driven fields and life skills, followed by three months of follow-up and placement assistance.
Haiti – Adolescent Girls Initiative

Project Details:
Pilot financing: US$ 2 million
Target population: 1,000 vulnerable young women age 17 to 20 living in Port au Prince.
Partner Ministry: Ministry of Women's Affairs.
Implementation Update: An official launch of the project took place in May 2012 and training for the first cohort of 500 girls began in October. Participants are being trained in five vocational areas that are considered untraditional for women—carpentry and woodwork, heavy machinery, masonry, plumbing, and electrical work. Training is being tailored to the identified needs of local companies. Beneficiaries receive a monthly stipend to cover the costs associated with training sessions, and they are accompanied in their neighborhood by recognized community organizations that provide support services and mentorship. The girls are also receiving life skills training that covers topics such as professional ethics, self-esteem, conflict management, and sexual and reproductive health.
Jordan – New Work Opportunities for Women (NOW)

Project Details:
Pilot financing: US$ 1.05 million
Target population: 1,800 young women graduates from 8 community colleges.
Implementing agency: Ministry of Planning and International Cooperation. Ministry of Higher Education and Scientific Research was also involved in design and implementation.
Implementation Update: The pilot launched in December, 2010. 373 young women were trained in employability skills and 97% of these graduates completed training in November 2010. 301 young graduates successfully used job vouchers to secure employment by the time the incentive payments expired in August 2011.
Evaluation Results: Results from the impact evaluation found that while the job voucher was active, female graduates with vouchers were 39 percent more likely to work than female graduates without vouchers. However, this effect was temporary and did not last after the vouchers expired. Outside Central Jordan, girls with vouchers continued to have higher employment rates, but this may have come at the expense of those who didn't have vouchers. Employability skills training showed no statistically significant impact on employment outcomes in either the short- or long-term. However training did boost self-confidence and mental well-being among the graduates. Insights from the evaluation are being used to illuminate demand-side and regulatory constraints to the school-to-work transition of young people in Jordan.
Lao PDR – Adolescent Girls Initiative (AGI)

Project Details:
Financing: US$ 0.4 million
Target population: Youth age 18 to 35 (majority of whom are female) from three provincial capitals.
Implementing agency: Young Entrepreneur Association of Lao PDR (YEAL), National University of Laos and Pakpasak Technical College.
Implementation Update: A 'Market Place Model' was launched in December, 2010. This seeks to promote a culture of youth entrepreneurship by identifying strong business ideas and supporting young entrepreneurs with business skills training, mentorship and seed grants. Another component of the project provides job placement services to students and recent graduates who are looking for employment in the private sector through Career Counseling Offices (CCOs). Two CCOs were launched—at the National University of Laos and Pakpasak Technical College—in October, 2012.
Emerging Findings: Project monitoring data shows that 59% of Marketplace Competition participants (more than half of whom are female) have started or expanded a small business 12 months after finishing the business skills training. 47% of the graduates registered with the Career Counseling Office at the National University of Laos (more than a third female) and 44% at Pakpasak Technical College (also more than a third of whom are female) reported that they were employed within 12 months of graduation.
Liberia – Economic Empowerment of Adolescent Girls and Young Women (EPAG)

Project Details:
Financing: US$ 5.2 million
Target population: 2500 young women age 16 to 27 in Greater Monrovia and Kakata City.
Lead Ministry and implementing agency: Ministry of Gender and Development (MoGD).
Implementation Update: 1,131 girls received training in the first round (March 2010-February 2011) and 1,277 girls were trained in the second round (July 2011-June 2012). About 65% of the girls were trained in business development skills and roughly 35% were trained in job skills. All girls also received life skills training. Post-training all graduates enter a 6-month support period where they are assisted with job searching and placement or otherwise supported to start their own businesses.
Evaluation Results: Preliminary results from the midline survey show that the program led to a 50 percent increase in employment and a 115% increase in average weekly income among project beneficiaries, compared to those in the control group. The majority of the employment increase was driven by the business skills track. The program also significantly increases average weekly income and girls' savings. The results will be expanded upon and deepened in the coming year, and a final end-line survey will facilitate further analysis of longer-term impacts.
Nepal – Adolescent Girls Employment Initiative (AGEI)

Project Details:
Financing: US$ 2.05 million
Target population: 4,375 young women age 16 to 24 who are socially discriminated, poor and have low education attainment.
Lead Ministry: Education
Implementing agency: Helvetas, with 20-25 Training Providers
Implementation Update: Implementation began in February 2010. Three rounds of training have been completed: 810 adolescent girls were trained in 2010; 1664 in 2011; and 1936 in 2012. Livelihood trainings span 39 occupations across 44 districts of Nepal. All trainees also receive life skills training, as well as business and enterprise skills training for those interested in starting their own businesses. Trainees are assisted with job searching and placement or otherwise supported to start their own businesses.
Emerging Findings: According to the project monitoring data, many of the trainees are now employed: 562 girls from the 2010 cohort; 1164 from 2011; and 1452 from 2012. The implementing agency reports stories that it has increased the confidence and the employability of young women. Results from the impact evaluation are expected in late spring, 2013.
Rwanda – Adolescent Girls Initiative (AGI)

Project Details:
Financing: US$ 2.7 million
Target population: 2,700 young women age 16 to 24 who are literate from two urban and two rural districts of Rwanda.
Lead Ministry: Ministry of Gender and Family Promotion (MIGEPROF).
Implementing agency: MIGEPROF, Workforce Development Authority (WDA) and Imbuto Foundation.
Implementation Update: The project was launched on April 2, 2012 in Kigali. In May, 2012 a three-day induction workshop was held with MIGEPROF and the project's implementing partners. The aim of the workshop was to familiarize the newly established project team with the project components and implementation steps and to build their monitoring and evaluation capacity. A communication strategy and campaign to sensitize girls, parents and communities began in mid-October, and since then 650 girls have been recruited and selected to receive training in the first round of the program. An induction program is being planned that will orient the trainees to the project and attempt to build some basic skills among the participants—namely team-building, communication skills, and basic literacy and numeracy. Following the induction program, participants will select the skills in which they wish to receive training from a manu of available options.
South Sudan – Adolescent Girls Initiative (AGI)

Project Details:
Financing: US$ 1.9 million
Target population: 3,000 young women age 15 to 24 from four states.
Lead Ministry: Ministry of Gender, Child and Social Development.
Implementing agency: BRAC South Sudan.
Implementation Update: 100 adolescent clubs, staffed with 100 Adolescent Leaders, have been established in five counties in four states of South Sudan. To-date 1,659 club members have received livelihood training. About 60 percent of members have received agriculture training; other fields include poultry farming, goat rearing, small business, tailoring, salon, catering and carpentry. Through BRAC's cascade model of training, all 3000 girls have received life skills and financial literacy training. BRAC is also providing savings and credit services to qualified girls. To-date, BRAC has provided loans to 140 members to support their business development plans.
Emerging Findings: According to project monitoring data, 1449 trainees are currently employed. Informal conversations with girls and young women show high levels of engagement and confidence, reflected in increased awareness of such issues as protection against rape, early pregnancy, contraception and family planning in general, and increased knowledge and awareness of HIV/AIDs. Project implementers report that family members and communities have increased their respect for adolescent girls as they find their daughters more knowledgeable and able to earn money to support family expenses. Results from the impact evaluation are expected in the summer of 2013.
Bank Contribution
The AGI program is supported by US$20 million from the Adolescent Girls Initiative Multi-Donor Trust Fund.
Partners
The Bank's partners in the AGI are the Nike Foundation and the governments of Afghanistan, Australia, Denmark, Jordan, Lao People's Democratic Republic, Liberia, Nepal, Norway, Rwanda, Southern Sudan, Sweden, and the United Kingdom.
Beneficiaries
"This is our chance to be independent. This is my chance to learn new things, and be a leader in my community—and one day teach other girls. We can't allow our fear to overcome us." — Princess Sheriff, New Kru Town, Liberia
"Before I went into the program, I didn't know what to expect. I didn't know how to communicate well. I didn't know how a CV is done. Now, I know how to meet with Human Resources and I know how to negotiate." — Borhan , Irbid, Jordan
"It is an incredible experience and opportunity for me. My project focuses on manufacture of Lao traditional handicrafts and giving job opportunities to women affected by HIV and AIDS. I'm really looking forward to continue working and to make my dream a reality." — Phennapha Phommachanh, Vientiane, Lao PDR
"Before joining this program, I did not think I could ever have some skills to offer out there in order to get a decent job and pay. Now, I have learnt to drive and soon will be employed. I have also learnt so many life skills like family planning, personal hygiene, HIV/AIDS and so on, which my family and friends have also benefitted from. I now believe I can be a life changer." — Sunday Margaret, Juba, South Sudan