FEATURE STORY
Guddi's Story: Navigating India's Urban Transformation
March 11, 2013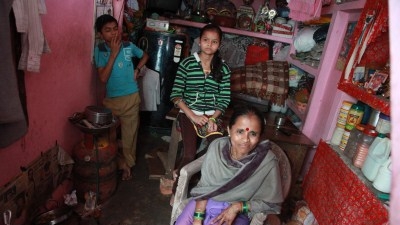 STORY HIGHLIGHTS
India is in the throes of a historic urban transformation as legions of young people move into towns and cities in search of jobs and economic opportunity.
Already-stretched administrations are facing huge strains in providing jobs, housing, and infrastructure to unplanned urban settlements that have sprung up over the years across much of the country.
The story of Guddi Sankhwar, who lives in the city of Kanpur, Uttar Pradesh, shows how urban residents find ways to get water, electricity, and sanitation. Despite being illiterate herself, Guddi has great aspirations for her children.
Guddi Sankhwar stands at the door of her tiny one-room home that serves as bedroom, kitchen, prayer room, dining room, and study for her seven-member family, with a corner cordoned off for a quick bucket bath. A sparkling-clean toilet is located on the terrace upstairs, a curtain screening it off from the neighbor's similar facilities.
A bright brass tap stands at her front door, a much-prized family acquisition. The tap has saved Sankhwar and her five children endless hours of drudgery in fetching water from the common hand pump some distance away, for it is women's and children's work to bring water home for drinking and household chores.
Making their own arrangements for water
The daily scramble for water, and the constant bickering that accompanies it, brought a group of not-too-friendly neighbors together to install a common pump to draw water from underground aquifers, and a tank to store it in. It is the same spirit of "self-help" in which much of urban India functions. Municipal services, replete with systems and personnel that belong to an earlier era, find it difficult to meet the challenges of ever-growing urban populations.
The spirit of self-help applies equally to electricity supply. Without a power connection of her own, Sankhwar has connected her home to a neighbor's electric meter, with whom she splits the bill, paying 150 rupees ($3) a month for use of a single light bulb, a fan, a secondhand fridge, and a small TV. But when the power supply fails and wealthier neighborhoods beat the summer heat by cranking up their personal generators, the poor have to make do without any electricity at all.
Nonetheless, Sankhwar is one of the lucky ones. Many others in her neighborhood do not have access to water or sewer connections, leaving them to walk down the lane to use the community toilets.
It is a complex web of challenges that city administrations must handle – power, water, sewerage, garbage disposal, roads, transportation – the entire gamut of urban services that require 21st-century solutions for cities to be green and livable.

For 15 years, our meals were mostly tea and roti, for that was all I could afford to feed my children.

Guddi Sankhwar
Kanpur resident
The face of urban poverty
In many ways, Sankhwar's life typifies that of her neighbors. In a society that has traditionally seen daughters as a liability to be packed off to their marital homes as soon as possible, unschooled Guddi was married at 14 to a man who never made good. All he earned at a small manufacturing workshop was squandered in drink.
Enduring endless beatings, Sankhwar worked as a maid in three or four homes to bring up her five children, despite her husband's threats that she mustn't leave the house for work. Tears still well up in her eyes when she recalls the hardships they have endured. "For 15 years, our meals were mostly tea and roti (traditional flat Indian bread), for that was all I could afford to feed my children."
Now, her two older sons – 26 and 23 years old – bring home between 1,500 and 2,000 rupees each a month as salesmen in shops in the city, easing her burden. While her third son – "high-school fail," as she describes him – wanders about the neighborhood with groups of similarly unemployed boys, the youngest, 14-year-old Ashish, goes to work folding readymade shirts at a small tailoring workshop soon after he returns home from school. "He works till 11 at night every day of the week," says his proud mother, glancing fondly at her bright-eyed young son about to set out for work after a quick lunch of potatoes and roti.
Education – the great leveler
Sankhwar's hopes are pinned on her 18-year-old daughter, Neha, who has steadily topped her class at school. Belonging to one of the most downtrodden castes, the lowest in India's centuries-old social order, she earned a state scholarship of 15,000 rupees – a princely sum for the family – as well as a bicycle.
While the bicycle was stolen from their door one night, the far-sighted mother has put the money into a bank account in her daughter's name, despite the fact that the family could have done with the cash infusion. "What is hers should be kept for her," Sankhwar says firmly.
Neha loves her studies and is enrolled for a bachelor's degree in geography and education. After that she plans to sit for a competitive examination through which clerks for state-run banks are recruited. Yet, only a lucky few get such jobs.
Still, Sankhwar is hopeful. Neha will certainly get a white-collar job, leaping in one generation from a life of untold deprivation and poverty thanks to the education she has received.