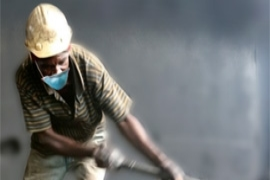 Addressing Tuberculosis in the Mining Sector in Southern Africa: A Capacity-Building Workshop
September 30, 2014
Westin Hotel, Cape Town South, Africa
The Third Global Symposium on Health Systems Research will be held in Cape Town, South Africa from 30 September to 3 October 2014. Researchers, policy makers, development partners, implementers, and other stakeholders will come together to address the critical challenge of how to make health systems more responsive to the needs of individuals, families, and communities. Consequently, the South Africa Knowledge Hub and its collaborative partners are hosting a capacity building workshop to share lessons learnt from an innovative service delivery model which is being used to address complex health systems challenges and to respond to the needs of migrant populations.
Details
Document:

Brochure

Date:

September 30, 2014

Time:

9:00am - 17:00pm

Where:

Westin Hotel, Cape Town South, Africa

Please register by COB:

September 15, 2014

CONTACT:

Faith Babalwa Chirwa
+27 12 742 3146
+27 12 742 3100 fchirwa@worldbank.org
Due to overwhelming demand, only the first 150 registered delegates can participate - REGISTER NOW!
South Africa has half a million mine workers employed in approximately 1,800 mines and quarries across the country. Mine workers in South Africa have the highest TB incidence in the world, estimated at 3,000 per 100,000 people. These numbers surpass the WHO's threshold for a health emergency: 250 cases of TB per 100,000 people. The challenge of TB in the mining sector in southern Africa has persisted for over 100 years due to a combination of complex factors which include: cross border migration of mine workers, which makes case finding and referrals difficult; multiple health care systems and protocols across countries; a private-sector driven mining industry; regulation of the mining industry by different government ministries; and diverse economic and socio-cultural dimensions which are a challenge to coordinate. Many attempts to solve this service-delivery challenge have been unsuccessful and changing its course requires a new way of thinking. Southern Africa is leading a novel regional approach, with the support of the World Bank, the Global Fund to Fight AIDS, TB and Malaria, and the Stop TB Partnership, to reverse the trajectory of TB in southern Africa over the next five years. A one-day capacity building workshop is being hosted in order to exchange knowledge and share insights from this innovative regional approach and to engage key stakeholders on how to successfully apply the Science of Service Delivery model to address multi-sector, multi-country health system challenges.
The workshop will be a full-day interactive event that features a mixture of presentations, panel discussions, and group work facilitated by various high-level stakeholders including Ministers of Health and Minerals, policy makers, mining industry executives, and development partners. The session will build the capacity of all stakeholders in the design and implementation of innovative approaches to address complex public health challenges, using TB in the mining sector as an example.
Questions to be addressed at the workshop
The workshop will include presentations that address a wide range of topics relevant to the effective implementation of an innovative regional approach to TB management amongst mine workers and ex-mine workers, including:
How can HIV and TB service delivery be used to strengthen health systems?
What is the economic impact of inaction to the TB epidemic in the mining sector?
How can we engage and build the capacity of communities, mining companies, and other stakeholders to advocate for and participate actively in efforts to ensure sustainable development at the community level?
What are effective technology-driven approaches for mapping, targeting, and providing health services to migrant populations?
What are the strategies for expanding TB services for mineworkers in medium and small mining companies, as well as artisanal mining?
The World Bank is a vital source of financial and technical assistance to developing countries around the world. We are not a bank in the ordinary sense but a unique partnership to reduce poverty and support development. The World Bank Group comprises five institutions managed by their member countries.
The Stop TB Partnership is leading the way to a world without tuberculosis (TB), a disease that is curable but still kills three people every minute. Founded in 2001, the Partnership's mission is to serve every person who is vulnerable to TB and ensure that high-quality treatment is available to all who need it.
The Global Fund is an international financing institution that fights AIDS, tuberculosis and malaria with a 21st century approach: partnership, transparency, constant learning and results-based funding.